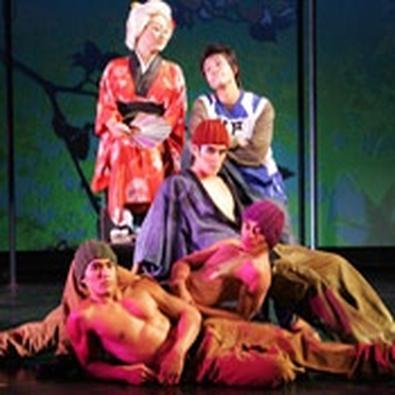 Save for some sort of company mission statement, I can't imagine why director Tim Dang felt the need to reimagine Roger O. Hirson's spotty, neo-medieval book as a pastiche of feudal Japan, anime, and hip-hop. It's nicely paced and all very lovely, mind you, particularly Alan E. Muraoka's melding of set and projection design, but when Charles (Mike Hagiwara) is given a full-on Kabuki entrance clad in elaborate and handsome samurai wear (Naomi Yoshida on costumes) and then discusses being the Holy Roman emperor, there's a definite disconnect. The quality and consistency of the voices is notable, though the occasional bit of heavy-handedness on the part of music director Marc Macalintal causes the house to lose some of the lyrics in Stephen Schwartz's echt 1970s songs.
The lead is played by Ethan Le Phong, who turns Pippin into a creditable anime boy, all swoopy hair and wide-eyed charm, wearing a singlet, the urban graphics of which proclaim him to be Pip. His journey into manhood is choreographed with verve by Blythe Matsui and Jason Tyler Chong, stopping at both the arts of war and love, the latter of which are handled with style and healthy dollops of prurience. Not that one needs a reason to have barely clad young men disporting, but it's always gratifying when it can be justified. The Leading Player is played with such cool reserve by Marcus Choi that we never fully connect with him, but his dancing is superlative.
The women are rendered in a wanton style that is already slightly disturbing in two dimensions. This particularly works against Pippin's love interest, the widow Catherine, played and sung beautifully by Maegan McConnell. With her fuchsia tresses and barely there kimono, she hardly looks to be the earthy, grounding force of the piece. The towering Jenn Aedo plays the wicked stepmother Fastrada; and though her number "Spread a Little Sunshine" is sung prettily, the underlying menace is absent. Gedde Watanabe, as the lusty grandmother Berthe, gives every appearance of being only recently acquainted with his props and costumes. I'm sure geta are tricky to walk in, but as an audience member I probably shouldn't be thinking about it.
Presented by East West Players at the David Henry Hwang Theatre,
Union Center for the Arts, 120 N. Judge John Aiso St., L.A.
Wed.-Sat. 8 p.m., Sun. 2 p.m. May 14-Jun. 22.
(213) 625-7000. www.eastwestplayers.org.