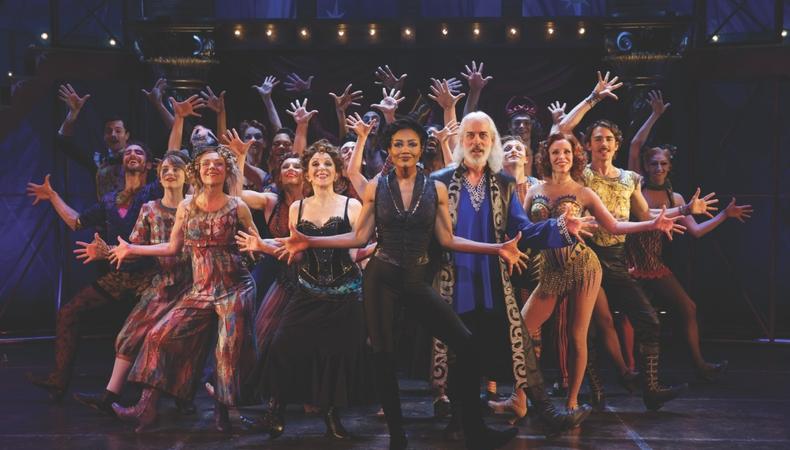 "Pippin" and "Motown" split the top prizes at the 30th Annual Fred and Adele Astaire Awards, presented at the Skirball Center for the Performing Arts at New York University on Monday night. The Broadway revival of "Pippin" took home Outstanding Female Dancer for Charlotte d'Amboise, while "Motown" took home Outstanding Male Dancer for Eric LaJuan Summers.
The Astaire Awards honor dance and choreography on Broadway and film. Outstanding Choreographer of a Broadway Musical was a tie between Chet Walker for his work on "Pippin," and Patricia Wilcox and Warren Adams for their work on "Motown." Sidi Larbi Cherkaoiut won Outstanding Choreographer in a Feature Film for "Anna Karenina."
Mary Testa led a group of Broadway performers, featuring Christiane Noll, Laura Osnes, Ann Bergman, and Sarah Bierstock, in a performance tribute to Ted Chapin, who was receiving the Outstanding Achievement in the Preservation of Musical Theater.
"I'm thrilled and honored to be part of this evening, of any evening, that honors Mr. Ted Chapin," Testa said, recounting how she met Chapin more than 35 years ago when Chapin was dating a college friend of Testa.
The group of performers sang "Broadway Baby," marking Chapin's work as a young production assistant during the original production of "Follies," immortalized in his 2005 book "Everything Was Possible."
Noll and Osnes also performed "The Sound of Music" and "I'm In Love With A Wonderful Guy" as homage to Chapin's work at the Rodgers & Hammerstein Organization, including his preservation of choreographer Agnes de Mille's choreography for "Carousel" and "Show Boat."
Closing out the tribute was the "Pas de Duex" ballet from "Carousel," performed by Tiler Peck and Robert Fairchild and choreographed by nominee Warren Carlyle.
The evening, which focused on the history of dance and Broadway, also showcased young dancers from "Art of Dance" and awarded high school senior Connor Yockus with the Adele Astaire Scholarship Award.
Randy Skinner led a performance of "Audition" from "42ndStreet" as part of the tribute honoring Marge Champion, who received the Douglas Watt Lifetime Achievement Award.
Theater critic Rex Reed reflected on Champion's long career, spanning from modeling for Walt Disney to starring in MGM films. "When she danced with Gower, she wasn't only just Ginger being pushed backwards by Fred," said Reed. "She always communicated with her feelings, as well as her feet."
Harry Belafonte spoke about being on tour with Champion and her late husband Gower in "Three for Tonight" in the Deep South during the segregation era.
At one point during a stop in a South Carolina, the town sheriff escorted Belafonte off stage because during one part of the show, Belafonte touched Marge Champion. From then on, Gower and Marge decided that they had enough of the tour, and "accepted the offer to go to Broadway," Belafonte remembers.
"It's almost as if I couldn't even think of anything new to tell you, "Champion said, thanking the Douglas Watt Foundation and Patricia Watt, executive producer of the Astaire Awards.
Champion reflected on the first and only time she saw Fred Astaire perform "ad lib."
"I was crying, half the audience was crying," Champion reflected. "It was such an extraordinary event you will never know."