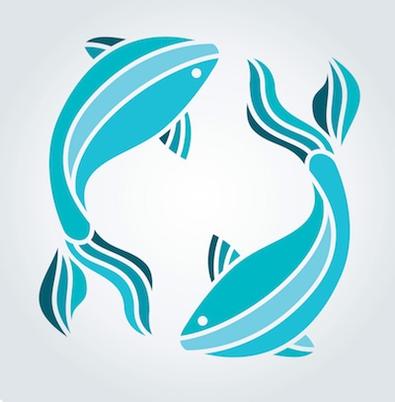 Pisces (Feb 19 – March 20)
It might feel like you're trying to gain a solid foothold, Pisces, and facing some circuitous routing and rerouting to get there. The Cosmos are actually working on your behalf even though it can seem a bit slippery right now, so much so that it might feel like a small identity crisis (though this could work in your favor if you're trying to play someone else). With so many varied talents and an ability to shape-shift into different roles in order to serve the moment, you could wonder what your one true thing is. The reality is that it's just wherever you place your attention (and it's a choice!). With Venus retrograde in your First House of self-expression, I'd suggest giving yourself a break from "knowing everything" until after April 15. Even then, be careful of undermining the value of your versatility.
Financially, the sunshine is actually pouring in as the bright, awakening Sun in go get 'em Aries, which is transiting through your financial house and magnetizing abundance. Making a plan and hammering out a budget could be great yoga with energetic Mars and cerebral Mercury in pragmatic Taurus and your information-sponging Third House of communication. This is a great time to learn from others, even if their seemingly perfect, well-balanced lives irk you! Some fun business dinners where there's a purpose beyond eating prove quite satiating on all levels. Get into the conversation and see how the other half lives, and what applicable tips and tricks you can integrate into your own amazing life. (Yes, you could save a little cheese and download some mind-blowing podcasts as well, but pepper in some facetime, too!) I can guarantee someone is looking at you and wondering how you do it all, so leave the comparison game behind and know you're someone's hero.
Kelly Chambers is a writer, actor, and astrologer living in Los Angeles. She can be reached for private astrology readings through her website theastrologersdaughter.com. You can also check her out in the web series "Break Hollywood with Nice & Fargo," a comedy by actors for actors. Follow the latest in cosmic news on her Instagram and Twitter. She welcomes your comments and insights.
Ready to see what else April has in store for you? Check out our film audition listings!