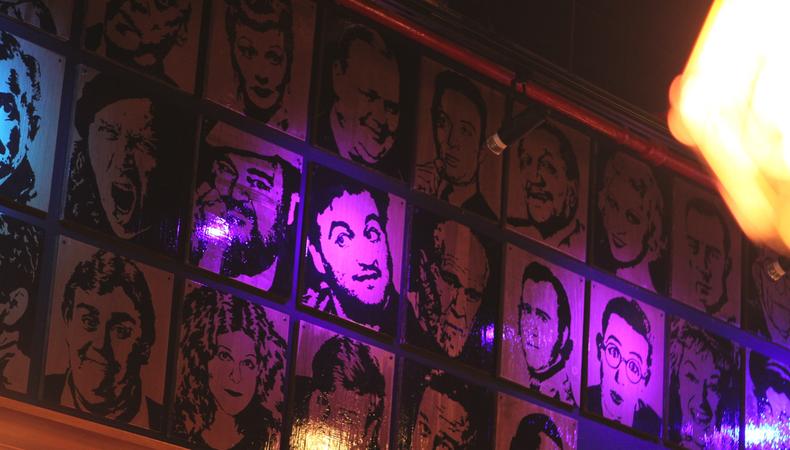 "If you're in the comedy world, you go to festivals," says Ali Farahnakian, founder and owner of the Peoples Improv Theater in New York. "And you know what it's like to be at a bar in a festival town where it's all comedians. You're in a room surrounded by comedians and improvisers, with that feeling like, 'Wow, it's just us! It's all us!' "
Farahnakian hopes to recreate that environment every night at Comedy Bar NYC, his new venue on West 29th Street in Manhattan that is scheduled to open in late November. As he talks, he tours the interior of the still-under-construction space, where a long, wide, 50-foot-bar dominates the front. The rear seating area boasts an elevated stage and projection screens, and windows and skylights along the back wall have been restored and opened. Above the restrooms, a red "On Air" sign illuminates. And 100 tiles are being placed along the walls above patrons' heads, displaying a "hall of fame" of deceased legends such as Sam Kinison, Gilda Radner, and Chris Farley.
Farahnakian says he envisions Comedy Bar as a "the comedians' Sardi's," or a less exclusive Friars Club. This Chelsea neighborhood is already home to the Upright Citizens Brigade Theatre and the Magnet Theater, two major training and performance centers devoted to the craft of improv and sketch comedy. Gotham Comedy Club and National Comedy Theatre are in walking distance from Comedy Bar too, while Scott Powers Studios is across the street.
"I want it to be accessible to the people from the other training centers and improv theaters in this area, so they also feel welcome," says Farahnakian of Comedy Bar. "My hope is that people from UCB and the Magnet come to hang out before and after their classes and shows. And if you're in the area during the day when you have an audition, it's worth it to take a walk over here and hang out and have a coffee." (In addition to a selection of beer, wine, and liquor at night, Comedy Bar will open at 8 a.m. to serve coffee and pastries.)
The PIT, which Farahnakian founded 10 years ago, once occupied a second-story space just a few doors west on the same block before relocating to its new theater on East 24th Street. But he says he never actually left the neighborhood; Comedy Bar is located directly below Simple Studios, the rehearsal space also operated by Farahnakian.
But the new venue will be run separately from those and will not be limited to improv, instead offering a mix of standup comedy, storytelling, and music. Various performance slots will be scheduled throughout the week to attract talented New Yorkers from Simple Studios and beyond. William Thorne, a manager at the PIT, is in charge of booking talent.
The first show scheduled for the new space is "Show Us Your Junk," a weekly Sunday night open mic that comedian Liam McEneany is co-producing with Nick Nace and Ann Enzminger. Stage time will require paying a $3 fee.
"Ali has given us the green light to really stretch and try to make this a crazy, anything-goes night," McEneany says. "It won't just be for comedians but also musicians, jugglers, monologists—whoever has six minutes to perform. In addition, we're hoping to have drop-ins from some of our more accomplished friends." He adds of his first visit to Comedy Bar, "I could definitely see the potential for the space," comparing it to the Lower East Side's Bowery Poetry Club.
Farahnakian says that on top of McEneany's weekly showcase, additional recurring and one-time shows will be booked once the bar opens for business. To pitch a show for consideration, visit ComedyBarNYC.com and complete the online form.