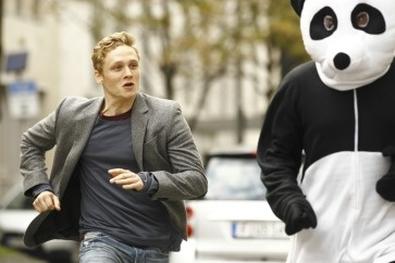 "What makes a man?" is the age-old, central question in the pleasing if clichéd German comedy "What a Man." Can he be buttoned-up and mild-mannered, like grade school teacher Alex (Matthias Schweighöfer)? Or must he be a bragging, swaggering womanizer, like photographer Jens (Thomas Kretschmann), for whom Alex's bitchy girlfriend Carolin (Mavie Hörbiger) dumps him?
Carolin craves a he-man who ravages her in a sex sling, not demure Alex, who's afraid of flying and unable to raise his voice above a purr. Worse, Alex faces images of hyper-masculinity at every turn in the form of giant billboards depicting virile construction workers and panting women. What's a nice guy to do?
Reminiscent of the 1956 film "Tea and Sympathy," Alex gets lessons from his best friend Okke (Elyas M'Barek) on how to act butch, score chicks, and dress like Jersey Shore—apparently a style in Deutschland, too. Schweighöfer and his angelic face bring innocent charm to the characterization of Alex, remaining valiant without seeming cowardly, put upon but not a victim. Watching him struggle against his naturally placid disposition is entertaining, even during a bizarre diversion to a masculinity retreat where men chop down giant trees and carve stumps into phalluses.
In the film's second half, Alex turns to the undying support of his childhood gal pal Nele (Sibel Kekilli), who has always adored him just as he is. You can guess where this plot is headed.
Schweighöfer—who also writes and directs—loses the film's search for manhood by mimicking generic Hollywood rom-coms of the past decade. After vomit gags, dildo jokes, a bumbling best friend, and a pop rock soundtrack, there's a climactic declaration of true love to a gathering crowd and last-minute chase before his girl's plane takes off forever. Modern Hollywood Romance 101.
Ironically, copying its American counterparts is what makes "What a Man" warmly endearing, like little brother lifting weights with big brother. The cast's lovability elevates the middling script. Kekilli plays Alex's best girl pal with doting tenderness, only occasionally coming off as mousy. M'Barek has mastered the modern comic archetype of boorish best buddy. Hörbiger as the callous ex-girlfriend and Kretschmann as her brawny lover are ideal foes, stirring up an intense sexual chemistry that frightens the more vanilla-inclined Alex. As for cherubic Schweighöfer, he's easily Germany's answer to American darling Ryan Gosling.
"What a Man" suggests the quality of masculinity isn't testosterone count, but purity of character. Sure, we all know that, but there's no harm in an amusing reminder.
Critic's Score: B
Directed by Matthias Schweighöfer
Casting by Emrah Ertem
Starring Matthias Schweighöfer, Sibel Kekilli, Elyas M'Barek