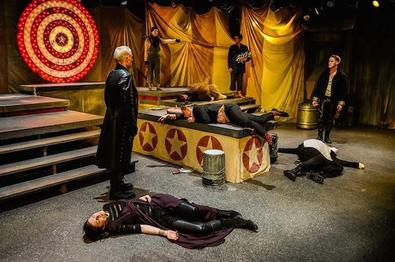 Though it's been nearly 400 years since the great playwright's death, there are more ways to read, hear, watch, and appreciate Shakespeare than ever. Ready to see the Bard differently? Check out these six busy theater companies to witness deconstructed Shakespeare at its finest.
"Sleep No More"
This award-winning production from immersive theater masters Punch Drunk has been playing at New York's McKittrick Hotel since 2011. Based on Shakespeare's "Macbeth," the groundbreaking hit allows audience members to discover the story for themselves as they roam the elaborate, multi-story set and unravel the mysteries of "The Scottish Play."
Drunk Shakespeare
A "company of professional drinkers with a serious Shakespeare problem," the players of Drunk Shakespeare turn the Bard upside down with small cast, spur-of-the-moment plays that they perform while, well, drunk; a single company member downs more than a few shots before taking the stage, and audiences die laughing. The hugely popular troupe performs Shakespeare regularly at Roy Arias Stages in New York, and early and late-night performances make it easy to catch the show.
New York Shakespeare Exchange
Aimed at bringing Shakespeare to the NYC masses in a vibrant and relevant way, this innovative company offers a variety of programs throughout the year that deconstruct—and reconstruct—the Bard. From its ShakesBeer pub crawls (yes please!) to the comprehensive video "The Sonnet Project," NYSX always has something interesting up its Elizabethan sleeve. March 23–April 9, see a 10-actor ensemble perform "Hamlet" as a fresh investigation of the Danish Prince's inner life.
Synetic Theater
This DC–based theater company deconstructs classical works with highly visual, movement–based pieces that draw out fresh meaning from the text. The company integrates dance, technology, design, and music into their wordless Shakespearean productions, which include an award-winning "Romeo and Juliet" (through March 27) and "Twelfth Night" (July 2016).
The Improvised Shakespeare Company
It may not be up to the Bard's standards, but this Chicago-based theater company does a hilarious job of mimicking Shakespeare's style by creating one-off, improvised plays based on audience suggestion. With regular performances at iO's Del Close Theater and frequent tours around the country, Improvised Shakespeare draws on what we love about Shakespeare in an approachable, fun, and totally made up format.
Shrunken Shakespeare Company
This young New York–based company shifts classical works into the contemporary world with vibrant and innovative site-specific adaptations. From "A Midsummer Night's Dream" performed at a real-life circus school to "Two Gentlemen of Verona" at an active NYC bar, SSC brings Shakespeare and other classical works to life in an imminently surprising and accessible fashion.
Inspired by this post? Check out our theater audition listings!