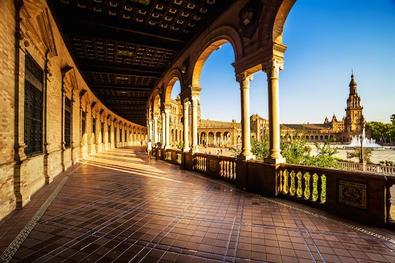 Studying abroad is a great way to improve your global perspective and enjoy the arts in a less-than-familiar context. Whether you're looking to learn a new skill, improve your technique, or make international connections, here are eight international theater training programs where you can expand your craft and your world.
The Actors Space (Barcelona, Spain)
This scenic rehearsal and workshop venue in the heart of the Catalan countryside is an amazing destination for actors of all backgrounds. The company was inspired by the work of Jaques Lecoq, and offers workshops in screen acting, comedy, and more in its 16th-century Spanish farmhouse.
Centre for Alternative Theatre Training (Worldwide)
This international program trains performers from a variety of cultures and disciplines to create innovative and individualistic works. Summer programs change location and theme each year, with previous residencies in Italy, Kosovo, and Greece; keep an eye on the CATT Facebook page for details about the upcoming August workshop in Athens!
Delle'Arte International Study Abroad Bali Program (Bali, Indonesia)
North America's Delle'Arte International offers this specialized four-week workshop to professional actors, dancers, designers, and musicians who wish to immerse themselves in traditional Balinese performing arts and customs. Areas of study include mask-carving, Balinese dance, and shadow puppetry, and participants have the chance to explore their island surroundings through various daytime excursions and evening ceremonies.
International Summer School of Physical Theatre (Retzhof Castle, Austria)
This summer training program from the International University Global Theatre Experience (IUGTE) Association offers internationally minded artists the chance to study multiple physical theater techniques in an intensive, professional environment. Classes range from highly abstract to highly practical, preparing participants to bring physically collaborative theater to repertory companies around the world. Other IUGTE Association projects include international workshops in film, choreography, and directing.
LAMDA Shakespeare (Summer) (London, England)
This four-week "short course" from the London Academy of Music and Dramatic Art is an excellent opportunity to study Elizabethan and Jacobean works in the Bard's original city. In addition to studying Shakespearean acting, movement, text analysis and more, students visit professional theaters across London to see Shakespeare's plays performed by some of the world's best performers.
Moscow Art Theatre Semester (Moscow, Russia)
The Eugene O'Neill Theater Center sponsors this esteemed 13-week training program, available to undergraduates, post-graduates, and professionals looking to expand their training at one of the world's best theater institutions. As an original artistic home to greats like Stanislavsky and Anton Chekhov, the Moscow Art Theatre is generally considered the birthplace of modern actor training. In addition to intensive classes in acting, movement, Russian language and more, students attend cultural and artistic events all over Moscow and St. Petersburg.
The National Theatre School of Ireland-Gaiety School of Acting (Dublin, Ireland)
IES Abroad partners with the National Theatre School of Ireland to bring this summer abroad experience to current theater students. The Dublin Summer Acting Intensive teaches acting, voice, and Irish theatre, and culminates in a showcase of ensemble-based scenes. Participants are also treated to culturally enriching field trips around Dublin as part of their Irish immersion experience. Not a university student? The Gaiety School offers several other amazing two-, three-, and four-week workshops for professional actors seeking an international adventure.
RADA Shakespeare Summer School (London, England)
Another London-based summer Shakespeare program, this four-week offering from the Royal Academy of Dramatic Art is open to student actors as well as professionals of all levels. Participants work in companies of 12–16 on Shakespearean text and technique, and are eligible for a "Shakespeare in Action" performance-based one-week workshop after their original course is complete.
Inspired by this post? Check out our audition listings!