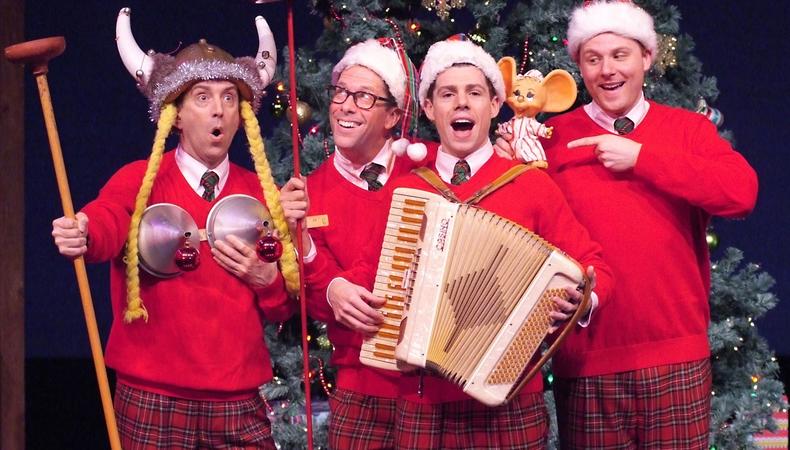 You've got to give credit to Stuart Ross for his show-business savvy. When he created Jinx, Smudge, Sparky, and Frankie, the four guy-group characters of "Forever Plaid," he created an entire franchise, the kind of valuable property that could be spun off into sequels or branded into TV specials, record albums, coffee mugs, and the like, all of which the boys do in "Plaid Tidings," Ross' Christmas-oriented version of his hit show. "Plaid Tidings" isn't so much a sequel as a rehash, which considering the market for the show and its characters is probably further proof of his smarts and moxie.
The boys are once again resurrected on earth to do a show they never got to do in life. Again, their naiveté triggers panic attacks in the form of ulcers (Smudge), nosebleeds (Jinx), and asthma (Frankie). And, of course, they overcome their fears to deliver the kind of offering that Smudge says the quartet had always dreamed of doing: a holiday-time TV outing patterned after the Christmas specials of their heroes, Perry Como and Dean Martin. Ross knows his audience, and his deft staging at Laguna Playhouse hits all its marks, delivering a holiday bauble for everyone burned out on rehashes of "A Christmas Carol" and "It's a Wonderful Life."
As with "Forever Plaid," the focus is on the raft of now-classic pop songs that emerged from the 1950s and early '60s. Just enough Christmas-oriented numbers (nearly half) are included to put patrons in a holiday mood without overkill. Are you apprehensive that nearly three-dozen songs might make for an unwieldy, overlong bore? More Ross savvy: Only a few are heard in their entirety. For the rest we get quick phrases or stanzas, just enough to suggest each number. Our memories kick in and do the rest.
No version of "Plaid Tidings" can work without a quartet of performers who can not only create the group's signature four-part vocal harmony but also be endearingly clumsy, awkward, and overeager to please. David Brannen, Scott Dreier, Ciarán McCarthy, and William Martinez move effortlessly among skilled vocal renditions of early rock, rock-era pop, and musical scenes that are mock clichés of guy groups: the exaggerated gestures, the soft-loud-soft dynamics, the silly facial expressions. The comedy content is mostly enjoyable but bland; it can get wearying if you're familiar with Ross' franchise.
The most satisfying moments are those in which McCarthy's falsetto, Dreier's bass, and Brannen's and Martinez's tenors merge in sublime arrangements by Raymond Berg, Brad Ellis, James Raitt, and David Snyder. Musical director and onstage pianist Gerald Sternbach is so obviously talented that his pianistic skills are barely taxed.
But neither is our intellect. Two hours with Ross' lovable losers is more than enough, perhaps inspiring cynicism as much as instilling holiday cheer. That's the not-so-obvious flip side of creating a show that banks on audiences' need for and response to nostalgia for the innocence of a bygone time.
Presented by and at Laguna Playhouse, 606 Laguna Canyon Rd., Laguna Beach. Dec. 1–23. (949) 497-2787 or www.lagunaplayhouse.com.
Critic's Score: B