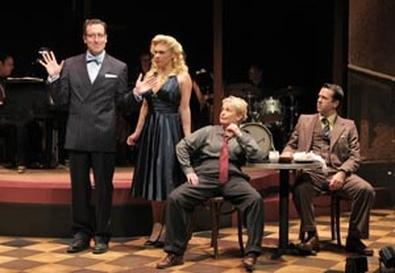 Sally Mayes knows her way around a jazz tune, and in "Play It Cool" she has the opportunity to serve up songs that are both hot and cool while also getting to demonstrate her skill as a scat artist. It's an exceptional turn in a rather underwhelming musical that turns the clock back to examine the lives of gay people in Hollywood in 1953, when studios still ruled.

Mayes plays Mary, the owner of a jazz club off Sunset Boulevard that caters to a gay clientele. Mary is a drag king, and her latest star attraction is her lover Lena (Robyn Hurder), a blond bombshell with dreams of becoming a star of the silver screen. Their plans for Lena's big debut at the club hit a snag, however, after Eddie (the excellent Chris Hoch), an oily MGM exec, and Will (Michael Buchanan), a kid who's just arrived from South Carolina with his own celluloid dreams, come into the joint for a drink. (Eddie has just picked Will up in the men's room at the bus station.) Lena sees in Eddie the guy who'll help her jump into film. Mary sees Lena's eagerness to impress him as an indication that the young woman is just one more in a long line of lovers willing to break her heart.

The quartet's interactions are observed—and commented on in true pulp fiction/B-movie fashion—by Henry (a dry and eventually touching Michael F. McGuirk), a cop who's taking protection money from Mary to make sure the place isn't raided by his pals at the LAPD. Eventually, Henry is sucked into this world he has only watched from the sidelines.

It's potentially steamy stuff, and yet the show, as directed by Sharon Rosen, seems incredibly tepid. The biggest drawback is Martin Casella and Larry Dean Harris' book, which can be confoundingly sketchy. There are moments when it's unclear whether the bar is open for business or the characters are there before or after hours for rehearsal. Similarly, Mary says that she has both owned the bar for years and established it for Lena (perhaps the big opening is a reopening, but it's never made clear).

Fortunately, the abundant score—music by Phillip Swann, with additional work by Jim Andron, Michael Cruz, Marilyn Harris, Emilio Palame, and Larry Steelman, and lyrics by Mark Winkler—is consistently excellent and smartly conceived. The Latin flavor of Eddie's numbers, for instance, ultimately proves to have a deeper meaning.

The songs also showcase Mayes' talents beautifully. She grabs attention with the opening number, and whenever she comes center stage, the show sparks to life marvelously. Special note should also be made of the work of music supervisor and arranger Joe Baker and music director David Libby: The ensemble's harmonies are second to none.

Equally handsome are Therese Bruck's period costumes (particularly Lena's ever-changing wardrobe) and set designer Thomas A. Walsh's dingy-chic basement bar, which is the perfect backdrop for this disappointingly uneven tuner.

Presented by Mary's Hideaway at the Acorn Theatre, 410 W. 42nd St., NYC. Sept. 14–Oct. 9. Tue., 7 p.m.; Wed.–Sat., 8 p.m.; Wed. and Sat., 2 p.m.; Sun., 3 p.m. (212) 239-6200, (800) 432-7250, or www.telecharge.com. Casting consultant: Michael Cassara.