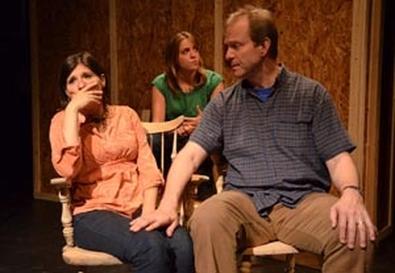 At the start of "The Play About My Dad," Boo Killebrew, a fairly intense but likable young playwright, describes the play that is about to be performed. She says, "We are going to play with magical realism and time travel and side stories and make the whole thing sort of like a tapestry." And the play's actual author—who also happens to be named Boo Killebrew—succeeds nicely in using these elements to weave an involving and seemingly personal dramatic tapestry of Hurricane Katrina and how it led to a reconciliation between Boo (played by Anna Greenfield) and her estranged father, Larry Killebrew (Jay Potter), an emergency-room doctor in Gulfport, Miss.

Both are on stage as the show begins, making it clear that what we are about to see is a play-within-a-play, which Boo has written to tell the "story version" of actual happenings. Scenes that move back and forth in time, set in various locales around Gulfport, give us intimate looks at some of the storm's victims: two emergency medical technicians, Kenny and Neil (Jordan Mahome and T.J. Witham); an elderly caregiver, Essie (Geany Masai); and Rena and Jay (Annie Henk and Juan Francisco Villa), a married couple with a 5-year-old son, Michael (David Rosenblatt). There's a touch of "Our Town" as Boo and Larry fill us in succinctly about these characters as they appear.

The "Our Town" ambience is also evident in director Lee Sunday Evans' imaginative staging, using next to no props and a set consisting of little more than some chairs, crates, and storm boards. Aided by Nick Houfek's lighting, the playwright and director pull off an admirable coup de théâtre: Without sound effects, we're uncomfortably aware of surging water and howling winds.

Most helpful, though, are the performances, all of which resonate with conviction. Even Rosenblatt, as Michael, is about as believable as a guy who looks to be about 20 can be playing a 5-year-old.

On the downside, playwright Killebrew is a little too facile at times in sketching in both her daughter-father conflict and her "side stories," and if she's looking for any deeper meaning in her depiction of Katrina, it's not discernible. But she succeeds in creating arresting snapshots of people caught up in disaster, and her dialogue has the ring of truth. The banter between Kenny and Neil is especially lively, and the rapprochement between Boo and her father gives the play an emotionally satisfying closing.

Presented by CollaborationTown as part of Americas Off Broadway at 59E59 Theaters, 59 E. 59th St., NYC. June 22–July 2. Tue.–Thu., 7:30 p.m.; Fri. and Sat., 8:30 p.m.; Sun., 3:30 p.m. (Additional performance Sat., July 2, 2:30 p.m.) (212) 279-4200 or www.ticketcentral.com.