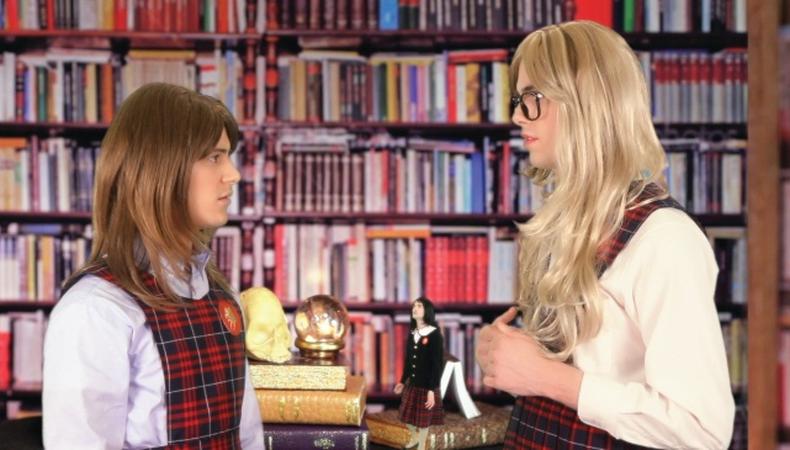 For the first time in his life, writer-director Jim Hansen can't stop playing with dolls.
The absurdist mind behind the "Chloë" videos, a viral series of bizarre riffs featuring Drew Droege skewering fashion icon Chloë Sevigny, Hansen has set out to create a digital dollhouse in which to play pretend. "Paragon School for Girls" is a cartoony yet unsettling coming-of-age saga featuring schoolgirls who are, like their green-screened surroundings, not what they appear to be.
"Nothing is real," says Hansen of his diabolically delightful Web series, which was born out of "the idea that everything in this world is false and imaginary in some way; it makes it feel more playful, more like your imagination." The show's blurry backdrops—actual dollhouses that Hansen constructed and decorated: "a crafty little project"—are populated by his actor friends playing brusque schoolteachers, doe-eyed students, and mysterious maids. When asked whether he's making a show for his inner child, Hansen pauses. "It's not everybody's cup of tea," he says. "If I were a kid I would like it."
"Paragon" became Hansen's opportunity to create an insular world in which to assert complete control; the set's microscopic details dictated changes to the scripts. "It came from wanting to make something bigger and be able to do it slowly and not have to do all the scheduling." Every actor was shot separately, given only their lines and a brief description of the background scenery and where to look. The result adds to the show's faintly comedic disquiet, as if every schoolgirl machination and supernatural twist is as blurred as the mountains surrounding the school. It's funny in both senses of the word.
But the simple fact that this dollhouse of girls is played by a cast of boys really makes the "nothing is real" thesis statement apparent. The "Paragon" brand of camp, according to Hansen, relies on absolute earnestness rather than the tongue-in-cheek that conventional drag performance requires. The most common note he gave his actors was simply to play their female characters: "My intention was to be sincere because you can't try to make something campy. Good camp comes from the sincerity of really believing what you're doing. A lot of my direction was 'Calm down, don't do a draggy voice. Just be this character. Take it really seriously and don't try to be funny.' "
In fact, Hansen goes on, none of his online series that feature cross-dressing constitute drag. Audiences will accept and adapt to anything, he says, citing the Australian TV comedy "Kath & Kim." As he points out, "The characters are the same age but one of them is the mom and you're just like, 'OK.' " What makes Droege's portrayal of Sevigny so hysterical is how enwrapped he is in the parody; in "Paragon," the actors so convincingly inhabit their characters that it's possible to forget something as incidental as gender and become immersed in the playful, slightly twisted narrative. That, as Hansen makes clear, is his peculiar brand of subversion. "My goal is to make you forget."
Like this story? See more of our Now Streaming articles here!