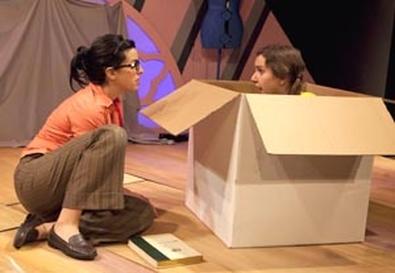 That theater company Ego Actus' mission statement, which claims that the company presents projects that are "complete audience experiences using all the elements of theater," is not an extraordinary assertion until one has seen "Play Nice!," which refutes the statement's claims of "developed scripts" and "accomplished acting." Inspired by Jean Genet's "The Maids" (Genet might disagree), the show is a convoluted experience at best.

Seemingly more inspired by Shirley Jackson's "We Have Always Lived in the Castle" and V.C. Andrews' "Flowers in the Attic," Robin Rice Lichtig's torturous script finds siblings Isabelle (Laura Hankin), Luce (Andrew Broussard), and Matilda (Lauren Roth) terrorized by their monstrous mother, who keeps up appearances on the first floor of her affluent New Jersey home but won't buy mattresses for her children's beds. Shortly after sending the effeminate Luce away to get help, Mother is poisoned over tea, which leaves Isabelle and Matilda to uncover which one of them did it, via role-playing in the attic.

Director Joan Kane seemingly has no control over the wildly varied tones of the performances. As played by Hankin, Isabelle could be anywhere from 6 to 13. Convinced that louder equals funnier, Hankin reaches the low point of her performance early on, when she throws herself on the ground and simulates a hissy fit, complete with exaggerated shrieking. Roth fares better as the serious Matilda, even if the character makes little sense (the daughter of a Harvard graduate, Matilda is the only child given to using double negatives).

But the most excruciating aspect of "Play Nice!" is the imaginary homeless woman whom Luce conjures up in a psychic conversation he is having with Isabelle from a subway station in New York (don't ask). Prone to spouting slam poetry, Joanie Calliope (Debby Brand, doing her best) somehow becomes an integral part of the story, much to the audience's dismay. Her story line is marked by the same slapdash quality that recurs throughout the proceedings, from the actors' inability to find their light to the bizarrely clean and tidy attic set from Jason Simms. "Play Nice!" screams out for Gothic flourishes, but this brightly lit, listless production is pure white bread, a Jersey take on Jean Genet.

Presented by Ego Actus at 59E59 Theaters, 59 E. 59th St., NYC. March 15–27. Tue. and Wed., 7:15 p.m.; Thu. and Fri., 8:15 p.m.; Sat., 2:15 and 8:15 p.m.; Sun., 3:15 and 7:15 p.m. (212) 279-4200 or www.ticketcentral.org.