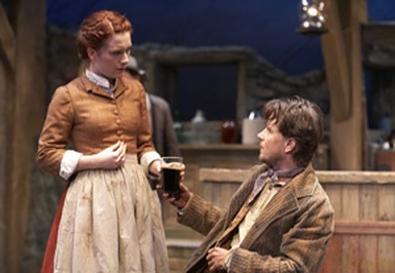 Never mind the dancer from the dance; how can we know the teller from the tale? The Irish storyteller's talk casts a spell on the ear as much as on the imagination. J.M. Synge's funny, strange drama "The Playboy of the Western World" is really a tale within a tale, using gorgeous language as haunting as the simple words in an Irish traditional song. Christy Mahon (Sean McNall) wanders into a lonely pub, where the daughter of the house, Pegeen Mike (Lee Stark), is about to be left alone by her father (Bradford Cover), while her intended, Shawn Keogh (Ryan G. Metzger), fears the priest too much to keep her company.
It's easy to see why Christy's claim to have killed his Da appeals: In a land where so many are bowed under by poverty and the church, who but a bold gallant would act so decisively? The Widow Quin (soulfully played by Rachel Botchan) is attracted, and neighborhood girls swoon over him. His story emboldens Christy. He wins prizes at sports day and delivers irresistible words of love to Pegeen: "If I wasn't a good Christian, it's on my naked knees I'd be saying my prayers and paters to every jackstraw you have roofing your head, and every stony pebble is paving the laneway to your door."
But Christy's Da, Old Mahon (Joe Kady), shows up, all too alive—undercutting the entire premise of Christy's heroism. Director J.R. Sullivan presents a solid production, with fluid staging on a unit set that evokes the isolated shebeen (design by Harry Feiner). He smartly takes both intermissions called for by the play, keeping each act swift.
McNall is appropriately cheeky as Christy, and Stark's wide eyes and frustrated passion make for a lovely Pegeen. It's a solid production and a grand way to make the acquaintance of Synge's haunting romp.
Presented by the Pearl Theatre Company
at New York City Center Stage II, 131 W. 55th St., NYC.
Oct. 11–Nov. 22. Tue., Thu.–Sat., 7:30 p.m.; Wed., Sat., and Sun., 2:30 p.m.
(212) 581-1212 or www.nycitycenter.org.