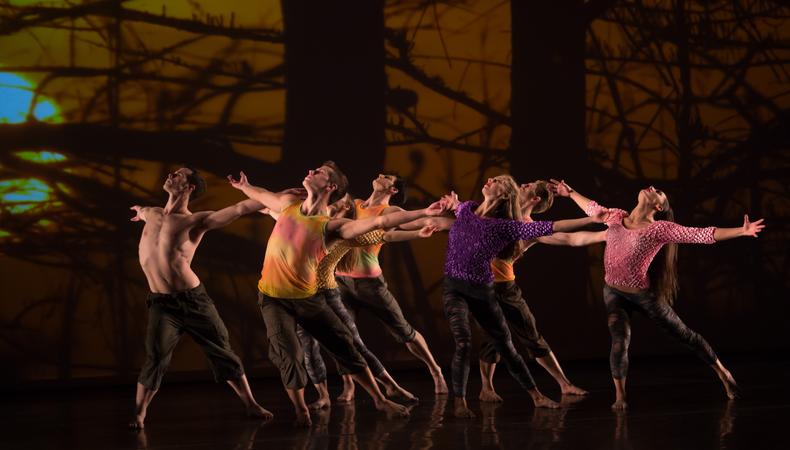 David Parsons' contemporary-dance choreography is comfortingly nonexperimental. There's nothing demanding or interactive about it. You just watch, absorb, and enjoy. His dances are accessible, solidly crafted, scrumptiously entertaining, and always imaginative, yet in a safe, conventional fashion. His perky troupe, Parsons Dance, which has been around since 1985, is offering a pleasing program of five pieces at the Joyce Theater.
The opener, "Wolfgang," lets you know from the get-go what sort of evening you're in for. A high-energy work for three couples, choreographed in 2005 to lively Mozart music, it features all the Parsons trademarks. It's built of tricky vocabulary, featuring lots of jumping and lifting and quick shifts from full-bodied mainstream modern-dance movements to quirky gestural actions. It's invigoratingly upbeat, playfully romantic, and a bit too repetitious in its choreographic patterns. The piece is given a polished performance by Parsons' dancers, who are, as usual, technically assured, young, clean-cut, and physically attractive. Though his all-white troupe doesn't display the ethnic diversity characteristic of most other New York–based contemporary-dance companies, Parsons' performers are all dazzling soloists who can command the stage as individuals yet easily amalgamate into a harmonized whole. They also exude a timeless youthfulness that persuasively synchronizes with the many different sorts of pop music and dance styles Parsons employs. Frolicking to tunes by the Dave Matthews Band in the program closer "In the End," the performers appear hip, while the songs and choreography feel dated.
The program's main event is the New York City premiere of Parsons' "Dawn to Dusk," commissioned by Wolf Trap as part of "Face of America," a series supporting the creation of site-specific choreography in America's national parks. Parsons' mischievous work situates his dancers among the watery environments of South Florida, including the Everglades National Park. We watch them dance live onstage, while behind them is projected ravishing National Geographic–quality nature videography (by Blue Land Media), in which the dancers cleverly appear and disappear in pools of water and swampy fields, amidst alligators and birds. While the choreography is sometimes uninterestingly literal in its imitation of the animals, the overall effect is charming. (The footage of a baby alligator lyrically lifting its arms is irresistible!) The work's cute, soft-sell deliverance of a strong ecological message is, oddly, capped by a final scene that celebrates Miami nightlife with sexy salsa dancing.
Completing the program is Eric Bourne's stunning performance of Parsons' signature 1982 solo "Caught," in which strobe-light effects cause the dancer to appear suspended mid-air, and the world premiere of "Black Flowers," an angst-ridden sextet choreographed by former Parsons dancer Katarzyna Skarpetowska. Despite its dowdy costumes (by Reid Bartelme) and its derivative Graham-based movement vocabulary, Skarpetowska's mournful work impressively expresses the anxieties of individuals trapped within a repressive fundamentalist society.
Presented by Parsons Dance, in association with the Joyce Theater Foundation, at the Joyce Theater, 175 Eighth Ave., NYC. Jan. 15–27. (212) 242-0800 or www.joyce.org.
Critic's Score: B+