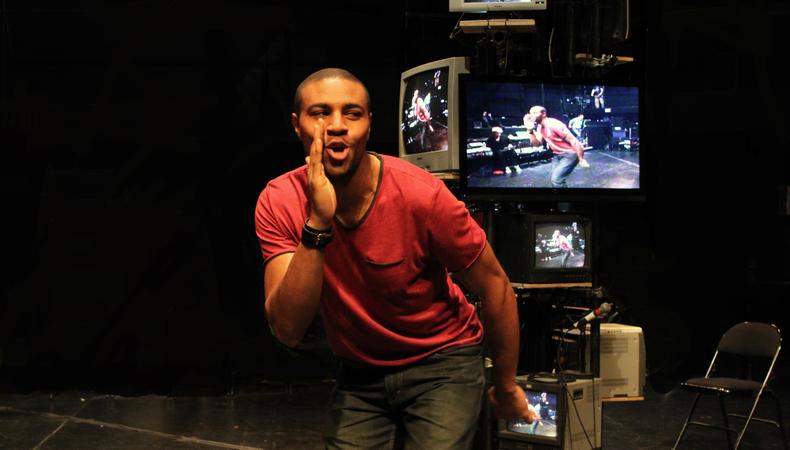 Many of us experience YouTube as a breed of needy puppy. Do you wanna watch this panda sneeze? Do you wanna watch this baby dance with his twin? Do you wanna watch it again? "Tube," the newest work from the ensemble of theatrical storytellers known as Van Cougar, offers a flesh-and-blood simulacrum of the YouTube wormhole. The show's five performers have memorized a large selection of YouTube videos—from the panda and the twins to the guilty dog and the Tron guy—and offer to reenact them for the audience's pleasure.
Do you want to see "Charlie Bit My Finger?" they ask one spectator. "Do you wanna see that again?" they ask another. As they stage their bits, their cast mates record them so that their copycat videos are projected on a pile of TV screens stacked in the center of St. Mark's Church-in-the-Bowery's black-box theater. There's not much else to Chris Morris' set, a relaxed open space with a single row of seats along the room's four walls, and not much else to "Tube," but the show's simplicity combined with its ensemble's polish are key to the work's playful charm.
Like YouTube itself, there's a choose-your-own-adventure element to this production. The actors are willing to take no for an answer, and they have enough other "videos" in their ken to suit your whims. The chief difference from the piece's digital counterpart—aside from the obvious, that live actors perform the short pieces—is that you can no longer dismiss the time you spend watching as procrastination. The videos the company has selected are almost entirely anonymous noncelebrities engaging in strange but funny miscellany, exactly the videos we watch when we're "not doing anything" and "should be doing something else." To take them seriously would be to kill the humor behind their incidental character.
Yet that's exactly what "Tube" asks us to do. By re-performing these iconic videos, they remind us that there are real people with real, deeply earnest intentions behind them. They remind us, in fact, that the very site we identify with wasting time is also one of the last refuges of the unironic and the sentimental in our culture.
The Van Cougar ensemble is both childishly enthusiastic and impressively skilled. The performers jump up like children whenever an audience member chooses a video to be staged, then they snap into first-rate professionalism to get the job done. The amateurs they imitate have never been studied so attentively. The actors intersperse their video pinwheels with montages of their own choosing, which focus on confessional videos and Lilith Fair–style renderings of Justin Bieber songs, all to underscore the poignancy and vulnerability of every 15 minutes of fame. The only new text is a short series of casual, meandering, but oddly touching stories that the actors deliver with the TVs switched off. As the oldest form of public intimacy, live narration, is placed alongside the newest, the novelty of YouTube feels as primal and human as ever.
Presented by Incubator Arts Project at St. Mark's Church-in-the-Bowery, 131 E. 10th St., NYC. Nov. 30–Dec. 16. (212) 352- 3101, (866) 811-4111, or www.incubatorarts.org.
Critic's Score: A-