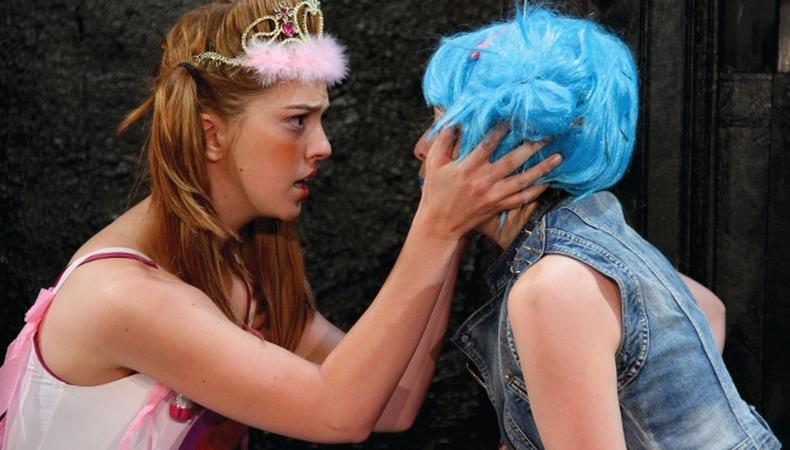 A hyperactive lesbian cyborg. A dragon dreaming of superstardom. The Scooby-Doo gang at their high school reunion.
These are some of the many stories you might see on any given night in #serials@theflea, the hit late-night play competition of one of New York's leading Off-Off-Broadway companies. The Flea Theater is known for its commitment to creating "a joyful hell in a small space," as well as its youthful resident acting company, the Bats. The raucously funny 10-minute episodes of #serials provide a fine exhibition for both.
Producers Alex Grubbs and Stephen Stout know how rare it is for a theater company to allow its young actors a space and time to create goofy original theater. To invite a variety of emerging playwrights and directors to collaborate—not to mention provide audiences free beer with every performance—is practically unprecedented. "Our artistic director [Jim Simpson], and generally the Flea staff, they have a lot of faith in #serials," said Grubbs after a recent show. "They put their institutional support behind us, and that's pretty incredible if you think about it. It's a really bold thing to do."
Stout, who produced the first cycle of #serials in 2011 with fellow Bat Dominic Spillane, said the competition was born out of a desire to give actors unrestrained creative license. "It's a nice little sandbox in which you can just screw around and fail—but also surprise yourself." During the writing process, the five groups of artists in each cycle cater to specific actors' strengths, so Bats take the opportunity to stretch, experiment, and work with playwrights to avoid typecasting. "One of our first, longest-running shows was a musical called 'Sealand' by Nathan Leigh that started because nobody in the group had ever done a musical. Nor were they qualified for it," said Stout with a laugh.
This fall's cycles play Oct. 9–25, Nov. 13–22, and Dec. 4–20 on Thursdays, Fridays, and Saturdays at 11 p.m. Each night the audience votes for three out of the five plays, which proceed with new material. The losing two groups are given a festive postshow toast, and appear the following week with entirely different stories. Last year's "Women" by Chiara Atik, a mash-up of "Little Women" and HBO's "Girls," catapulted from its run at #serials to an award-winning production at the Hollywood Fringe Festival.
For Grubbs, Stout, and 50 Bats, the Flea provides both a fun theatrical training ground and a network of talented friends. During a recent #serials performance, a dozen actors crammed into the tiny lighting booth to watch their peers dance, scream, and throw fake blood at each other. As Grubbs said, "You have to be 'batty' to do it. To do this Off-Off-Broadway thing."
Inspired by this post? Check out our theater audition listings!