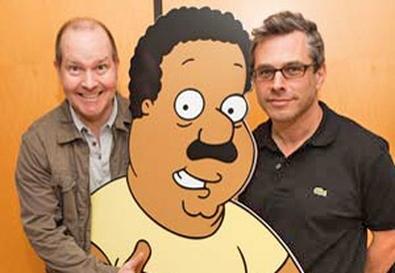 Cleveland Brown is a good-hearted family man, on his second marriage, and madly in love with his wife. In that way and more, the animated character of "Family Guy" and now star of his own program, "The Cleveland Show," shares much in common with Mike Henry, the man who created and voices him. One thing they do not share in common is race; Cleveland is African-American, and Henry is, in his own words, "undoubtedly white."
According to Richard Appel, who co-created and executive-produces the show with Henry and Seth MacFarlane, this led to a lot of fun in the audition room when they were casting Cleveland's wife, Donna. "Some of the actresses who came in had never seen 'Family Guy,' but even a lot of 'Family Guy' fans are not aware that Mike does the voice," Appel recalls. "So they would come in and assume Mike was just a producer, and they would start reading. Then Mike would say—" At this point, Henry pops in with Cleveland's low-key drawl: "Oh, Donna, I love you." Appel says almost every one of the women would burst out laughing. "They would need to take a moment. They'd say, 'You're Cleveland? I can't believe this; I have to text my son. How does Cleveland Brown's voice come out of that guy?'"
Not just Cleveland; as Henry is demonstrating at a table read early last month, a wide variety of characters come out of "that guy." The episode is titled "Your Show of Shows" and features comedy legend Carl Reiner as a 91-year-old retirement-home resident named Murray, who hangs with Cleveland's 5-year-old stepson, Rollo. Reiner also receives a story credit for this episode, as he pitched ideas in the writer's room. As several of the voice actors have yet to be determined or can't be present, Henry finds himself voicing not only his assigned roles of Cleveland and Rollo but also covering the parts of Harv, Arch, Gus, Kid #3, and even a raccoon. Without apparent effort, he segues from role to role, often voicing two characters back-to-back in conversation with each other.
The conference room is packed with more than a hundred staffers and friends laughing almost nonstop over the course of 30 minutes at jokes that mock such topics as karate, anti-drug PSAs, Oprah, and rap stars. Because of the show's advance production schedule, the team at "The Cleveland Show" is about 28 episodes ahead; "Your Show of Shows" won't air until 2011. But Fox clearly had confidence in the series, renewing it for a second season before the first episode had even aired. By all accounts, the reading is a huge success. Still, Henry isn't satisfied. After the read-through, he says the writers will gather to go over what did and didn't work. "By the time you see this next year," he promises, "it will be funny."
Out for a Spin
In general, spinoffs aren't a sure thing. For every "Frasier," the TV graveyard is littered with the corpses of a dozen "Joey"s. Certainly, no one could have predicted a spinoff from MacFarlane's "Family Guy." For starters, the Fox network canceled the show in 2002. After massive fan feedback and DVD sales, the show returned in 2005 and has since won three Emmy Awards and embedded itself in the American pop culture it so mercilessly mocks.
In 2008, when Fox started bugging MacFarlane for a spinoff, there was only one character who was right for the job. "When Seth first mentioned that Fox was thinking of a spinoff, everyone looked at me and was like, 'Cleveland!' " Henry recalls. He points out that Peter Griffin's other friends probably wouldn't be able to carry a show on their own—take, as an example, lady's man Quagmire. "You can't make it about Quagmire; he's a rapist," Henry reasons. "He's not going to learn a lesson at the end of the day and still be Quagmire."
Henry and MacFarlane asked Appel, who worked for one season on "Family Guy" before moving to MacFarlane's other show "American Dad," to develop a spinoff for Cleveland. Asked why they chose Appel, Henry replies, "I loved his glasses." He then adds, "Honestly, it was a no-brainer. We have the perfect blend of personalities and talents in that all three of us bring something very different and recognize what the other does."
Appel had taken an unusual route to comedy writing. Though he had known since he was 14 he wanted to be a writer and spent time on the Harvard Lampoon staff, he came from a family of academics that "had certain expectations" of him. He attended law school and spent three years as a federal prosecutor in New York before he turned 30 and "realized if I repressed this interest any longer, I would shoot myself." When his wife at the time, novelist Mona Simpson, became pregnant with their first child, he had an epiphany. "I realized it's a much bigger deal to decide to become a parent than it is to tell your parents you're going to quit your legal career and become a comedy writer," he notes. "That week, I started writing."
He wrote furiously and soon landed an agent who got him a 10-week assignment working on "The Simpsons." He didn't think he would make it. "After six weeks, I was ready to resign," he admits. "I was in a room with 15 of the funniest people ever, and I hadn't opened my mouth once. Maybe once or twice I thought of something, but didn't have the nerve to say it, and then it was said by someone else and got a laugh." Instead, that 10-week assignment turned into five years on the show, during which time he would write some of the series' most beloved episodes. That includes "Mother Simpson," where Homer is reunited with his long-lost mother; it was Appel who named the character Mona Simpson.
Henry's route was slightly more traditional. Born and raised in Richmond, Va., he began in advertising before moved to Los Angeles to pursue acting in the early 1990s. "I was hustling," he says. "I took Groundlings classes, classes at UCLA, screenwriting classes, classes at AFI." His brother Patrick was attending the Rhode Island School of Design, and Henry went to act in some of his films. There he met MacFarlane, who was also a student. "We immediately hit it off and cracked each other up and kept in touch," Henry says.
He also spent time in New York, where he endured his worst commercial audition: making a dill pickle dance on a plate while he voiced it with "some terrible copy." He didn't get the job. "I haven't eaten a pickle since," he jokes. Henry estimates he auditioned every day for a year without booking anything. "It was a long, broke, depressing time," he admits. Then, in the space of a month, he booked two national commercials and received a call from MacFarlane, who had sold "Family Guy" to Fox and asked Henry to come out and create characters and write for the show.
Henry had shown a gift for voices at a young age. "I remember being 7 or 8 and mimicking my relatives at holidays and friends at school and getting in trouble," he says. "I find the best way to create a character in animation—and probably in real life, too—is just listening. You listen to people on the street and you start hearing things." Herbert, the creepy old man Henry voices on "Family Guy," was based on a nice elderly man who bagged groceries at the local market Henry worked at in high school. "One day in the writers' room, I pitched one joke in his voice, saying, 'Hey, Chris, come down to my cellar. I got a whole freezer full of popsicles.' And he turned into a pedophile. Basically what you do is take something that's real and you twist it." Cleveland's voice came from a man Henry played basketball with once and never saw again. "He told me he was from 'Merland,' " Henry recalls. "It took me a few minutes to realize he meant 'Maryland.' " Because Henry pitched the character, Cleveland's evolution was very organic. "It's not like, 'We have a spot for Cleveland, Peter Griffin's African-American friend. Who wants to do it?'" he notes. "I did the voice in the room a lot, and it kind of gave birth to this character. So it's not a question of casting; it's creating."
Finding Your Voice
Of course, it takes more than a funny voice to play a character. "It's all about acting," Henry says. "It's about being in the moment, just like when you're on camera. You have to know what that character is feeling and what he wants." Appel adds, "It's a hugely underappreciated group of actors. I mean, Mike is a tremendous actor. It's not just that he can do funny voices because, honestly, the brilliance of Cleveland and Rollo is they have an edge where you hear them and you kind of smile but they're also characters. Not goofy cartoons."
Henry and Appel cast all the roles on "The Cleveland Show" with MacFarlane. Early on, they decided on Sanaa Lathan as Cleveland's wife, Donna, and Kevin Michael Richardson as his friend Lester but had a difficult time finding someone to play Cleveland Jr. "We auditioned Oscar winners, women, men, all kinds of people," Henry reveals. "We finally said, 'Let's get Kevin in and work with him for 20 minutes. And it came right out.'"
Rather than casting off tape, the producers had actors come in and read. "Just like in live action," Appel notes. "It's often you sitting on a couch, and someone comes in and starts performing. They can be talented, but you kind of know within 15 seconds if they're right for the part." Agrees Henry, "I've been on the other side of that a million times. It has nothing to do with whether someone's a great actor or not; it's just so specific what we're looking for."
Henry has advice on putting together a good voiceover demo. "Basically all you need is a good 60- to 90-second demo," he offers. "If you want to do animation or a variety of voices, throw them all on there. Get some actual copy, read something that sounds real, then put a little sound design on each one. I did this thing where I would do a voice, and in the background we'd have distant city noise or sirens, then go to another one with a dinner party or whatever. You make it sound produced, a different voice with a different background, cut them together nice and tight." He also suggests writing your own material if you can't find good copy: "If you write your own material, you know exactly what you're looking for. I'm in the very fortunate situation of being able to write for my own character. In finding your voice, you may find it writing and performing your own material."
Like most animated programs, "The Cleveland Show" features an impressive list of guest stars—including David Lynch, Arianna Huffington, and, coming in the fall, Kanye West. Sometimes the writers create a part with a celebrity in mind; other times they get a commitment first. Reveals Henry, "We knew Kanye was a big fan of animation, so Rich called his people and told them we had an idea for him. Within an hour we heard back, 'Yes, he's all over it.' So we wrote it for him. There's spots where we have people in mind we go out to, and if they don't want to do it, we move on. And we have a lot of really versatile voice players who can step in if someone says no."
Adds Appel, "We like going after names but not at the expense of the performance. Obviously, a lot of famous actors are going to be very talented. One thing you learn from 'The Simpsons' and Pixar movies is that you get the best performer." He points to Pixar's recent Oscar winner "Up," whose lead character was voiced by Ed Asner, as a perfect example: "It's not like kids aged 8 to 14 are rushing out to see the new Ed Asner movie."
Slaying Sacred Cows
When setting out to do "The Cleveland Show," the creators were very clear that they didn't want a carbon copy of its predecessor, which has made a name for itself by offending just about everyone at some point. "At 'Family Guy,' the mantra is, 'Get away with what you can get away with.' We're going to be mean and filthy and edgy, and we pitch and laugh, and we're all assholes," Henry reveals. "We wanted 'Cleveland' to be a nicer show. We don't have as much hate as 'Family Guy.' There, we will rip people apart."
Appel still remembers when he first went to work on "Family Guy" and went through what he calls "the seven stages of reaction to this kind of comedy." The episode they were working on centered on a Jewish pharmacist being sent back to 1939 Poland via time machine. "You can imagine the kinds of jokes being pitched around that table," Appel recalls, affecting an offended tone. "I'm looking around thinking, 'I can't believe this! I'm calling my agent! I'm going to another show.… Well, I suppose I could toss a few Holocaust jokes out because you don't want to sit there being the unfunny guy.…' And the next thing you know, someone says something that makes you laugh. It's a powerful, powerful show and a powerful brand that within three hours of working on it, you can be thinking, 'I'm glad my grandfather's dead and will not be watching this and see my name pop up in the credits.'"
Henry and Appel admit that in the early days of "The Cleveland Show," they still had the tendency to go for the mean-spirited joke. "I think it's really evolved," Henry says. "It's been a tremendous period of growth for me creatively." He credits MacFarlane, whom he watched run a writer's room for seven seasons, for teaching him not only how to lead the ship but also encouraging them to find their own voices. Agrees Appel, "I told Seth from the beginning that what I was really interested in doing was working with people who make me laugh. And Mike was one of those people. He's an original voice that makes me laugh. When you've done this for 10, 15 years and worked with so many good people, you realize that the exceptional people are few and far between. And Seth and Mike are two of them."