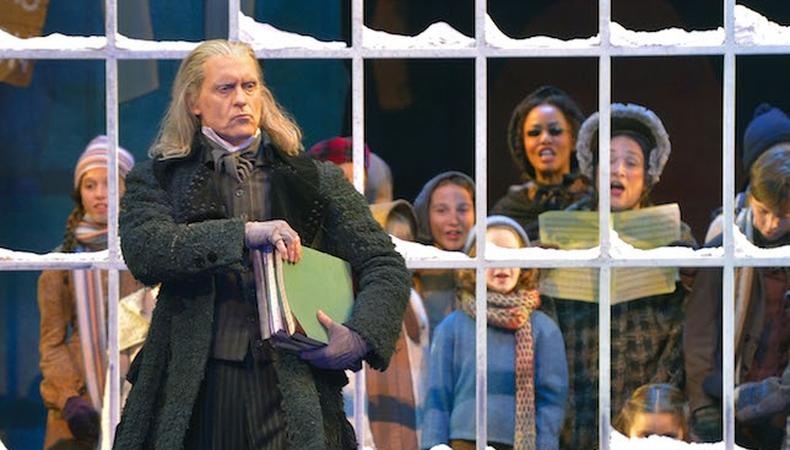 As part of the popular holiday tradition, productions adapting Charles Dickens' "A Christmas Carol" are running on stages across America with actors returning to perform in the show time and time again. Nathaniel Fuller, for instance, first appeared in the Guthrie Theater's annual production in 1988 and has appeared in almost every "Carol" since. Fuller, who has played roles as lofty as Lear, ranks the character of Scrooge among the top.
What is it about this role that makes it so timeless? What do actors gain from playing it? We asked those currently playing Scrooge for their take on what the character has added to their acting toolbox.
A Whole Range of Skills
"I've been working on this part, developing the skills, the ideas, and the opinions for about 30 years. The range of emotion is amazing—it starts out with bitterness, and goes through shock, despair, and sadness, and ends up with an almost insane form of happiness. It employs the whole range of an actor's skills. It's a story about what it means to be alive, and that's timeless. Playing Scrooge is the fulfillment of a dream." —Nathaniel Fuller, the Guthrie Theater, Minneapolis
A Deep-Dive Into the Psyche
"Scrooge is one of those characters that has endless veins of gold to be mined. If you are lucky enough to play the role over a period of many years as I have—10 years now—it continually calls upon you to keep exploring those veins and to not be satisfied with a first, or even second or third, pass at something, but instead to go still deeper into his psyche. If you do that, then you will be rewarded with new discoveries. That's a very valuable lesson for an actor to learn; that you are never finished and can never be satisfied or sated." —Jeffrey Bean, Alley Theater, Houston
A Spot in the Cycle of Tradition
"I'm not sure what it has added to my acting skills so much as what it has added to the continuity of my life as a stage performer—in the context of this story in particular. To begin telling 'A Christmas Carol' in the role of Scrooge as a young man just starting his acting career, and then to slowly grow up playing various roles in productions throughout my life, culminating in the role of Scrooge again as an older man, is a unique perspective to an actor. I am able to look back at my professional and personal life through the lens of this lovely story and see all the myriad ways it has affected me and had an effect on others. I feel as if I have completed some strange theatrical circle of tradition." —John G. Preston, Actors Theatre, Louisville
A Lesson in Humanity Versus Caricature
"Playing Scrooge in Trinity Rep's 40th-anniversary production has been one of the great honors of my career. This role has also been one of the greatest physical and emotional challenges that I have encountered. The muscularity of the elevated language and the sheer physical presence required continues to push my 'instrument' to its boundaries. In addition, the extreme range of emotion required to convincingly manifest the full journey of this man has been both a joy and constant reminder of the difficulty and importance for an actor to remain 'in the moment,' line by line, scene by scene, in every single performance. Humanity must trump caricature." —Joe Wilson Jr., Trinity Rep, Providence
A Sense of Place
"More than adding to my skills, per se, being in 'A Christmas Carol' is an annual opportunity to be a part of something much larger than myself. Our production features not only many fine local professionals—some of whom, like myself, have been with the show for more than a decade—but also A.C.T.'s soon-to-be-graduating MFA students, and many child actors from the Young Conservatory program. There are actors aged 8–80 onstage, performing for an equally diverse and enthusiastic audience. One time, a few years ago, I was feeling rather Scrooge-like and complained to my son, an early teenager at the time, 'It's not really a play, it's just a pageant!' He looked at me with a mixture of pity and love, and explained, 'Dad, it is a pageant; it's a chance for everyone to be part of the story.' I guess what it's added to my skills is a large helping of gratitude." —Anthony Fusco, the American Conservatory Theater, San Francisco
Versatility Within the Familiar
"Playing Scrooge has taught me to come to a project with a fresh perspective and not be formulaic, to make new choices within an old framework and to take joy in the discovery process and growth of the young performers every year." —James Carpenter, the American Conservatory Theater, San Francisco
A Ready-Made Community
Playing one of the most iconic characters in the canon of western literature and pop culture is a real feather in the cap of an actor. The journey of the character is really an endless fount of new discoveries over the years. I love long runs and, I love having Scrooge to anchor my calendar at the end of the year. When we come back together each holiday season—the old-timers mixed with the newcomers—there is always a 'winter camp' atmosphere, and a sense of rejoining a second family." —David de Vries, the Alliance Theater, Atlanta
These interviews have been condensed and edited for clarity.
Looking to impress at your next audition? Watch below for some tips!