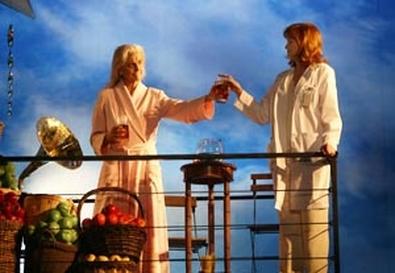 Allen L. Hubby, vice president of the Drama Book Shop in New York, asked his staff to recommend 10 plays every performer should read. Not surprisingly, most are classics, but a soon-to-be-classic is included as well.
Oedipus Rex
by Sophocles
"Sophocles One: Three Tragedies"
University of Chicago, 1991.
Paperback: $11
Every educated person in America—and certainly every theater person—must have a working knowledge of these plays. Each is a milestone in the history and evolution of Western theater. They are reflective of or influenced by major social, political, philosophical, or cultural changes in Western civilization. All are masterpieces of their time and are relevant for every generation.
—
William Martin
,
senior sales associateRichard IIIby William Shakespeare
Pelican, 2000. Paperback: $6
How does Richard seduce Lady Anne? It's a puzzle. But if an actor can determine how he'd have the titular hunchback overpower a widow whose husband is so recently deceased, he might better be able to walk that razor's edge when he takes the stage.
—
Matt Love, general managerThe Cherry Orchard
by Anton Chekhov
"Chekhov: The Major Plays," translated by Jean Claude Van Itallie
Applause Theatre Books, 1995. Paperback: $14.99
"The Cherry Orchard," translated by David Mamet
Samuel French, 1990. Acting edition: $8.95
A classic work that has influenced many of the great playwrights of the 20th and 21st centuries, including Tom Stoppard, Eugene O'Neill, George Bernard Shaw, and Arthur Miller. (Little-known fact: Chekhov was renowned for his consumption of fruit, especially cherries.)
—
Matthew Alspaugh, sales
associate, and William Martin, senior sales associateThe Glass Menagerie
by Tennessee Williams
New Directions, 1945 (revised edition, 1999). Paperback: $10.95
A quietly haunting play filled with wonderful material for actors and some of the finest scenes in the Williams canon. ("A Streetcar Named Desire" was a strong runner-up.)
—
Stuart Brynien
,
senior sales associate
Waiting for Godot
by Samuel Beckett
Grove Press, 1956.
Paperback: $13
Beckett's masterpiece and the definitive play of the absurdist movement, "Waiting for Godot" remains one of the seminal works of the 20th century. Written in reaction to the horrors of World War II, it examines the tragedy and purpose of life and the measures we take to survive. Every read provides new insight into the human condition and gives hope to those who wait.
—
Ben Gougeon, sales associateLong Day's Journey Into Night
by Eugene O'Neill
Yale University Press, 1956
(second edition, 2002).
Paperback: $12.95
O'Neill's autobiographical masterwork is about a dysfunctional family and the tragedy of addiction. Great scenes and monologues for actors, plus a chilling view of a family torn by career, disease, and apathy. O'Neill at his finest and most vulnerable.
—
Ben Gougeon, sales associateWho's Afraid of Virginia Woolf?by Edward Albee
Dramatists Play Service, 1962. Acting edition: $8.95
Is there any better example of the toll taken by a long-term relationship? George and Martha's eviscerating one-liners are not only fun to read, but the actor won't get any better picture of horrifying codependency. Interesting aside: Albee will not even speak about the 1966 film version.
—
Matt Love, general managerDeath of a Salesman
by Arthur Miller
Dramatists Play Service, 1949. Acting edition: $8.95
Though many at the Drama Book Shop think "All My Sons" is Miller's greatest work ("More father-son angst, Miller-style. Always worth reading—or rereading"), and for decades "The Crucible" has been among the most performed plays in the world, no "must read" list would be complete without "Death of a Salesman."
—
Stuart Brynien, senior sales associate
;
William Martin, senior sales associate
;
and Matthew Alspaugh, sales associateBetrayal
by Harold Pinter
Dramatists Play Service, 1980. Acting edition: $8.95
This time-reversed study of an adulterous affair offers the opportunity to examine Pinter and his famous pauses. Once the spare text is decoded, the performer must determine the clearest and most effective way to communicate what's happening moment to moment. Since it deals with a romantic relationship, it's a bit easier to connect to than some of Pinter's more obscure works.
—
Matt Love, general managerThe Clean House
by Sarah Ruhl
Samuel French, 2007. Acting edition: $8.95
If you want to understand the direction contemporary playwrights are taking—from the kitchen-sink pedestrian to something more poetic—take a look at Sarah Ruhl. Her lyricism is accessible enough to make her popular with both young actors and regional theaters. She sways with grace across the thin line dividing comedy and tragedy. In "The Clean House," she takes on a familiar white middle-class setting and slowly mutates it into a unique and fantastical landscape—one that prods open our standard assumptions about spousal love and duty.
—
Matt Love, general manager