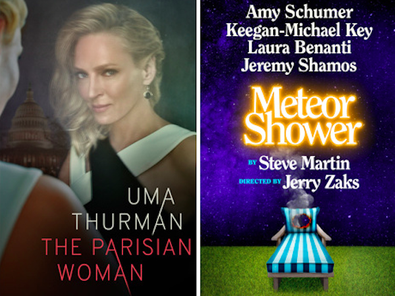 New York is the city that never sleeps, and with so many events and activities each week across all five boroughs, it can be hard to know what's actually worthwhile. Here are the events New York City actors should have on their radars this week.
Two new plays grace the Great White Way.
The new Broadway season is in full swing, with two new shows—each with a high-wattage pedigree on and off stage—starting performances this week. "Meteor Shower," Steve Martin's absurdist comedy starring Amy Schumer and Keegan-Michael Key, has begun previews at the Booth Theatre. Across Broadway at the Hudson Theatre, Beau Willimon makes his Broadway playwright debut with his Uma Thurman-starring political drama, "The Parisian Woman," which takes its first bow Nov. 9. (Tickets for "Meteor Shower" start at $59; Tickets for "Parisian Woman" start at $69.50)
The Drama League pays tribute to Steve Martin.
Speaking of Mr. Martin, the Oscar, Grammy, and Emmy winner (and Tony nominee!), will be feted at the Drama League's 2017 Benefit Gala, "A Musical Celebration of Broadway." The event on Nov. 6 at the Plaza Hotel will include a one-night-only musical tribute to Martin's illustrious career which, in addition to his "Meteor Shower," also includes his 2016 Tony-nominated best musical, "Bright Star." Tickets are on the pricier side (read: unaffordable), but expect video to emerge from the event afterward. (Tickets start at $1,595)
The (new) doctor is in.
Order up: Beginning Nov. 3, Grammy Award winner Jason Mraz steps into the role of Dr. Pomatter in the Sara Bareilles-scored tuner, "Waitress." His performance will be a reprisal of sorts; he joined Bareilles for two songs on the musical's concept album, "What's Inside." Mraz will star opposite the long-running show's current lead, Betsy Wolfe. (Tickets start at $67; $40 rush tickets are also available at the box office every day)
Make believe for a good cause.
When Broadway is "dark" on Nov. 6, "Saturday Night Live" star Cecily Strong will host "Make Believe on Broadway," a gala benefitting the nonprofit Only Make Believe. Held at Broadway's Schoenfeld Theatre, the evening will include performances by Tony winner Lena Hall, Sierra Boggess, Betsy Wolfe, and others. All proceeds will benefit Only Make Believe's initiative to create and perform theater for children in hospitals and other care facilities. (Tickets start at $25)
Stars will sing out for Puerto Rico.
Stars from Broadway's "Wicked," "Miss Saigon," "Groundhog Day," and beyond will join forces at concert venue the Triad on Nov. 5 to benefit the victims struggling in the ongoing aftermath of Hurricane Maria. The evening will be hosted by comedian Julienne Jones and will include performances in the realm of song and comedy. (Tickets: $20)
Legendary producer Daryl Roth will discuss her career.
Celebrated theater producer Daryl Roth, who boasts a roster of productions that add up to a collective 11 Tony Awards and seven Pulitzer Prizes and who recently made history by rescinding a closing notice for last year's "Indecent," will sit down to discuss her illustrious career with drama critic, Linda Winer. Held at the Bruno Walter Auditorium New York Public Library for the Performing Arts at Lincoln Center, the talk is part of the League of Professional Theatre Women's Oral History series, and is completely free but will adhere to a first come first serve basis. (Free)
Inspired to book a gig? Check out Backstage's NYC audition listings!