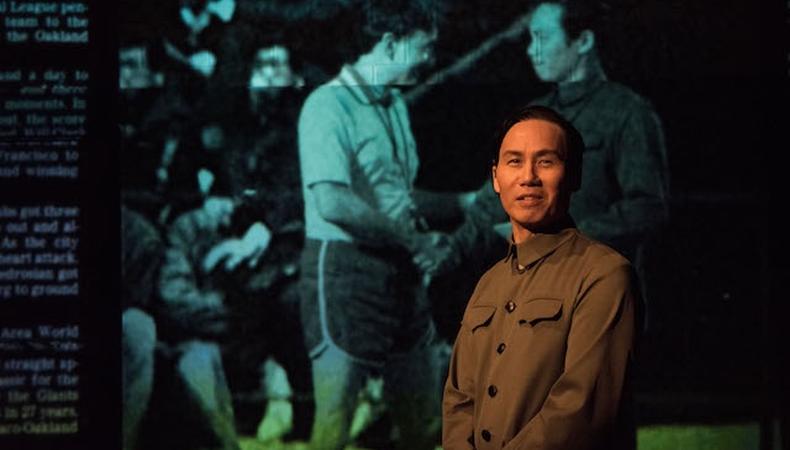 In basketball and in life, there's a particular perspective that some might view as aggressive while others see it as necessary: "Every time you are on that court, it is always your turn."
It's an opening line of "The Great Leap," in which the Atlantic Theater Company's Stage 2 audiences are invited to watch a "friendship" game play out in 1989 Beijing—the height of the deadly Tiananmen Square protests. The match is not only the ambitious production's dramatic climax, but also a metaphor for diplomacy and geopolitical relations between America and China after the latter's cultural revolution.
"The basic idea of basketball is creating personal space for yourself on the court," playwright Lauren Yee explains by phone. "Most NBA players are good enough that, if they get an open shot at the basket, they can probably hit it. But they have a defender on them who is going to do anything they can to make sure that ball doesn't go in the hoop. Every pass or dribble or move is about losing your defender long enough to have enough space to take your shot and score. In a lot of ways, that's what these characters are craving for themselves."
Like Yee's other play, "King of the Yees," the main character of "The Great Leap," Manford Lum (played by Tony Aidan Vo), is loosely based on Yee's father, a 6'1" Bay Area legend who played in televised exhibition games in China in 1981. In the play, Manford is a standout street baller who talks his way onto the U.S. team and finds himself grappling with his personal history and cultural identity. The four-person cast also includes Ali Ahn as Manford's cousin, Connie, and Ned Eisenberg as his coach, Saul. The only character from China is Wen Cheng, an officer of the communist party who keeps his plays close to the chest while coaching the Beijing team. Played by BD Wong ("Mr. Robot"), he is the only character who breaks the fourth wall and addresses the audience directly—all without filtering his desires, emotions or sense of humor.
READ: 7 Theater Companies That Double as Acting Schools
"This is a character who, because of everything that's going on, is not naturally as talkative and open—he's guarded because he has to be, and observes without acting on things because his life depends on it. Talking to the audience helps us to feel his joy, even if he can't show it to the rest of the world," Yee explains. "And B.D. is such a warm and generous presence onstage, that even when Wen Chang isn't saying anything—and there's so much of Wen Chang's history that we don't hear—B.D. is able to show us with even just body language. That's very hard for an actor to do."
When Wen Chang does speak, it's with an accent that combines that of his Beijing background and English-language learning cassettes—a rarity for Asian characters, who is often reduced in popular culture to a caricature of their race by an inability to communicate.
"Is how they speak naturally reflective of where they come from, and do they still have agency and power when they communicate?" asks Yee of using accents in her work. Her answer: "As long as the accent is true to the character and puts them on equal footing with everyone else." Wong trained with dialect coach Joy Lanceta Coronel—a step Yee advises fellow creatives embrace: "Actors don't come with their own perfect set of accents, nor should we expect that of him. Giving actors the tools to succeed and being specific and accurate of what your needs are helps an actor feel empowered to play the role."
Yee had to do research as well, as she actually didn't know much about basketball before writing "The Great Leap." But the rhythms, plays, and philosophies of the sport are intrinsic to the script, from its character descriptions (each includes specific NBA player equivalents) to Taibi Magar's interpersonal blocking (two-person scenes feature footwork resembling one-on-one matches). And even though the show has just four actors—only one of whom is the participating athlete—the anticipated basketball game is brought to life onstage with Yee's fast-paced dialogue. It's recited while players face the audience in the intimate theater, "passing" narrative lines back and forth with the larger-than-life energy of an actual game.
"This felt so much like a sports movie to me, and so much of a basketball game is experienced beyond just the players; you have coaches on the sidelines, fans in the stands, and everyone who is watching the broadcast at home," Yee says. "It's like this side-by-side of active observation. When you walk into a bar while a game is on, you just see rows and rows of people, willing energy toward the TV, all experiencing every shot and every miss at the same time. I wanted to give it some sense of that."
After its New York premiere run through June 24, "The Great Leap" jumps to Minneapolis, Philadelphia, Vancouver, and Yee's Bay Area hometown.
"When we do it in San Francisco next year, it's gonna be in the Geary Theater, which is over 1,000 seats!" Yee says with a laugh. "I have no idea how we're gonna do it, but I'm excited to find out."
Want to act Off-Broadway? Check out Backstage's theater audition listings!