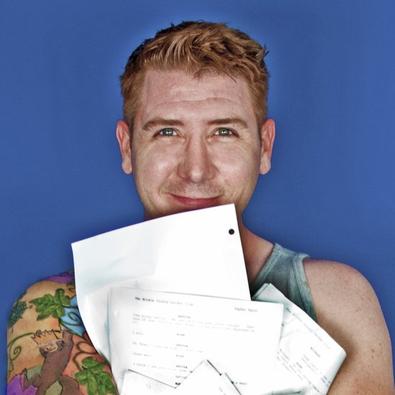 "It's the audience," says playwright Topher Payne of what he loves about writing for the theater, a craft he's been honing since he wrote his first one-act at 17. "It's born out of a storytelling tradition. And that I will claim as uniquely Southern; that we tell our histories and form our moral identities based upon storytelling." Though Mississippi-bred and Atlanta-based, his work has been produced everywhere from Illinois to Anchorage, and September marks his Off-Broadway début of "Perfect Arrangement" at New York's Primary Stages—the comedy that won him the 2014 American Theater Critics Association's Osborn New Play Award.
Set in the 1950s, "Perfect Arrangement" tells the story of two couples who work for the U.S. State Department and have been tasked with identifying "sexual deviants." In an ironic twist, the audience learns that both marriages are a sham and the husbands and wives are gay. The "I Love Lucy" madcap sitcom style evolves into in a drama addressing some of the same struggles happening today. It fits right in with Payne's theatrical formula: "If you can make someone laugh, they listen. And they lean in and they want to hear more. And once you have that level of engagement, then you can start layering in a message that you want them to take away," he explains. "You can do that in film. You can do that in a book. But the act of being in the same room with the storyteller is just fundamentally different. It lands differently."
An actor as well (he most recently appeared in the world premiere of Johnny Drago's "Hot Pink, or Ready to Blow" at Atlanta's Alliance Theatre Black Box), Payne knows how important casting is to effectively communicate his message. But the audition process he recently experienced in New York was very different from that of Atlanta and elsewhere. "With 'Perfect Arrangement' going Off-Broadway...it's weeks and weeks to put that cast together and there's a lot of sessions...there's just so many damn people," Payne says. That meant everyone auditioned with a reader, instead of opposite another actor, due to time constraints. The first time he'll see the seven cast members of "Perfect Arrangement" reading opposite each other will be at the first read-through for the show. In Atlanta, "You see every possible pairing and mutation of your cast. And when they walk out of the room, you're pretty sure, because you've seen it. You know what they're gonna be bringing the first day of rehearsal."
On the flip side, the actors in New York all came in off-book. "That doesn't happen in Atlanta," Payne shares. "In part because the theaters don't release the side until the day you show up for the audition. And giving an actor time to really marinate in the material, you get much better work out of them and much more concrete choices the day they actually show up and come into the room." Despite the process, he's confident in the cast that was ultimately selected for the play. "They're solid, they're amazing. It's a great group of actors," Payne affirms.
He is, of course, hoping "Perfect Arrangement" will be well-received in New York, but he's really hoping that it also turns the spotlight toward Atlanta writers. "I look at this as an opportunity to represent Atlanta-based playwrights, and that my job in the next few months as we're promoting this show is to make it clear that anything you like about this play, you like because it was written here," Payne says. "As a playwright, there is a perception that Atlanta is a great place to build a résumé and then move on to another market. And that's what a lot of my contemporaries have done...but I want to see us build some retention." And that would translate to better theater for local audiences, as well as better work for Atlanta-based actors.
In the meantime, Payne has advice for actors from the playwright's perspective, no matter where you live.
"See new plays. New plays are an excellent source of audition monologues that casting directors and producers haven't heard before.... Be respectful of the text. Actors who come in and audition and paraphrase material while they're holding the script in their hand hurt my feelings. And make friends with the writer. Help them generate material, because if you're serving their material well, they will eventually start just generating material for you."
Inspired by this post? Check out our Atlanta audition listings!