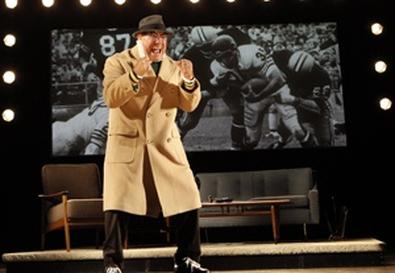 NEW YORK – Drug addiction, religion, the Iraq war, class warfare and marital sacrifice — it's been a grim season on Broadway. But not for the playwrights.
From "Good People" to "Ghetto Klown" to "Lombardi," it was a bumper year for dramatic writers. Of the 25 plays that made it to Broadway for the 2010-2011 season, a robust 14 productions were new.
"Broadway is just really full up this year with people expressing their vision," says Lynne Meadow, artistic director of Manhattan Theater Club. "And what a range! What a range of plays we have."
The works each took different paths to Broadway. Some had star celebrities, such as Robin Williams in "Bengal Tiger at the Baghdad Zoo." Some had extensive out-of-town tryouts before arriving, such as "High." And some opened cold on Broadway — John Guare's "A Free Man of Color."
At next month's Tony Awards, two American works will battle two British imports for top play honors when "Jerusalem" and "War Horse" vie against David Lindsay-Abaire's "Good People" and Broadway debutante Stephen Adly Guirgis' "The Motherf---- With the Hat," a tale about drug addiction starring Chris Rock.
"Playwrights have access to Broadway in a way they never had before," says Lindsay-Abaire, whose play starring Frances McDormand and Tate Donovan explores class tensions in Boston. "I think it helps that there are brave producers that are taking chances."
The relative glut of plays — two consecutive seasons of 14 new plays — comes as a new generation of theatrical thirtysomethings emerges, including directors Alex Timbers ("The Pee-wee Herman Show" and "Bloody Bloody Andrew Jackson") and Thomas Kail ("Lombardi"), and playwright Rajiv Joseph, who made a splash this season with his "Bengal Tiger at the Baghdad Zoo."
"It seems like there are a lot of people my age — playwrights and directors — who are doing great work. And it seems like theaters are entrusting them," said Joseph, who credits older American playwrights such as Lynne Nottage and Guirgis for inspiring him.
Much of the good new works has been the result of nurturing by such groups as the Manhattan Theater Club, LAByrinth Theater Company, Second Stage Theatre, Playwrights Horizon, the Lark Play Development Center and the Atlantic Theater Company.
The Manhattan Theater Club has made a point of championing playwrights and "Good People" is the fifth Lindsay-Abaire play it has produced. Other writers it has backed include Terrence McNally, Donald Margulies, John Patrick Shanley and Beth Henley. This season it produced Matthew Lopez's well received New York debut "The Whipping Man," off-Broadway.
"When the support is there and when the commitment is there, then the work follows and the work gets better and better. And I think that's what we're seeing now," says Meadow. "I think there's a tremendous amount of wonderful writing that's happening now in the theater."
Joseph credits the Lark for helping him shape his well-regarded Broadway debut. Founded in 1994 as a laboratory for new voices, the Lark arranges for readings, mounts bare-boned productions and even takes the playwright abroad to see their works performed in other languages.
Last year, all three Pulitzer Prize nominees shaped their breakthrough plays at the Lark, including "The Elaborate Entrance of Chad Deity" by Kristoffer Diaz, "In the Next Room or the vibrator play" by Sarah Ruhl and "Bengal Tiger."
"The real future of the American theater or the global theater is basically dependent upon our capacity to allow individual artists to be the leaders that they were meant to be, to imagine the future in innovative and idiosyncratic ways," says John Clinton Eisner, co-founded the Lark.
Joseph, 36, says that when he graduated from New York University with a master's degree in playwriting, he happily found a network of support in the theater community that has encouraged him to keep improving his plays and not necessarily run to Hollywood and write screenplays.
"I had all these physiological things that were helping me realize, yes, I'm working as a writer," he says. "Ultimately, screenwriters, when they are successful, make a ton more money more than playwrights, but playwrights get respect."
Guirgis, the co-artistic director of LAByrinth who made his Broadway debut this season, cites previous plays in the past few years such as Nottage's "Ruined," Shanley's "Doubt" and Tracy Letts' "August: Osage County" for priming the pump.
"There's been some great straight plays in the last few years that may have encouraged producers to produce more new work by newer writers," he says. "I don't know how to explain why there's a rebirth but I think it's needed."
Guirgis, 46, who says LAByrinth has nurtured him like Manhattan Theater Club has encouraged Lindsay-Abaire, says a vibrant theater world can't sustain itself on classics or imports alone.
"Sooner or later, you've got to throw the dice and pick a couple of people out of downtown or Chicago or whatever and give them a shot," he says. "Broadway can't just be musicals and plays from London, no matter how good they are."
This season, it wasn't just youngish American writers who made their debuts. "Beaches" novelist Iris Rainer Dart, 67, wrote the book and lyrics to "The People in the Picture," a musical dealing with the Holocaust that the nonprofit Roundabout Theatre Company put on with star Donna Murphy.
"To tell this story was brave," she said, heaping praise on the Roundabout for taking a gamble on a first-time theater writer. "I really applaud them for stepping up and supporting the not-for-profit theater because it's only those theaters that are going to be able to take those risks ultimately."
Sometimes the risks didn't work out, as American playwright Matthew Lombardo learned. His drug addiction tale "High" starring Kathleen Turner as a former alcoholic nun closed after just 28 previews and eight regular performances.
Lombardo, who also wrote "Tea at Five" and "Looped," took his latest play to Broadway only after stops in Hartford, Conn., Cincinnati, and St. Louis. He recalled the 1980s when regional stages such as American Repertory Theater and the Long Wharf Theatre sent plays to Broadway.
"That's not happening as much," he says. "What's happening is that they are attaching stars and they're doing world premieres of new American works on Broadway, which in my mind is terrifying. I could never have a world premiere in New York. I have to go out to three cities."
Turner says she knew Lombardo's work was a gamble, but thought it was worthwhile to nurture the play — and the playwright. "People are writing great new stuff all the time," she said. "I think people are getting their guts back."
But Lindsay-Abaire adds a cautionary note: Gutsy writing will only last if there are enough equally gutsy producers — and that also means a gutsy audience.
"I've been incredibly lucky," he says. "But I know lots of really talented writers who have not gotten a break. I mean forget Broadway — getting a play produced off-Broadway or even off-off-Broadway can be a Herculean task."
---
Copyright 2011 Associated Press. All rights reserved. This material may not be published, broadcast, rewritten, or redistributed.