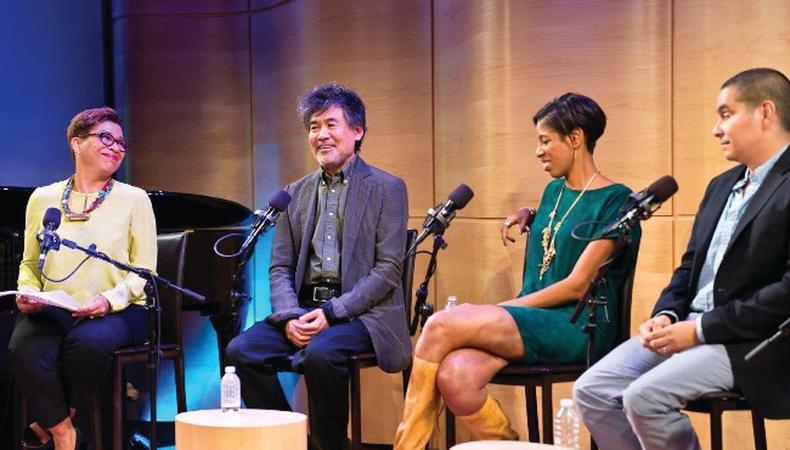 "If I'm going to a play, I want to see myself onstage," said Lydia R. Diamond. "It's not rocket science."
Diamond's comment cut to the core of a question posed by National Public Radio's Michel Martin at WNYC's Greene Space Sept. 19: Does Broadway reflect the vibrant, dynamic stories of its diverse city? The event, titled "A Broader Way," kicked off Martin's 10-city tour centered on having what she called "difficult discussions with dignity." Diamond was joined by fellow award-winning NYC playwrights whose work explores racial issues—David Henry Hwang, Kristoffer Diaz, and Bruce Norris—to get to the bottom of whether the Great White Way is too white.
Tony-nominated actor Stephen McKinley Henderson performed a monologue from August Wilson's "Joe Turner's Come and Gone" to set the evening's thought-provoking tone. As Martin interviewed her panel of theater professionals, another conversation unfolded on social media under the hashtag #NPRBroadway with hundreds of listeners tuning in via livestream. Asked whether Broadway is the ultimate platform for theater writers, Hwang questioned its status as an arbiter of excellence, saying, "It's self-defeating as a playwright to set your goal as 'I want to get to Broadway.' " Norris echoed the sentiment: "I don't think Chekhov sat around wondering, 'Is [my play] going to move?' "
Yet the panel agreed that Broadway is undeniably a huge part of New York's identity as a cultural hub. And it's a problem when such culture is both prohibitively expensive and for the most part frequented by, as Diaz described them, "60-year-old white women with some money." The playwright went on to relate his childhood experience of seeing John Leguizamo's "Spic-O-Rama," saying he felt the Latino actor was delivering his culturally specific story directly to him. A wider variety of stories, especially on regional stages struggling to survive, will enrich audiences across the country, Diaz said. "There are a lot of theaters that claim to program for the diversity of the city where they exist. They do not," he plainly stated.
For Diamond, who started onstage, playwriting became about creating characters of color for nonwhite actors. Although when it comes to the Broadway-bound trajectory of plays such as her own "Stick Fly," she noted, "The more access I'm given, the more white my audience becomes. It's disturbing."
If the disparity between the commercial institution of Broadway and its potential audience of diverse New Yorkers won't be solved overnight, "A Broader Way" is the first widely broadcast discussion of such thorny issues, and a fitting way for the Brooklyn-born Martin to begin her cross-country tour. "We're trying to match the issue with the location," she said. "What I was going for was a conversation that people who aren't just theater professionals would be interested in." Here's hoping that conversation continues among producers, casting directors, and theater artists everywhere.
And be sure to check out our theater audition listings!