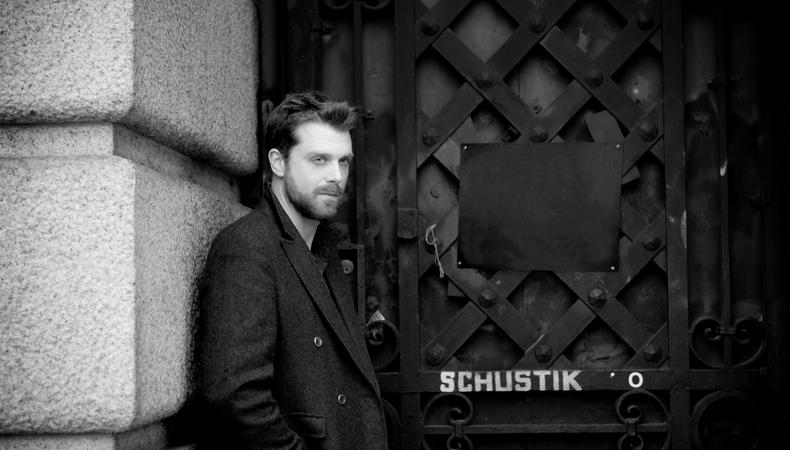 The 13th annual Barn Series, hosted by the Labyrinth Theater Company, launches on Tuesday. The series, which is free and open to the public, offers a unique opportunity for playwrights to develop their nascent work – igniting a collaborative process between actor, audience, and playwright.
We had the opportunity to chat with two playwrights from the series, Tommy Smith (pictured) and Lucy Thurber. Smith will present "Zero" on Feb. 6 and 7 and Lucy Thurber will present "The Locus" on Feb. 20 and 21. All readings will be held at the Bank Street Theater.
The pair shared how they feel about readings, how they write for actors, and the importance of hearing one's work read out loud.
How do you see the role of the playwright in contemporary theater?
Tommy Smith: The first thing that came to my mind when you asked that question is that our role is to just write plays. Kind of simply...I read this Taylor Mac thing that was calling writers and theater people blue collar workers who are dressed fancy. And I started to really think about that. As playwrights our role is to also bring our expectations to what the medium is and not necessarily what we want it to be. Because that is the only time it will ever disappoint us, if we're not looking at it exactly as it is. For me, I've been thinking about work as really simply work.
How did you start the project you're presenting this month?
Smith: This project started out of my fellowship with the Playwrights of New York organization that is run via the Lark Play Development Center...I'm sort of the guinea pig of this and this is sort of the culmination of that process. From workshopping this in the writer's workshop with Arthur Kopit at the Lark, it then moved on to the Lab retreat that I went to...and is culminating here in February.
Lucy Thurber: I was a friend of Labs for the last couple years, and the way that it works there is at this point they have a summer retreat and they invited me to be a member this year, which was awesome...You bring up a new play, whatever stage it is in and work on it there. I heard it and that was scary and I did a lot of rewriting...I sort of see every opportunity like this to get some great work on the play done. There are great actors. it's a fun company; people are lovely; and so I will do some rehearsals and rewrite some more and hear it and rewrite some more and hear it. It'll be an opportunity to get good work done with good actors.
How involved were you with the director and actors in putting together the reading?
Thurber: Well it's a reading series, so the way that Labyrinth works at this point, is they have a system where you go to the intensive and you read your plays out loud and then you go to the Barn series to do more work on the play. It's not finished; it's another opportunity to work more on the play in a hands on public setting...The way that it normally goes, as I've been told, is that you usually do two readings and you rehearse during that time period. But you can also construct it anyway you want. So we have the option to say, "We just want to do one reading," or "We want to do two readings."
How do readings play a part in getting a play to a full production?
Smith: I've been trying to keep a lot of my readings closed to the public...I think if you're currently working on a project it helps to hear it out loud every month and a half or every two months. Like right now I'm not reading the play just so I can look at it with a fresh perspective. So in that sense a reading is good, for me at least, to remove myself from looking at it as the playwright to really looking at it as an audience member, or an editor, or a dramturg of your own work...You have a different perspective if you let enough time pass and you don't over manage your draft.
Thurber: I agree with Tommy. You do need to hear your stuff out loud, that's a necessary step in the process, and with time, you sort of learn how to have each step be what you need it to be in that moment. When I was a younger writer, I had to learn how to not rewrite around the table, so to speak. Because plays are meant to be up on their feet. So if you get a lot of opportunities to rewrite around a table, that can end up damaging the play. But now I feel like I've had enough practice as a playwright to sort of use each opportunity to address whatever needs to be addressed in the moment or if I don't need it, I don't do it. What's great about this is you have a hands on approach in how you want to do it.
Does seeing an actor take on a particular role then shape the character itself?
Thurber: I think part of a playwrights job, this is my opinion only, is to find their own rhythm. And part of my job as a writer is to keep developing my own rhythm and figure out who are the actors who get you... You sort of look for those collaborations. I'm always looking to grow my circle of actors, because the more collaborators the better. But I tend to write specifically for actors...And then obviously as you develop stuff actors contribute but I feel like, for me to be honest, I find that we either get each other rhythmically or we don't. And that's sort of always what I'm looking for. But yes, definitely, I write for actors. I think actors are a major part of the process. I try to get them in as soon as possible because ultimately it's a collaborative art, it's a group sport, and you know, you can't put yourself up by yourself.
Tommy Smith: I totally agree with Lucy, I feel like I often will be doing readings to find that actor.