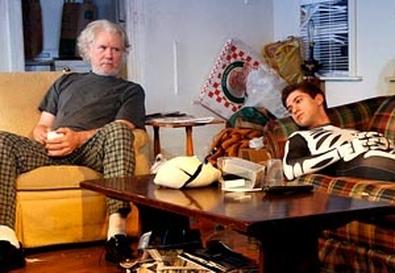 Though John Larroquette is best remembered as wonderfully boorish attorney Dan Fielding on the NBC comedy "Night Court," where he spent eight years and earned four Emmy Awards, the actor has carved out a memorable career playing comedy and drama. He's frequently cast as a lawyer ("Boston Legal," 10 "McBride" films for the Hallmark Channel) and can always be counted on to raise the stakes guest-starring in other series ("The West Wing," "House," and "The Practice," which earned him a fifth Emmy). Currently, the actor is appearing Off-Broadway in Elizabeth Meriwether's dark comedy "Oliver Parker!" at the Cherry Lane Theatre through June 6.
Back Stage
: How did your role in "Oliver Parker!" come about?
John Larroquette
: I'd opened myself up to the possibility of working here in New York, which I really hadn't done before other than "Saturday Night Live" and talk shows. Once "Boston Legal" ended, I thought maybe I should give it a try. I had some meetings, and two months ago, this play came across my desk. I read it and fell in love with it and met with the writer. It was extremely well-written, a real dark comedy, which is right up my alley. I gave it to some people to read—particularly Elizabeth, my wife, who has a really good eye and ear. And she thought it was great, as well.
Back Stage
: And you're performing it at the Cherry Lane Theatre, which I understand is special to you?
Larroquette
: Yes. I'm a Samuel Beckett freak; he's my favorite writer. So knowing "Endgame" premiered there and being able to see its pictures on the walls feels good.
Back Stage
: I understand your character has a drinking problem—
Larroquette
: He doesn't have a problem drinking; he can drink really well! It's always interesting to play people with scars and damaged souls who are trying to find some redemption. And this character certainly has that.
Back Stage
: You've created several indelible roles on television. Are you open to the possibility of returning to TV full time?
Larroquette
: Yes, in fact, I just found out today that a pilot I did for Fox wasn't picked up for series. It was based on a Scott Turow novel, "Pleading Guilty," and was with Jason Isaacs and a really great script. But pilots are like roulette: You pick one, and if you like it, you do it, and then you try to forget it until somebody calls you. I heard this morning they're not going to pick it up, so I'm on to the next thing.
Back Stage
: After winning four Emmys for "Night Court," you took yourself out of the running. What led to that decision?
Larroquette
: It was more about the character being so indelible that I knew I would be typecast for a while. It was reaching toward the end of the run, and I sort of wanted the character to recede from the public eye. I thought the best way to do that was to just do the work and not compete in the Emmys anymore.
Back Stage
: Except then you got attention for not competing.
Larroquette
: [Laughs.] That's true. And I said something to the effect of I wanted to give somebody else a chance to win, as though I had the assumption I would win. Which isn't what I meant at all.
Back Stage
: Did you struggle with typecasting when the show ended?
Larroquette
: I would say so. Just look at my résumé and see how many lawyers I've played. It was a while before I was offered a run-of-the-mill character, just a dad. It was always quirky and weird roles, which is fine. I guess I'm quirky and weird, period. But I took a couple years off, and then I did "The John Larroquette Show," which was a completely different character. And I loved doing it.
Back Stage
: Any ideas as to why you're so frequently cast as lawyers?
Larroquette
: I don't know, it probably has to do with my voice. My visage has some degree of authority attached to it. Maybe people know I've done it and can do it again. And I look good in a suit.
Back Stage
: Do you still have to audition for roles?
Larroquette
: I actually auditioned for the Broadway production of "Enron." At first I was reluctant because they wanted me to read for Ken Lay and I'm 6-[foot]-5. But I loved the team, and it was such a huge success in the West End, so I read for it. And didn't get it. Sometimes I'm an actor, just like anyone else.
Back Stage
: Did they offer you a chance to participate in the "Night Court" reunion show they did last year on "30 Rock"?
Larroquette
: They did not. From what I hear, when the idea came up, it was automatically dismissed, like, "Larroquette won't do this, so don't even call him." I was doing "Boston Legal" at the time, so it would have been difficult. And looking at the story they built, if my character was there, it would have been a whole different thing. Tracy was trying to get Harry and Christine together, and to throw Dan Fielding in would have been a whole different thing and taken away from the real arc they wanted to create.
Back Stage
: Also, they make a joke about how you won't return anyone's calls.
Larroquette
: Right. Which is not true, by the way. And believe me, if I'd been asked to be on a set with Tina Fey and Alec Baldwin, I'd have been happy to do it. But I understood their thinking completely.
Back Stage
: Was there ever a time you thought about doing something other than acting?
Larroquette
: There was never a time I thought about leaving. I took about six years out to do some serious drinking. But once I decided that's what I wanted to do, I realized there was nothing else I was really capable of doing. I had to act.
"Oliver Parker!" runs through June 6 at the Cherry Lane Theatre, 38 Commerce St., New York. For more information, go to www.thestagefarm.org/shows.htm.