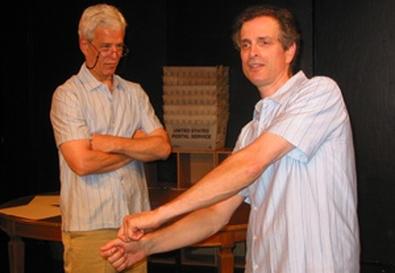 The downsizing of the workforce is one of the timeliest subjects around, but it's only given a light dusting over in "P.O.," Scott Klavan's two-hander about a pair of average-Joe postal workers.
Paul (Klavan) is passive and outwardly happy-go-lucky. Mike (John Amedro) resents everything: minorities, women, lack of patriotism, but most especially the buyout he's being offered. You keep expecting his anger to blow up into a major confrontation, but it never does. That may be realistic, but it's also undramatic.
Both actors give nicely naturalistic performances. Klavan tends to whisper and rush his lines, but judging from the ones we can hear, we're not missing much. Amedro looks a lot like George W. Bush, which got me to imagining W as a postal worker and helped pass the time. How the masses are coping in terrifying economic times is a great topic, but it demands more than witnessing two staggeringly ordinary guys shooting the breeze.

Presented by Buddy-Pal Productions as part of the New York International Fringe Festival
at the Kraine Theater, 85 E. Fourth St., NYC. Aug. 13–29. Remaining performances: Thu., Aug. 19, 7 p.m.; Sat., Aug. 21, noon; Thu., Aug. 26, 4:30 p.m.; Sat., Aug. 28, 2 p.m. (866) 468-7619 or www.fringenyc.org.