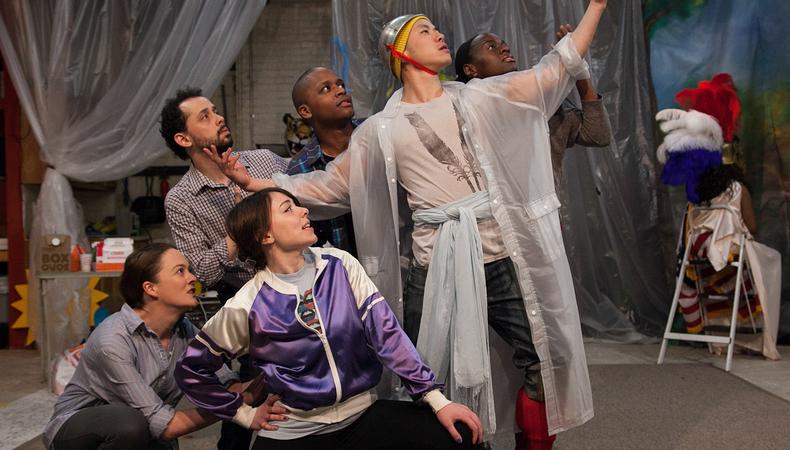 Playwrights Michael Levinton and Laura von Holt of the theater company known as Little Lord have perhaps taken the old cliché about throwing ideas against a wall and seeing what sticks too literally with "Pocahontas, and/or America," which they have adapted from numerous historical resources.
Upon entering the Bushwick Starr for a performance of this fractured historical farce, patrons find a gallery exhibit of curios to consider before taking their seats. Brimming with blunt irony, the walls of this presentation showcase various depictions of Native Americans in American popular culture, including the music video for Cher's song "Half Breed," the Cleveland Indians logo, and one of those arrow-through-the-head headbands amusingly captioned "Traditional Joke Arrow." It's a nice touch that most of these quirky knickknacks, wrangled by prop designer Alexandra Kuechler-Caffall, are used in the performance. Thus equipped, Little Lord's at times very funny and at times very draining bit of pageantry, craftily directed by Levinton, remixes the story of the illustrious Native American princess into a folksy pastiche of patriotism and crass cultural shenanigans.
The spry ensemble articulates the laxly structured story in Little Lord's singular style, which takes cues from the unspectacular history plays put on in elementary schools, the kind for which students are coached with all the correct information about, say, Jamestown, and then in performance are directed to spew it out in a blank, presentational manner. Levinton, von Holt, and company have mastered this unconventional art form, finding comedy in dumbly improvised props, hilariously fidgety actors, and breaks in action to make sure that a performer is okay after a death scene.
Yet across a nearly two-hour period this broad style makes tiresome demands on an audience. Pocahontas—who is played by von Holt, Enrico D. Wey, and Das Elkin in quick succession—doesn't even meet her English paramour, John Smith, until the end of Act 1, long after the homespun charm of a cast member wielding a crude drawing of a tomahawk in place of an actual tomahawk has worn off. Despite the fatigue, the clever gags and crisp performances in "Pocahontas" are undiminished. One particularly diverting segment sees Wey, as Pocahontas, dancing idyllically among a herd of deer to an off-key karaoke rendition of the song "Colors of the Wind," from the Disney cartoon "Pocahontas."
That Wey ruthlessly slices one of the deer's throats at the end of the number isn't even the funniest part; that would be the silent, traumatized reactions of assorted cast members in antler headbands who play the surviving deer. The tremendous von Holt winningly embodies not just Pocahontas but also the flighty Lady Francis, Smith's British benefactor. Polly Lee, who plays a foppish parody of Smith, is equally engaging.
On balance, I suppose it would be wrong to expect any fresh historical perspectives or substantive takeaways here, especially considering the edict issued at the top of this charming mess of a show: "House rules: No touching. No flash photography. No analytical thinking."
Presented by the Bushwick Starr and Little Lord at the Bushwick Starr, 207 Starr St., Brooklyn, N.Y. March 6–23. (800) 838-3006 or www.brownpapertickets.com.
Critic's Score: B-