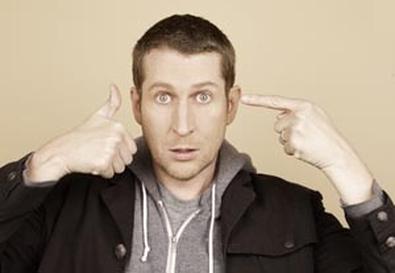 In May, Adam Carolla announced on "Jimmy Kimmel Live!" that his daily hourlong audio podcast, "The Adam Carolla Show," had officially broken the Guinness world record for most downloaded podcast: more than 59 million downloads since its debut in March 2009. That's the record for all podcasts, not just comedy ones.

Meanwhile, Comedy Central superstar Daniel Tosh's new hourlong standup special, "Happy Thoughts," is one of the top-selling comedy albums on iTunes but doesn't even rank among the 5,000 bestsellers of all recordings sold by Amazon. Indeed, "comedy" is just a hard-to-find subsection of "miscellaneous" recordings on Amazon.com. The only standup recording in the top 10 of the online retailer's list of most popular comedy albums is Doug Stanhope's "Oslo: Burning the Bridge to Nowhere" the rest of the top 10 is oddly dominated by "Glee" compilations and classic film soundtracks.

The live album was at one time the definitive work that a standup comic could share with the world to broaden his or her audience, increase earning potential, and possibly gain attention from film and TV industry deciders. That was before cable channels, MySpace, YouTube, and now podcasts changed the way comedy content is created, distributed, and enjoyed.

"An album used to be a statement that could last a comedian several years, and that was the only thing you would hear from them," said Scott Aukerman, a former writer for "Mr. Show" and the host of "Comedy Bang Bang: The Podcast." "You would be so excited because it had been two or three years since their last special or their last album, and there was no other way to hear what they were doing."

Podcasts most likely cannot replace the comedy album or hourlong standup special as a way to represent a comic's practiced execution of the craft of live comedy, and sitting alone in a small recording studio or interviewing a celebrity will not compare to time spent writing and working on a live standup act. But this new medium is proving to be a useful tool in cultivating a fan base because of podcasting's immediacy and intimate nature, and it has gradually gained at least the relevance of a pop band's radio-friendly single by providing working comics exposure to new audiences, as well as introducing comedy nerds to new talent. And an aspiring comedian or radio personality can start producing his or her own show at home, without much required beyond a computer and a microphone.

Marc Maron has been a standup comic for more than 20 years and has recorded three live albums; a fourth is scheduled for release this summer. He is also the host of "WTF With Marc Maron," a twice-weekly podcast in which he conducts funny but more often intensely intimate interviews with other comics he has known through his years on the comedy club circuit. "I think the comedy record as we know it is a guy doing comedy," he said. "I don't know that one replaces the other. It is helping us get more people to see us and raising people's awareness of what we do, but it's been kind of tricky for all of us to figure out how to make money on podcasts. But we have artistic freedom."

Experience working with the now defunct left-wing broadcaster Air America left Maron comfortable with the idea of hosting his own show. He knew that the purpose of launching a podcast, though, would be to express himself in an entirely new way, unchained from the limits of assigned topics, commercial breaks, and censorship. "My podcast is really specifically unique to that medium," Maron said. "I express myself with a freedom of mind that does not necessarily rely on me being consciously confined to a live audience."

Unrehearsed

Though standup comedy could be described as performing a monologue disguised as a conversation, many of the most renowned comedy podcasts, such as "WTF," eschew prepared material and invite fans into insightful long-form discussions between comics, in place of scripted comedy. Jimmy Pardo, who is the warm-up act for "Conan" and whose morning radio–style podcast "Never Not Funny" recently finished its eighth season, says hosting the show reminds him of late-night chats among fellow comics after gigs on the road. Now millions of devotees, comedy nerds, and casual listeners alike plug in their headphones to hear experienced comics talk shop.

"Who knows, maybe somebody who was seated next to us at the Denny's was fascinated by it back then," Pardo said. "I think there's a group that does want to hear that. I know I did when I was a young comic, and we have a lot of comics that listen to my podcast. The person listening feels like the fourth person at the table. There's an intimacy there that I don't think is present with a comedy album."

"Never Not Funny" began as a free podcast in 2006, at the beginning of the podcast revolution. After about 100 episodes and two years, Pardo decided to change his approach and started charging listeners to download each episode. After an initial drop-off, his audience started growing again, and he is one of the few comedians making money directly from podcasting.

For the most part, though, fans who can download a podcast for free aren't automatically willing to pay for one. Comics are facing the same problems that plague the entire recording industry. Ticket sales may rise, but fewer albums sold means less profit for the artist; much like in the battle for online music downloads, the pioneers of the comedy podcast community have not yet established a defined way to replace those lost earnings through podcasting. "I know how many records I've sold and I know how many people download my podcast, and there is a vast disparity between the two," said Maron. "WTF" is available to download for free, and support from listener donations and sponsors has grown to the point where the podcast is able to support itself financially.

About the Benjamins

To attract advertising dollars, Aukerman co-founded Earwolf, a comedy podcast network, in 2009 to promote programs that push the boundaries of the nascent form. Each of the network's nine podcasts—which feature comics such as Paul Scheer, Rob Huebel, the Sklar Brothers, and Tig Notaro—has a unique theme or format that does not necessarily resemble a radio show or a comedy show. Funny people are invited to call in and leave a 60-second message that becomes part of "Eardrop," an automatically generated daily podcast that Aukerman calls "the Twitter of podcasts."

Though podcasters are still experimenting with ways to generate revenue, comedians already understand they sometimes need to work for free—while hopefully finding their comedic voice and challenging themselves creatively—in order to make money later. Aukerman compares the potential impact of comedy podcasts with that of hip-hop mix tapes, in which artists such as Lil Wayne and Kanye West have collaborated with other artists or made available select tracks for free to generate increased anticipation for their next full album release.

"I really think that's the new model," Aukerman said. "Put out stuff for free, get people excited about you, and then ask them to pay for something that you work on a little bit harder than the free thing you put out every week."