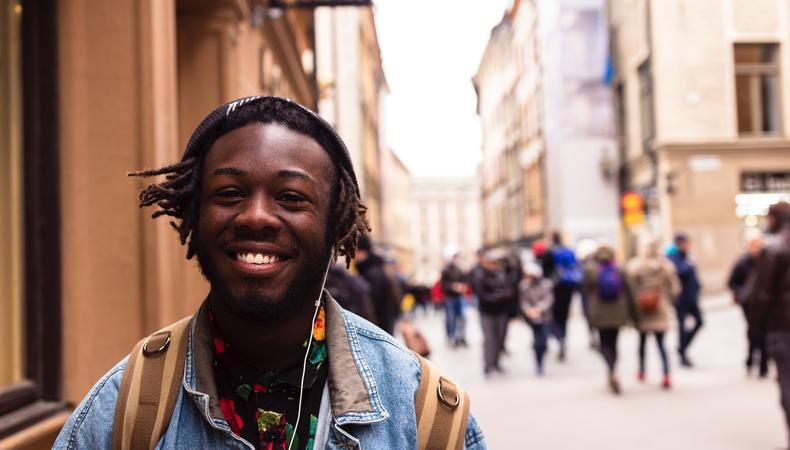 Whether you're commuting to rehearsal, confined to a tour bus, or racing to make a connecting flight, these podcasts will help pass the time while inspiring an out-of-the-box approach to your career.
The Ensemblist
"The only podcast that shows you Broadway from the inside out." Nikka Graff Lanzarone and Mo Brady spotlight theater pros who dance in the chorus, understudy, swing, and cover principal roles: the Ensemble. Their original theme song is a plucky melody with ukulele accompaniment, plus the pop and funk/soul interlude music between conversations is some of the best.
*Nikka recently appeared in "Women On The Verge" in California and Mo is video producer for Broadway Cares/ Equity Fights Aids.
Booked It
"Thrilled to announce," "Booked and blessed," and, my personal favorite, "Got the offer but the contract isn't signed so I can't tell you what it is yet" triggered Nate Patten to have hilarious and sometimes snarky conversations about digital job announcements in the theater industry. Once a month, he brilliantly captures hot topics, political correctness, and all things social media.
*Nate recently served as the musical director/conductor of "Charlie and the Chocolate Factory" on Broadway.
READ: How to Start Your Own Podcast
The Broadway Cast
Ben Cameron hosts a weekly talk show featuring three panelists who discuss their lives in theater. Guests include actors, playwrights, composers, directors, choreographers, musicians, and designers. There is a call-in segment at the end of the show with an added fourth guest: an artist with a day job who performs for fun, a working professional, or a Tony winner divulging their life-changing experiences. In an often harsh and competitive business, the culminating dialogue provides an uplifting example of community and camaraderie.
*Ben is a Broadway veteran who releases a new podcast every Monday
Living The Dream
"Auditions. Side Jobs. Swimming Upstream. Believe it or not, you're living the dream." This charming jingle kick-starts Rory O'Malley's intimate window into the artist's journey. He discusses the peaks and valleys of one's career and his work as an activist. Rory founded Broadway Impact, which gave him great purpose beyond his next acting job. He prepares smart and sensitive questions for actors as they reflect on their early epiphanies, share college challenges, and navigate through the industry.
*Rory currently plays King George in the national tour of "Hamilton."
Magic Lessons
Widely known to audiences for her memoir "Eat Pray Love," and in response to her book "Big Magic: Creative Living Beyond Fear," bestselling author Elizabeth Gilbert hosts two seasons of discussions with passionate people who feel stuck. Gilbert relates her struggle and provides deep perspective on her process. She encourages listeners to find their tribe, prioritize their craft, and make necessary sacrifices to get the work done. Gilbert says, "run away and have an affair with your art [because] the thing that you're seeking is also seeking you." So what are you waiting for? Jumpstart your productivity and cast a spell on your artistic soul.
*Elizabeth engages her audience on all social media platforms. Both seasons of Magic Lessons are available on iTunes, Maximum Fun, and Google Play.
Mara Jill Herman is chronicling her performance adventures in Japan as a guest contributor for UArts College of Performing Arts blog. In 2012, she co-authored "So You Wanna Be A Superstar? The Ultimate Audition Guide" (Running Press Kids). Her writing has appeared on many arts-driven sites including BroadwayWorld, Theatre Nerds, Equity News, Troika Entertainment, Holland America Line, and the National YoungArts Foundation. Mara is a freelance writer and member of Actors' Equity Association. Follow her on Twitter @marajillherman and Instagram @marajillherman.
Get all of your acting questions answered by peers and experts on the Backstage Community forums!
The views expressed in this article are solely that of the individual(s) providing them,
and do not necessarily reflect the opinions of Backstage or its staff.