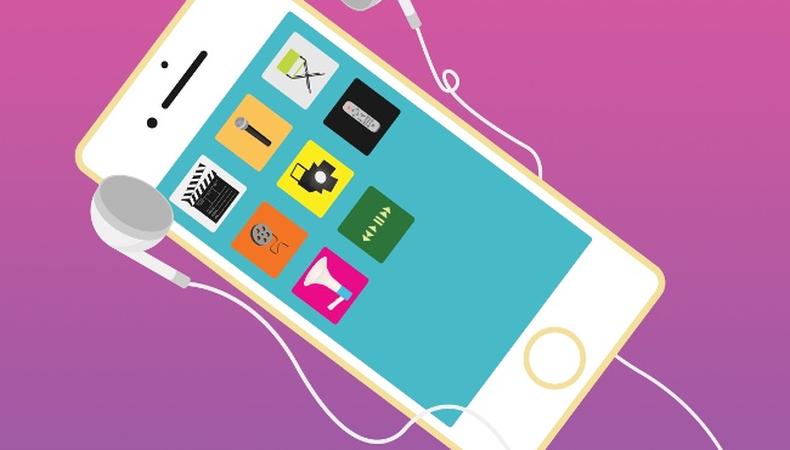 Podcasts are a wonderful way to learn and be inspired when you're on the go. You can listen to them at the gym, on the subway, or while you're stuck in traffic on the way to auditions! Here, in no particular order, are 13 terrific ones to check out.
"Inside Acting"
Co-hosts Trevor Algatt and AJ Meijer bring you tips and insights from casting directors, agents, producers, writers, actors, musicians, filmmakers, and countless others. Get insider information on marketing yourself, creating your own work, and booking the gig straight from the people who've been there, done that, and continue to do so.
"Broadway's Backbone"
This podcast is dedicated to the chorus of dancers, singers, and actors who are the foundation and backbone of every stage musical. On every episode, host and Broadway performer Brad Bradley interviews a Broadway veteran about his or her career, life, and dreams.
"Acting Up Radio"
Will Roberts hosts "Acting Up Radio," a weekly show for actors and industry professionals that features expert interviews about acting, auditioning, marketing your career, voiceovers, and more.
"Hollywood Close-up"
"Hollywood Close-up," hosted by actors Natalie Lipka and Wayne Frazier, focuses on how to create your career in the entertainment industry. Each episode features an intimate interview with one of Hollywood's finest working actors, directors, producers, writers, and all of the industry professionals in between.
"Off Camera"
"Off Camera" is actually a website, magazine, TV show, and podcast hosted by director-photographer Sam Jones. Guests have included William H. Macy, Joseph Gordon-Levitt, Tim Robbins, Connie Britton, Jack Black, Olivia Wilde, and Jake Gyllenhaal.
"Actors Anonymous"
Each Monday, "Actors Anonymous," hosted by Wesam Keesh, features conversations with Hollywood actors about life, craft, and the downright absurd.
"Theater People"
"Theater People" is a biweekly podcast on which Patrick Hinds and Mike Jensen interview Broadway legends, Tony winners, and today's hottest theater stars. They've spoken to Lin-Manuel Miranda, Laura Osnes, Sierra Boggess, Norm Lewis, Laura Benanti, Beth Malone, and many more.
"Sound Advice"
Looking to break into one of the most lucrative areas of the business? On "Sound Advice," Kate McClanaghan and Jeff Finney discuss current trends and helpful techniques regarding the voiceover industry, providing you with all the 411.
"Actors Talk"
Actor Tommy G. Kendrick talks casting calls, audition tips, starting an acting career, and maintaining one on this insightful program. These topics and more are explored via in-depth interviews with working professionals in front of and behind the camera.
"The Actor's Diet"
Hosted by Lynn Chen, this one puts a spin on the typical actor podcast and features interviews with fellow artists and culinary creatives about food, body image, career, and life.
"Action: The Pursuit of Acting Excellence"
Host Leigh Foster offers straightforward advice about the craft and business from people actually working in the field. This podcast is a fantastic resource for anyone looking to break into the industry.
"The Moment"
Host Brian Koppelman (co-creator/executive producer of Showtime's "Billions") interviews creatives about the pivotal moments that fueled their fascinating, creative careers.
"Acting Without the Drama"
This podcast, hosted by Ben Hopkin, delves into the practical ways actors can approach the craft of acting in order to create effective performances. It's one you won't want to miss!
Do you have a favorite advice podcast for actors that didn't make the list? Let us know! Happy listening!
The views expressed in this article are solely that of the individual(s) providing them,
and do not necessarily reflect the opinions of Backstage or its staff.