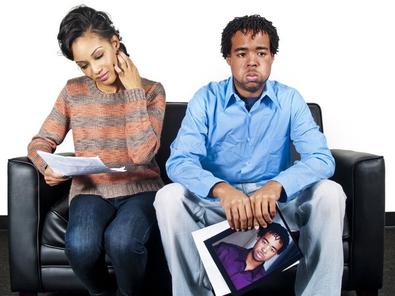 Whether you're going in for a theater, TV, or film audition, chances are you're going to be reading excerpts from the project in front of its creators and/or casting directors. These materials, known as sides, are the actor's greatest tool in showing off versatility, flexibility, and clarity in choices. Check out the pointers below on mastering the art of nailing your sides and booking the gig (and read up on mastering monologues, too!).
On delivering sides cold.
" 'The sides for this character have changed' or 'You are more right for this other character. Go out and work on the new sides for ten minutes and come back in,' or 'You know what? Why don't you just give this a read right now.' Ten minutes? What's an actor to do? Cue panic, sweaty palms, and scrambling to make sense of the script. All that work you did just went out the window, and now you have to make quick choices and impress them with very little preparation. Before you jump out the window of that tiny little casting office, fire your coach, yell at your agent, and completely freak out, take a deep breath and realize that they are on your side, and this is where your cold read training kicks in.... You will be doing cold reads for the rest of your career, so you must master it." —Matt Newton
On how to hold your sides while auditioning.
"Hold the sides in front of you. Turn the pages along with the flow of the scene so that if you do get lost, you can easily dip down and find your place and continue along, with ease and grace, and we don't have to stop and start over. If you get lost, how you get back on track is also something we look for. If you have a total meltdown and start apologizing and freak out and dissolve into a puddle because you got lost or have to start over, that gives us pause because we wonder how you will be 'on the day' if you aren't handling things well in our little office when the meter isn't running yet! We're all human. We make mistakes. How we handle them is the key." —Marci Liroff
On interpreting the text's punctuation.
"Actors enter the audition space to deliver an exacting, faithful rendition of the words and punctuation on the page. But you must use the sides as a vehicle to communicate a character, and not simply as words on a page. It is like an artist striving for photo realism in an oil painting. Where is the individuality? You have forsaken the individuality of your version of the character, in preference, for punctuation perfection.... If a character is going through emotional turmoil or emotional upheaval, it is impossible for a writer to put on the page the exact rhythms of the dialogue the character experiences in these moments. The use of exclamation points, CAPS, etc. are to enhance the reader's experience of his or her reading of the script. The performance of the script needs a different interpretation." —Greg Apps
On collaborating with your reader.
"Speak with inquiry rather than proclamation. Don't state facts. Don't drop sentences or thoughts' ends. Avoid throwing speech endings 'down'—the most common (and deadly) mistake in performance. Instead, at commas, periods, and question marks, toss speech endings up. This technique is also known as 'passing the ball,' 'checking-in with the listener,' or 'the up inflection.' When performing scene work, ask questions (or demand response), and then be riveted to your scene partner's answers!" —Burke Moses
On reading sides with a mediocre scene partner.
"You will probably never know why your scene partner in a casting stared blankly at you and whispered a line that was in capital letters on the page leading to what you had hoped would be your emotional crescendo. The fact is though, it really doesn't matter. One might just as well move to a small village in Japan and complain that the locals don't speak perfect English. They're just not going to, so give it up. Like all acting technique, you need to learn to be self-sufficient in the audition, and overcoming issues with a reader is one of the most useful skills you can attain. Imagine never again being thrown by a reader behaving contrary to your expectations or skipping your favorite line. Imagine a situation where even sides delivered in random order could not throw your performance. Imagine someone tossing flaming banana peels at you in the middle of a scene, and knowing you just had the best audition of your life." —Paul Barry
Ready for your next audition? Check out our film audition listings!
And for more acting advice, visit Backstage's YouTube channel!