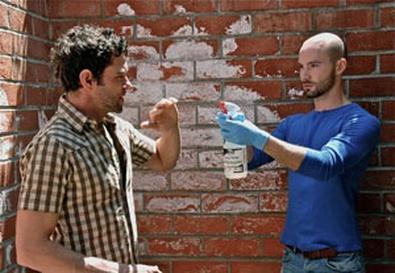 Sean Galuszka's psychological drama, inspired by a true story, takes an unnerving look at ennui and paranoia in the modern urban jungle. His one-act play focuses on the harrowing interactions between two characters grappling with myriad insecurities and fears of emotional commitment. Driven by dark humor, the script seems less the thriller that Galuszka apparently intended than a smartly observed portrait of an unusual relationship between two social misfits. Think "Midnight Cowboy" sprinkled with a dash of "What Ever Happened to Baby Jane?"
Paul (Chris Sams), an emotionally repressed gay man who toils as a telephone bill collector, encounters a surprise visitor one night. Jerry (Galuszka), who loudly bangs on the door of Paul's Hell's Kitchen apartment, understandably makes Paul tense. Yet Paul allows Jerry in, discovering that the uninvited guest is trying to find Paul's female roommate. Ominous undertones are sprinkled amid Jerry's seemingly casual conversation. As a homoerotic cat-and-mouse game evolves, all bets are off as to who is doing what to whom, and why.
Under Susan Lambert's direction, the actors hold our interest with smartly nuanced characterizations, illuminating the seductive and less-attractive sides of the individuals in this odd couple. Galuszka's script allows the tension to build gradually—a bit too gradually. Though the play runs only about 75 minutes, the setup takes too long, leading one to wonder if the story is heading anywhere. Too much of the small talk sounds circuitous. The playwright continually plants subtle clues and a few blatant red herrings. During the first three-quarters of the play, we know too little about what any of the veiled implications mean to find the chitchat consistently engaging. Also, the "Snow White" symbolism becomes a bit heavy-handed. Still, Galuszka's knack for writing sly dialogue and idiosyncratic characters is impressive, and the piece is ultimately affecting. Tightening and sharper focusing could make this tart apple a lot tastier.
Presented by 134 West and Dancing Barefoot Productions at the Celebration Theatre, 7051B Santa Monica Blvd., Hollywood. June 22 & Aug. 9–17. Tue.–Wed., 8 p.m. (323) 957-1884. www.celebrationtheatre.com. (For additional performance times and venues, text "poison" to 41411.)