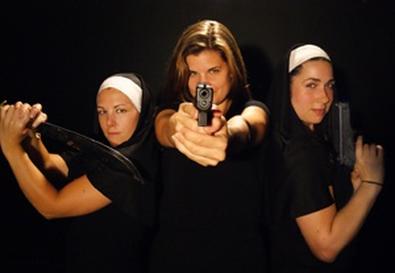 It's significant that "Pope! An Epic Musical" begins with kids wishing each other "Happy last day of eighth grade!" Though it flirts with grown-up irreverence, the lively tuner is a juvenile romp that should appeal to fans of television cartoons.
In telling of a youngster actually named Pope who dreams of becoming pontiff—and does—the musical hints at profundity. The final song is "We All Learned Something," although what exactly was learned remains obscure. Along the way, Pope loses power to an ambitious, tyrannical archbishop who claps people in irons, replacing them with obedient robots. Later, Pope regains the throne, to everyone's relief.
Because of peppy performances—especially by Woody Allen–ish Ryan Nelson as the title character and Jonathan Roufaeal, who leads a rousing gospel number—inventive direction by Greg Moran, and a promising score by book writer–lyricist Justin Moran and composer Christopher Pappas, "Pope!" is a cheerful, zany trifle.
Presented by Louder, Faster, Better! Productions as part of the New York International Fringe Festival at the Lucille Lortel Theatre, 121 Christopher St., NYC. Aug. 21–28. Remaining performances: Mon., Aug. 23, 4:15 p.m.; Wed., Aug. 25, 3:15 p.m.; Sat., Aug. 28, 5:15 p.m. (866) 468-7619 or www.fringenyc.org.