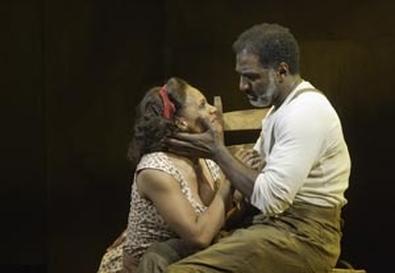 "The Gershwins' Porgy and Bess" led the winners at the 30th annual Fred and Adele Astaire Awards, presented at the Skirball Center for the Performing Arts at New York University on Monday. The Broadway revival took home two awards: Outstanding Female Dancer for Lisa Nicole Wilkerson, and Outstanding Choreographer for a Broadway Musical for Ron Brown. "The Artist" won Outstanding Feature Film Choreography and "Pina" won Outstanding Dance Documentary. The Astaire Awards honor dance and choreography on Broadway and in film.

"Dance is like a baby before it's learned how to talk," said Leslie Odom Jr., who won the award for Outstanding Male Dancer in a Broadway Musical for the short-lived "Leap of Faith." "It's something you want to express, but you need someone to teach you the language."

Odom Jr. also reflected on his first dance teachers in Philadelphia and a fateful call he received from the evening's lifetime achievement award winner, Liza Minnelli. After "Leap of Faith's" less-than-favorable reviews came in, he received a call from the star.

"Leslie, you're fabulous!" Minnelli said. "And smile on your bows!"

This generous gesture is one of the many reasons Minnelli's lifelong friends, including Chita Rivera, Marvin Hamlisch, Tony Danza, and Mikhail Baryshnikov, paid tribute to her for her Douglas Watt Lifetime Achievement Award.

"You are a remarkable artist and a remarkable woman," Baryshnikov said. "Thank you for being transparent in your art."

Hamlisch reflected on the many phone calls he received from Minnelli over the years and her generous and caring nature. "That's what makes her a legend," he added.

And Minnelli was full of gratitude as well.

"I feel more alive onstage than anywhere else because I'm with you," she said to the audience. "You have given me all I've ever needed, and my friends have given me everything I've ever wanted."

The evening also shone a light on the next generation of dancers. Eighteen-year-old Shannon O'Neill received the second annual Adele Astaire Scholarship, which contributes $10,000 toward her training at New York University, where she'll start her freshman year in the fall.

Since the many "Newsies" nominees couldn't make the event as they had a performance that evening, a group of young dancers performed an excerpt of "Seize the Day" from the show. And to close the presentation, dancers from The Studio from Lees Summit, Missouri, performed a dance to "New York City Rhythm."

But the young performer highlight was indisputably 9-year-old Luke Spring, who opened the show with a tap combination comparable to one of Fred Astaire's.

"He would have been very pleased with that performance," Astaire's daughter Ava Astaire McKenzie said.