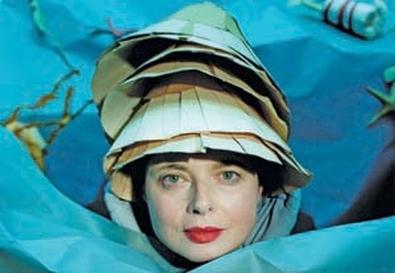 Isabella Rossellini's latest project,
Green Porno
,
opens with her strolling through a forest of 22 6-foot penises made from construction paper. Confused? Let's back up. Last year, Rossellini wrote, directed, and starred in eight shorts for Sundance Channel about the mating habits of insects. Four million hits on SundanceChannel.com later, and Rossellini had not only become a bona fide "porn star" without removing a stitch of clothing; she finally conquered her most exciting role yet: director. And she had done so on the still-experimental screens of the Internet and mobile phones.
"I think I wanted to direct since I was little," says the daughter of Italian filmmaker Roberto Rossellini and
Casablanca
star Ingrid Bergman. "But then I became a model, and that career was very successful, and then acting was also very engaging. But I'm older, so, consequently, I don't work as much as a model, nor as an actress. I had time to concentrate and develop that other desire that I had, which was to make films."
Her second and third waves of
Green Porno
shorts concern the mating rituals of marine life, and Rossellini happily plays with the audience's expectations by hamming it up as a right whale, starfish, limpet, anglerfish, barnacle, shrimp, squid, and anchovy. After all, she thrived in the fashion industry for decades precisely because of her ability to pull off any ensemble with grace and dignity. "There isn't an animal that is more difficult to play psychologically than another one. The joke is the rhythm of the delivery," explains Rossellini. "I know exactly the tone that I have to have because I write them."
Those who have enjoyed her offbeat roles in films like
Blue Velvet, Death Becomes Her
, and
The Saddest Music in the World
will not be surprised that there's a wicked sense of humor hiding behind her beatific smile. Rossellini has never been afraid of the bizarre and the abstract. She presents each charming short as one would to a child in a kitchen with papier-mâché props and foam puppets. She dons elaborate costumes and plays the male, female, and hermaphrodite roles in each short. They are quite accessible, and her DIY sets and in-camera special effects are amusingly effective.
Six of the shorts are already online, and four more will be released in September along with a HarperCollins book and DVD of all 18 episodes from both seasons. The final four shorts will put the "green" in
Green Porno
; they feature "Ask a Biologist With Claudio Campagna," whom Rossellini met through the Bronx Zoo. The "Bon Appetit Group" and "Harem on the Beach" shorts will achieve a feat that most serious nature shows and preachy conservation documentaries fail to: engaging an audience with humor in order to spread environmental awareness.
"The budget for the second series was a little bit bigger, which helped make this production a little bit more sophisticated," says Rossellini. "The crew is like a little theater group. Every time you do a play, the next one will become easier. And also you discover what talents people have. So in the new series, the costumes became bigger and brighter. We could be much more daring. I think productionwise it became bigger, and I knew it would be a fantastic showcase for them."
Northern Neighbors
Rossellini met her practically
all-Canadian crew through producer Jody Shapiro from
The Saddest Music in the World
. Shapiro produced Rossellini's documentary on her father called
My Dad Is 100 Years Old
, in which she played almost every role, and she made Shapiro co-director of her
Green Porno
series once she realized how tough it was to direct while in those cumbersome costumes. "The way I ended up doing this film for Sundance was through another Canadian named Laura Michael Tisch, a former Sundance Film Festival programmer, because Laura had seen
My Dad Is 100 Years Old
, which was done for Canadian television," explains Rossellini. "[
The Saddest Music in the World
director] Guy Madden directed it, and I wrote the script, and she was familiar with the film, and she bought it for the Sundance Channel and that became the connection with the Sundance Channel, so there are always a lot of Canadians in my life."
Going Green
As far as profiting from short films in Web and mobile media, Rossellini is frustrated with the lack of a business model. "The new culture has to be formed so we just ride along with it," she says, sighing. "I don't know that there ever will be, frankly. It's a little bit complicated, that situation. I think [Robert Redford] is using
Green Porno
to attract attention to their website. It's, for them, an indication of great success and a worthy investment. But the money is not recouped."
Rossellini is already excited about pitching new short-film ideas to the director of the Sundance Channel website. "The distribution in the Internet is international, so maybe [I can] make films where dialogue is not that important. It's almost going back to silent movies, where silent movies were short and infinitely international because they didn't have the language barrier," she says. "Maybe that is a formula or style that one could look at for the Internet."
On the acting front, Rossellini has been doing voiceover for smaller projects like
Flat Love
and
My Dog Tulip
, but she shined earlier this year in her small-but-powerful role as Joaquin Phoenix's mother in
Two Lovers
. When it comes to choosing acting projects, she thinks of directors as authors, and she's most attracted to the kind with "strong signatures."
Says Rossellini, "I feel completely familiar because my dad was one of them. I instantly can spot a director who knows how to put the camera where and how to edit because I can sense the one that is a professional and the one that is an artist. For sure, [
Two Lovers
director] James Grey is one of them. He instantly reminded me of my dad."
Before she directed, did she take any directing advice from her father or exes David Lynch, Martin Scorsese, or Gary Oldman? "My films are very short, so they're quite different from any other big features that they've made," says Rossellini, laughing. "I'm not particularly interested in becoming a director of regular features, but obviously all my time on sets, working in many different capacities, made me a fan of films. I really, frankly, think that if you work for 30 years in the business, there is a certain amount of learning that comes just by being on set."
What would the father of neorealism think of his little girl's
Green Porno
? She answers, "I hope he would have laughed."
For more on
Green Porno
, visit
www.sundancechannel.com/greenporno
.