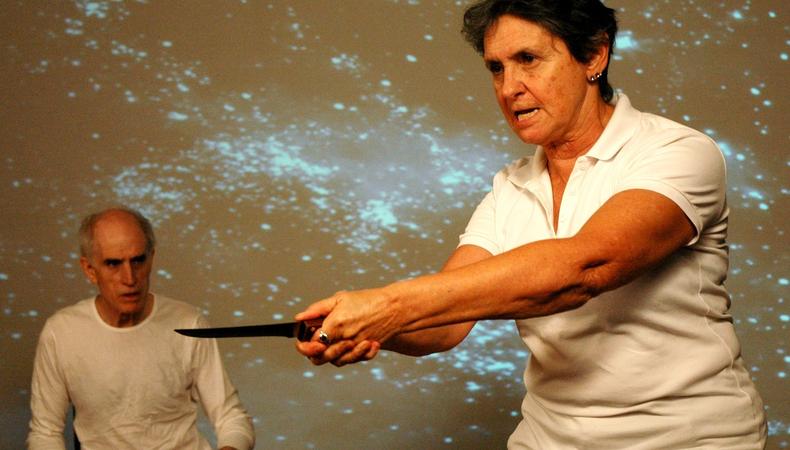 It's an easy week in which to appreciate the Talking Band's "Obskene," currently playing at Here. Conceived and directed by Talking Band co-founder Tina Shepard, this straight-shooting amalgamation of grim messenger speeches from ancient Greek tragedies and sensational new stories from America's near future can't help but land in the wake of two enormous real-life media events. The ubiquitous broadcast echoes of a particularly fussy presidential campaign and a historic hurricane continue to reverberate through the American media, lending the show's gruesome details and vivid imagery, which are only reported on in dialogue and never directly seen, a persuasive, sometimes prophetic authority they might have otherwise lacked.
The play, divided into two swiftly moving parts, takes its title from the Greek word for "offstage," a reference to the so-called messenger speeches found in the plays of Aeschylus, Euripides, and Seneca. In Greek tragedy, violence, such as the horrific burning of Jason's new wife, Glauce, in "Medea," was never enacted live onstage. Instead, it was always described secondhand by some poor messenger who'd witnessed the event and would dutifully report it, being sure not to leave out a single grisly detail.
Shepard provides a mix tape of a few of these original Greek speeches in the first part, each refreshingly translated into contemporary English by either Sidney Goldfarb or Lizzie Olesker. Ellen Maddow and Paul Zimet play two messengers who continue to cross paths in an Athenian kitchen, and Shepard has taken great care to build a tender relationship between them. Zimet, who speaks the majority of the text, exhibits a masterful command of language and space in embodying these intricate tales, such as the dismembering of Hippolytus in "Hippolytus" or the vast, sordid revelries described by Euripides in the "Bacchae." Maddow, who saws vigorously into a side of meat while listening, performs a shocking speech from "Thestes" with appropriate revulsion.
In the second part, Shepard collaborates with playwrights Marcus Gardley, David Greenspan, John Jesurun, and Deb Margolin, as well as with Olesker, Maddow, and Zimet, to conceive a bustling newsroom from a few years into America's future. That it's an old-school newsroom where the deft cast of eight wheels around recording dictation and shouting "This just in!" is maybe a necessary convention, but it does feel pointedly out of step with reporting in the digital era. Each playwright submits a few canny news stories, some of which, such as an account of former President George W. Bush taking a rabbi hostage at gunpoint or a story about an interspecies relationship between a woman and a huge python, are reported on at darkly hilarious length.
The juxtaposition of imagining a potential future and examining ancient roots is potent and disquieting. We see the worst sound bites of today play out to termination as congressional robots weigh in on the biological protocols of rape and—chillingly, as this piece was surely written long before hurricane Sandy—the streets of Manhattan flood as a result of intense climate change.
Presented by the Talking Band at Here, 145 Sixth Ave., NYC. Nov. 8–17. (212) 352-3101, (866) 811-4111, www.theatermania.com, or www.here.org.
Critic's Score: A