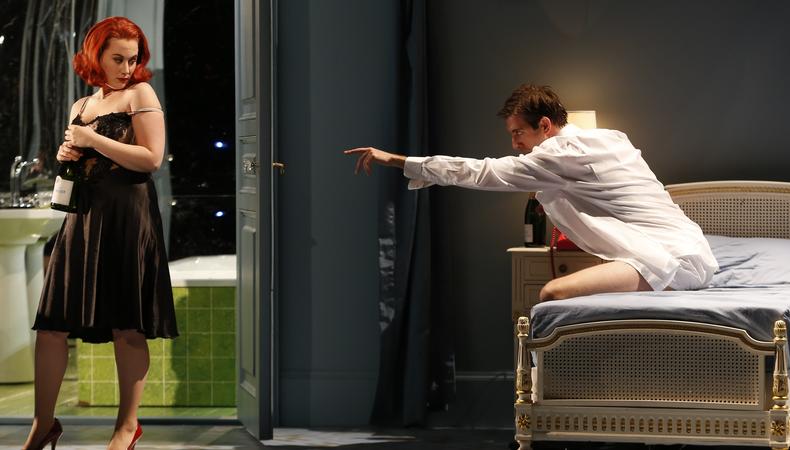 If, like me, you are not an opera buff, and you can't bear listening to heavily dissonant music, you might dismiss New York City Opera's "Powder Her Face," composer Thomas Adès' work at Brooklyn Academy of Music, as not worth seeing. That would be a mistake. A witty score, a brace of brave performances, and plenty of stylish directing make it a satisfying theatrical experience that will both tickle and challenge you. A nonsinging chorus of 25 naked men doesn't impede its watchability either.
Based on the sensationalized 1963 divorce trial of Margaret Campbell, Duchess of Argyll, "Powder Her Face" explores themes of sexuality, gender, class, betrayal, and hypocrisy. While its characters are two-dimensional, and its plot is choppy and undramatic, Adès' music, discordant as it is, gives the piece a surprising depth of feeling. His vain, shallow, slightly bigoted duchess is not a tragic heroine by any means, but by the end of the opera we ache for her, because the score plucks at our own gut feelings of despair.
The libretto, by Philip Hensher, is serious without being pretentious, and it's peppered with jokes. The scene in which the duchess tries desperately to order a beef sandwich from room service while surrounded by a herd of naked men is delicious. The end of that scene, which calls for the duchess to perform onstage fellatio, has drawn outpourings of outrage and shock, but as to a large degree the opera is about our collective attraction to and shame over sexuality, I find it both crucial and brilliant.
"Powder Her Face" spans six decades. The action begins in 1990 at the hotel where the duchess lives. As she thinks back over her life, she recalls first meeting the duke in the 1930s. Her party-filled life back then was so empty that she began to take lovers to relieve the boredom. Then comes the divorce, caused by the duke discovering a hoard of photographs of her having sex with various lovers. Back in 1990, the hotel manager evicts the now penniless duchess, leaving her to shuffle out of her room as empty as her bottle of personal perfume, Joy.
Director Jay Scheib provides a welcome comic touch and inventive staging, making smart use of an onstage video camera that literally allows us to see what's going on behind the scenes. Conductor Jonathan Stockhammer brings lightness to Adès' jangling, multifarious orchestrations.
As the duchess, Allison Cook is beautiful in voice and person, and her acting in the fellatio scene is brave and heartrending. Nili Riemer scores as the duke's scheming mistress, Matt Boehler gives us a pitiable duke and a buffoonish judge, and William Ferguson renders a strong-voiced, slightly feral waiter.
If opera were to move along the path blazed by "Powder Her Face" and deliver additional sexy, funny, fresh, surprising, and youthful works—in other words, use buff operas to create opera buffs—it might have a bright and vital future.
Presented by New York City Opera at BAM Howard Gilman Opera House, 30 Lafayette Ave., Brooklyn, N.Y. Feb. 15–23. (718) 636-4100 or www.bam.org.
Critic's Score: B+