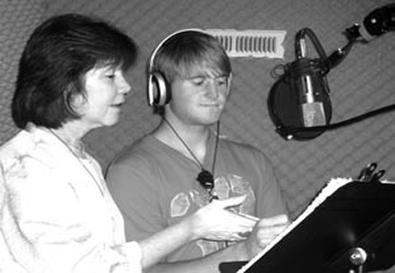 "Years ago, men had to have big, beautiful, commanding voices and women had to have soft, whispering, dulcet tones," says voiceover agent Peter Varano of AVO Talent, a Los Angeles–based agency that specializes in voice performers. "Voiceover is not about the voice anymore but the point of view. It's about acting." Almost all of AVO's clients, he emphasizes, are actors first and foremost.
Voiceovers are a highly competitive field, and the increasing number of celebrities doing voice work adds another obstacle for the newcomer. But according to the agents interviewed, there's still plenty of opportunity for actors working for scale, especially given the proliferation of cable channels and new media. "A lot of companies only want scale actors because they can't afford the big names," says Jennifer Brown, a voiceover agent with Abrams Artists in New York. "And while they may use a big name for the announcer, in the same ad you'll find scale actors."
Nevertheless, the voiceover business is still difficult to get into, especially if you don't have an agent. And landing any agent usually requires referrals—though occasionally a cold submission or showcase will yield results. Brown, for example, says she finds talent at the yearly industry showcases held by university drama departments. Acting ability coupled with a voice "that just stands out" is what attracts her. She also attends comedy clubs seeking performers with good comic timing and improvisational skill—talents that are useful in commercial spots featuring off-the-cuff banter, she adds. Facility with foreign accents is another useful skill, Brown says, especially in video games and animation—subspecialties (others include promos and trailers) that not all voiceover actors can do.
The All-Important Demo
Voiceover artists can promote their careers in a number of ways, including their own websites. But the interviewees agree that it's the agent who has the necessary industry contacts and knows how best to market an actor's talent. So how does a performer find an agent? Word of mouth is always the best way to go, the agents say. Ask actor friends and acting teachers. And check out Ross Reports for lists of agencies that have voiceover departments.
The next step is to submit an audio demo reel to the agent—nowadays usually a CD or MP3. It should be professionally recorded, says Lynda McCarrell, a voiceover agent with the Daniel Hoff Agency in Los Angeles: "That tells me the actor is serious." Ideally, the actor should have professional clips that can be spliced together. But even without voiceover credits, actors can still demonstrate their employability with a well-done demo that moves quickly and shows variety. Five or six bits are more than enough, says Varano, and the demo shouldn't run much more than a minute in all. Brown gives actors a little more latitude: "It should take as long as it takes to get the job done, but keep in mind that the demo that comes to the agent is different from the demo the agent uses to sell the actor. It should have variety and enough energy to get the agent's attention." Says Varano, "Listen to other demos. Be aware of the editing. They should be like TV, with quick cuts—
Grey's Anatomy
or
CSI
. Each snippet is a little film. And there's no fading in and out—that's old-school."
All the agents advocate taking a good voiceover class, not just to master the skills involved but to learn how to create a marketable demo, with material that's suitable for the actor and reflects his or her personality. For a commercial reel, the copy can be lifted from actual ads. Though not all the agents think actors should try to write original copy, if they do, it should be for real products.
The copy should also be appropriate to the actor's age—especially for women, whose voices change more obviously with age than men's do, says McCarrell. "If you're 65, you shouldn't be doing ads for tennis shoes. There are 40-year-old women who can sound like little kids, but that's a specialty. Others can't." A McDonald's spot, she notes, would be generic enough for actors of any age. Brown adds that actors should be aware of how age affects their voice and not submit the same demo today that they did 10 years ago: "You don't want to market yourself incorrectly."
Appearance is absolutely irrelevant, says Brown. Indeed, she's turned off when a voiceover actor sends her a headshot: "By sending a photo, actors stereotype themselves into who they are. If you see a headshot of a young woman in her 20s, you're going to see her that way and may not see that she can sound like a sexy, sultry woman in her late 30s. If you want to send a picture, I'd suggest a little animated character or something with bright colors that stands out and is fun."
Acting, Acting
In the end, they all agree, it's acting ability that sells. "You have to know how to break down a piece of copy," says McCarrell. "The process is the same one you'd use with a Hamlet soliloquy. There's a beginning, middle, and end. There's an intention. Who am I? Who am I talking to? Where am I? And why am I saying these words? Only it's all being done with 30 seconds." Vocally, there's also a "pulling back," says Brown. "It's certainly not screaming and it's not stage projection either."
"Real" people—actors the audience can relate to—continue to be a popular request for commercials, but the trend has moved into animation as well. Think
American Dad
and
Family Guy
. Varano's partner Sandie Schnarr, who heads the animation department at AVO Talent, says the whole industry changed with the arrival of
The Simpsons
: "Animation is no longer cartoon-driven. For animation, they want good character actors who can do three or four voices that are distinctly different, but not cartoony. On any demo tape that I listen to, I want to first hear the actor's natural speaking voice."
Actors who are interested in animation—most of which is done on the West Coast—but who don't have professional clips for their reel can either use old scripts or create original material to serve as a vehicle for the "characters" they perform. But the key is three-dimensionality, never caricature. In some ways, creating an animation demo is easier than a straightforward voiceover reel, says McCarrell, because it isn't just a series of voices selling products: "They're characters." She adds, "Though there is a little more flexibility in terms of the length of the scenes recorded, the tape should not go on for more than a few minutes."
Video games, however, require a more natural vocal style than one might expect, "though they may be slightly more cartoonlike" for kids' games, says Brown. "But for the most part, they're straightforward. Even in video games, actors are portraying characters."
Location, Location
In L.A., most voiceover auditions—including those for animation—take place in the agent's office. The recording is then emailed to the casting director. But callbacks and recording sessions take place in a studio. By contrast, New York actors still typically audition in the casting director's studio. On either coast—and in parts of the country not near major cities—some veteran voiceover artists have home studios. With a computer, recording software, and a good microphone, even an actor on tour can do voiceovers. "We had a client doing a film in Australia and still able to do voiceover work here," says Brown. "It's great for someone on vacation. But what you lose is direction. You lose someone giving you an opinion. You're only hearing yourself, and you're not the most objective."
All the agents interviewed work only with signed clients, not freelancers—a vote of confidence in the actors they do sign. Still, there is no guarantee that bookings will be immediately forthcoming. In fact, for most actors trying to launch a voiceover career, says McCarrell, "if you book in your first year, you're lucky. If not, don't get crazy. As long as your agent is your No. 1 fan, you have nothing to worry about." But that can change, she adds, if "the actor doesn't remain in class, doesn't do his homework, doesn't remain hungry, and if voiceover is not their focus."