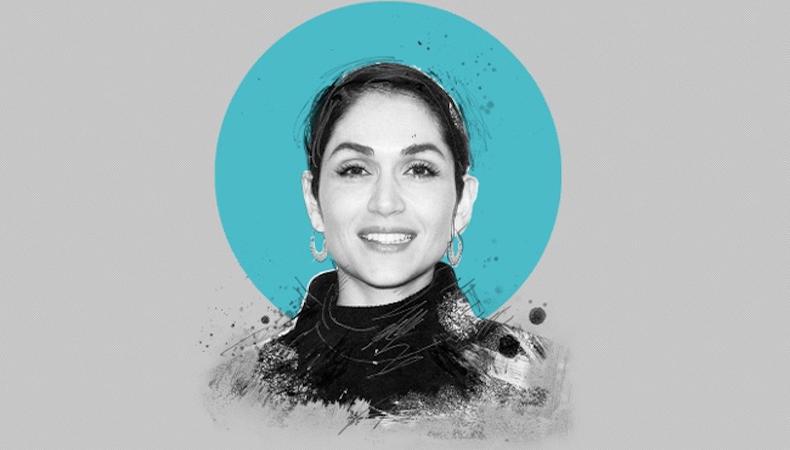 "Power" star Lela Loren has been serving audiences dose after badass dose of special agent Angela Valdes for four seasons strong. Her emotional arc on Starz's drug kingpin drama has allowed the actor to truly get comfortable with herself and find a rhythm in her process. Here, she chats about audition prep, the advice she'd offer her younger self, and the film she feels captures the human condition.
What has working on 'Power' added to your acting skills?
Before you get on a series, you're lucky if you're getting to act four or five times a year for a very short amount of time, doing guest star [spots] or something like that. As an artist, you have to go through months and months and months where you might get to do a scene in an acting class you've taken to keep your instrument sharp. To get on a show where you're acting day in and day out for many, many hours—15–16 hours sometimes—it hones your endurance, your ability to memorize, your ability to follow your instincts, because you don't have time to fret about your choices afterward. You're already on to the next scene.
You're also so vulnerable in a lot of your intimate scenes on the show.
I feel like for me the hard part isn't the actual doing of [the sex scenes], it's the aftermath I've never quite gotten used to; the way people view you after or treat you, or what they think they have permission to say or ask—the objectification that happens. The reality of making the sausage is so different; if anything it's strangely humorous. Someone's adjusting a pillow or is literally straddling you. We were always laughing afterward, because you end up in this weird, bizarre game of Twister when they go in for coverage.... It's also like bad mime. Those facial expression or choices, there's no sensation that's predicating all of that and that creates an insecurity as an actor—"Did I really sell it?" You're hoping that it looks good and looks real and when it does, there's a kind of terror. Particularly as a woman, there's a whole host of things that can come with that. But it's given me a comfort of opening up.
READ: Omari Hardwick Rises to 'Power' on Starz
How do you typically prepare for an audition?
I do it in layers. First, I read it a couple of times without putting anything on it. Then I start memorizing it, and then I put it down and memorize it again; put it down, memorize it again. And then I start playing with the choices of it, but I get the words down in myself before I start getting ideas.... And then I try to harangue anybody I can to run lines with me. I usually need to run it in order for it to be good. I envy those actors who work in a vacuum and present it flawlessly. I can't—I have to work it [with someone else].
What was your most memorable survival job?
I did commercial fishing in Alaska in college. I was the only girl on a fishing boat. It definitely tested so many aspects of my personality. I was 19 at the time, and I remember thinking, If I can do this...
READ: The 10 Best Survival Jobs for Actors
What advice would you give your younger self?
You don't actually need confidence or good self-esteem to be successful. You just need to have courage. I've done and accomplished plenty of things without thinking I was capable. Positive thinking, I don't actually find it as helpful because I think it shuts people down. They think they have to internally and mentally be somewhere else in order for the outside to turn out as they want it to. You can accomplish so many things with a negative outlook and low self-esteem if you just do it over and over and over again. [Laughs] You have to have balls and resilience.
READ: How to Become a TV Actor
You can't skip the process. Things take the time they take. You get told all the time in acting class: You have to leave an audition in the room. I would get stressed out about the fact that I couldn't let it go, and you have this shame that you can't let it go, and you obsess about it. Ten years later, I finally was able to get to the place to let it go, and I sort of wish that I could say to my younger self, "You are where you are and don't let people tell you where you should be." Almost to tell a younger student, "Guess what? You're not going to be able to let an audition go until you're so sufficiently demoralized over the years so you can't care, but just be easy with yourself because until you get there, you won't be able to." Just like a 4-year-old or 2-year-old can't reach the sink without a stool—until [they] can. We aren't in control of that timeline.
I would also add that we as actors do not have pilot season. Pilot season is for executives, for casting directors, writers, producers. Actors have auditions 365 days a year—period. So many actors measure their worth or how well they're doing by what their pilot season looks. I think it's damaging. Pilot season doesn't exist [for us]. I've never booked a role during pilot season. I really held to it and it really shifted that it's not for us. I'm not going to base my feelings of success on anything in this business because it's false anyway, but I definitely [won't base it] on pilot season.
What movie should every actor see?
"Truly, Madly, Deeply" with Juliet Stevenson and Alan Rickman. There's so many wonderful raw emotions in it, and there's humor and there's whimsy. It's such a beautiful film showing the range of the human condition.
Looking to hone your craft in the golden age of television? Check out Backstage's TV audition listings!