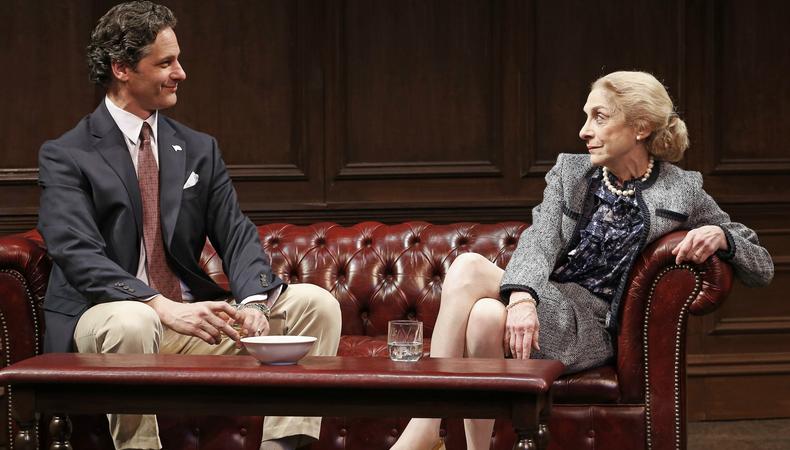 Keen Company has picked an ideal moment for its revival of A.R. Gurney's 1991 drama "The Old Boy." As American society finally reaches a tipping point in its acceptance of gay people, it's vital to remember the culture's once-ubiquitous acceptance of the belief that gays were sick and sinful and needed to be made "normal." Director Jonathan Silverstein's piercing, beautifully acted production quietly but powerfully dramatizes the damage and waste caused by such Neanderthal attitudes, as well as the courage required to overcome them.
Gurney has made some revisions for this production, but they don't seem extensive. It's the early 1990s, and Sam, America's undersecretary of state for political affairs, is returning to his prep-school alma mater in New England to deliver the commencement address. Also present are Harriet, a rich, elegant woman whose recently deceased son, Perry, had Sam as his "old boy" when he first arrived at school, and Alison, Perry's widow and Sam's former flame. Though Sam and Perry were once inseparable friends they grew apart after graduation, with Sam not even knowing of Perry's death, which was ruled a suicide by the coroner despite Harriet's denial. What she also keeps from Sam is that Perry had AIDS, had come out as gay, and was living apart from Alison. Sam ponders his own culpability in Perry's death; flashbacks to the late 1960s reveal that he knew of the boy's sexual orientation and pushed him to change it by marrying Alison. Ultimately, Sam must decide whether to collude in Harriet's whitewash, which will help him politically in a planned gubernatorial run, or speak the truth about Perry, as Alison, who has a young son and is dependent on Harriet for money, would like to but can't.
Gurney's inspired notion is to have the older Sam enact the flashbacks opposite a younger Perry. Peter Rini makes excellent use of the device, showing us the boy who begat the man with subtlety, insight, and a knowing overlay of youthful physicality. As Perry, Chris Dwan is a sharp-clawed puppy, defiant in his differences yet wanting to fit in. Dwan is especially convincing in Perry's hero worship of Sam that eventually deepens into a love he can't express. Laura Esterman does superb work as Harriet, commanding the stage with every appearance. Her grande dame wields control softly but insistently, bathed in a superiority conveyed by class and wealth, iron-clad in her convictions, yet human in her fierce love for her son. As Alison, Marsha Dietlein Bennett wields a light grace that camouflages yet doesn't conceal the character's working-class origins, and together Bennett and Rini effectively suggest Sam and Alison's long-ago intimacy.
In smaller roles, Cary Donaldson is properly gruff and calculating as Sam's masterminding campaign aide, while Tom Riis Farrell is soft-spoken but tough-minded as the Episcopal priest who invited Sam back, with Farrell expertly seizing the moving moment when the minister reveals how he has had to stifle his own nature.
Gurney packs a wealth of perception into a taut 75 minutes. "The Old Boy" is yet another Keen Company triumph.
Presented by Keen Company at the Clurman Theatre, 410 W. 42nd St., NYC. March 5–30. (212) 239-6200, (800) 447-7400, or www.telecharge.com. Casting by Calleri Casting.
Critic's Score: A