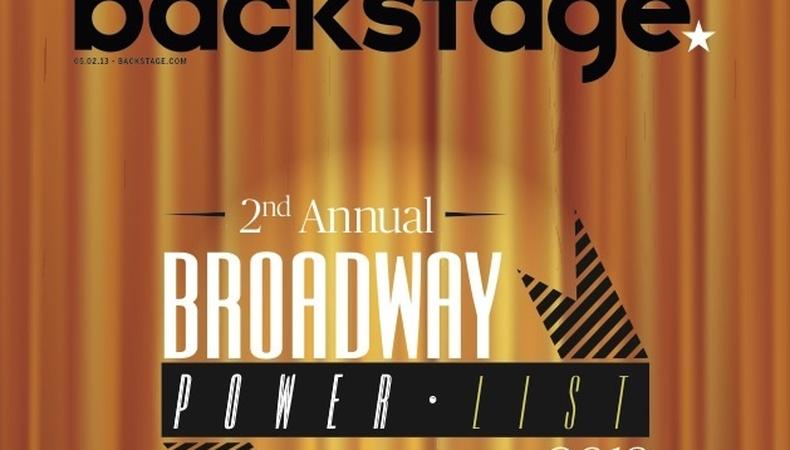 For Backstage's 2013 Broadway Power List, we asked more than two dozen New York City theater professionals to name the most powerful Broadway players. The results are fairly similar to last year's list—but the vagaries of the Great White Way mean that some names were left off, replaced by men and women (yes, even women this year!) who may not have boldfaced names but wield plenty of power. There's still a startling lack of diversity on this list, but let's use that as fodder for a discussion about the Broadway demographic. These are just the facts, ma'am.
Phil Smith (Chairman) and Bob Wankel (President), The Shubert Organization

Phil Smith was bound for Broadway greatness, especially after coming up with the idea of the Telecharge ticketing system. Now, Smith and Wankel are in charge of the largest theater syndicate in America, comprising 17 Broadway houses and one Off-Broadway.
Jordan Roth, President, Jujamcyn Theaters
This year Roth became the primary shareholder of Jujamcyn Theaters when Rocco Landesman sold most of his stake in the company to him. At 37, Roth is the youngest principal owner of a Broadway theater chain. With five theaters, Jujamcyn is home to "Kinky Boots," "Jersey Boys," and smash hit "The Book of Mormon."
James "Jimmy" Nederlander and James L. Nederlander, The Nederlander Organization
The father-son duo own and operate nine theaters in New York and 15 other venues around the world, which makes the organization the second-largest theater syndicate of Broadway theaters. Both have made their mark on Broadway and national theater: Jimmy has produced more than 100 shows, and the National High School Musical Theater Awards are named the Jimmy Awards after him. His son is active in the theater community; he serves on the Broadway League Board of Governors as well as the Actors Fund board of trustees.
Thomas Schumacher, President, Disney Theatrical Group
"Mary Poppins" closed on Broadway this March, but Schumacher's schedule hasn't lightened; he will fill that small Disney void with a musical adaptation of "Aladdin," set to debut on Broadway in 2014. With "Aladdin" joining the successful "The Lion King" and "Newsies," Disney continues to prove its Broadway prowess—and collect those Tony Awards.
George P. Lane, Agent, Creative Artists Agency

Actors who complain about how star-studded Broadway has become can blame Lane. The CAA agent was instrumental in bringing such clients as Tom Hanks and Alec Baldwin to the Great White Way this season.
Scott Rudin, Producer
Rudin had a pretty awesome 2012, joining the elite crowd of award winners who have garnered Emmy, Oscar, Grammy, and Tony awards. 2013 looks to be just as amazing for him. Not only is this the producer behind the Tony-winning Broadway powerhouses "Fences" and "The Book of Mormon," but he produced some heavy hitters this year, including "Cat on a Hot Tin Roof," starring Scarlett Johansson, and "The Testament of Mary." Also, he will produce a revival of Harold Pinter's "Betrayal" in the fall.
Todd Haimes, Artistic Director, Roundabout Theatre Company
One of the most successful not-for-profit theater companies in the country, Roundabout has under Haimes' stewardship become a Broadway mainstay and continues to pull in big names for its shows, such as Bobby Cannavale in this season's "The Big Knife."
Michael Riedel, Columnist, New York Post
When he wasn't stealing scenes on "Smash" this season, Riedel proved the power of his pen with influential columns on the infamous "Ghost Skipper" in "Cat on a Hot Tin Roof" and the "Lucky Guy" poster. It's tough to say whether it's all because of Riedel, but Skipper disappeared and the poster changed.
Nick Scandalios, Executive Vice President, The Nederlander Organization
Scandalios has been the executive vice president of the Nederlander Organization—which owns and operates nine Broadway theaters—for more than 25 years. Scandalios is active in the theater community; last year he was appointed to the Broadway League Board of Governors, and he serves as vice chairman on the board of Broadway Cares/Equity Fights AIDS.
Ben Brantley, Critic, The New York Times
Though the influence of theater critics has changed with the burgeoning presence of social media, a little clout from The New York Times never hurts. That's why actors and directors still nervously await a review from Brantley, the critic with the most powerful aisle seat on Broadway. Though no one likes a bad review, if it's positive, audiences are sure to see it on the marquee—especially if it's "the musical of the decade."
André Bishop, Artistic Director, Lincoln Center Theater

With a passionate flair for new works and playwrights, Bishop has made Lincoln Center Theater a creative hotbed that turns new works into classics, such as the Tony Award winners "Contact" and "The Light in the Piazza." This season Lincoln Center has already put up a few fan favorites, including Holland Taylor's "Ann" and Douglas Carter Beane's "The Nance"—along with the recently anointed Pulitzer Prize winner "Disgraced," which debuted at LCT's Off-Broadway theater.
Cameron MacKintosh, Producer
It seems that any time Cameron MacKintosh does anything theatrical, those across the pond can feel its impact. Having produced some of the longest-running shows to come to the Great White Way, including "The Phantom of the Opera" and "Cats," MacKintosh is credited with the British Invasion of Broadway. And for those who love "Les Misérables" and might have missed it during its first lengthy run, the runaway success of the movie version has inspired MacKintosh to revive it on Broadway in the 2014 season.
Jeff Wilson and Wendy Orshan, Producers
"The Heiress." "Annie." "Lucky Guy." "I'll Eat You Last." Wilson and Orshan's 101 Productions has been responsible for some of this season's buzziest, starriest shows, and their producing acumen is sharper than ever. Next up, director David Leveaux's take on "Romeo and Juliet," starring Orlando Bloom and Condola Rashad, will open in the fall.
Daryl Roth, Producer
Roth is no stranger to winning awards, thanks to her knack for discovering good plays. So good that seven of the shows she has produced, including "Wit," "How I Learned to Drive," and "Clybourne Park," have won the Pulitzer Prize, often with accompanying Tony Awards. This season Roth is behind "Kinky Boots," "Annie," and "Lucky Guy," with John Grisham's "A Time to Kill" waiting in the wings.
Kevin McCollum, Producer
An eclectic producer, McCollum (right) is the man behind many of Broadway's most memorable—and cherished—hits. He forged a name for himself with the Tony- and Pulitzer Prize–winning "Rent," which was followed by hits such as "Avenue Q," "In the Heights," "The Drowsy Chaperone," and this season's "Motown: The Musical."
David Stone, Producer
Although it's been four years since Stone opened "Next to Normal" on Broadway, his presence is still felt in New York and internationally. Having brought the still-running box-office smash "Wicked" to Broadway in 2003, Stone has seen national tours and numerous international companies spawn from the original production. Since the debut of the witches of Oz, Stone has gone on to produce "The 25th Annual Putnam County Spelling Bee" and the Pulitzer Prize–winning "Next to Normal."
Bernard Telsey, Casting Director
Telsey knew about the biggest stars coming to Broadway before anyone else. Having cast some of Broadway's biggest hits, such as "Rent," "Hairspray," "Dirty Rotten Scoundrels," and "Memphis," Telsey has an eye for talent that has been in demand since he started his company, Telsey + Company, in 1988. Recently, he has cast such shows as "Spider-Man: Turn Off the Dark," "Newsies," and "Kinky Boots."
Barry Weissler, Producer
Entering the producing industry in 1982 with "Othello," Weissler—along with his wife and partner, Fran—has made a career out of reviving some of Broadway's best shows. With musicals like "Gypsy," "Fiddler on the Roof," "Grease," and most notably "Chicago" under his belt, it's no wonder that he is behind this year's revival of "Pippin," which is re-emerging from community theater and high school productions to open on Broadway after 40 years.
Nick Wyman, President, Actors' Equity Association
Equity is celebrating its centennial this year, and under Wyman's leadership, the 49,000-member union is stronger, healthier, and more successful than ever—especially as the Equity Building undergoes much-anticipated renovation and improvements.
Mike Nichols, Director
When Nichols made the list last year, we called his revival of "Death of a Salesman" "highly anticipated." Boy, were we right. Nichols is planning an equally anticipated revival for next season: real-life husband and wife Daniel Craig and Rachel Weisz in Harold Pinter's "Betrayal."
Lynne Meadow, Artistic Director, Manhattan Theatre Club
Meadow is behind two of the most exciting new plays to hit Broadway this season, giving playwright Sharr White his Broadway debut with "The Other Place," starring the inimitable Laurie Metcalf (White will reteam with MTC next season, when Mary-Louise Parker stars in his "The Snow Geese"), and taking the director's seat for Richard Greenberg's lauded "The Assembled Parties."
Diane Paulus, Director
The night Paulus opened her production of "Pippin" at the American Repertory Theater, a Broadway run was immediately announced, making it her third revival in four years. Paulus previously landed the Tony for best revival for both "Hair" and "The Gershwins' Porgy and Bess" (which also transferred after an A.R.T. run), and it's looking like "Pippin" will give her a three-peat.
Harvey Fierstein, Bookwriter
"Newsies," featuring a book by Fierstein, is still doing boffo B.O. "Kinky Boots," the playwright-actor's project with songwriter Cyndi Lauper, just opened to rave reviews. The unofficial mayor of Broadway continues knocking out hits, proving that he is keeping American musical theater both relevant and secure.
Nina Lannan, Founder and General Manager, Bespoke Theatricals
A former chair of the Broadway League (and the first woman to hold the position), Lannan doesn't have the name recognition that others on this list might have, but don't discount her based on that. As founder and GM of Bespoke Theatricals, Lannan and her team supervise and manage Broadway productions and national tours, including this season's "Macbeth" and "Motown."
Jim Carnahan, Casting Director
The casting director was responsible for some of the most lauded casts of the season, in shows ranging from "Cyrano de Bergerac" to "Matilda." With an eye for talent fresh and revitalizing (Douglas Hodge in "Cyrano," anyone?), Carnahan has proved that he knows the secret to onstage chemistry.
Check out Backstage's theater audition listings!