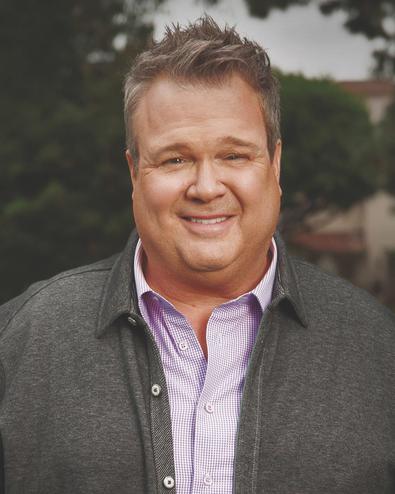 Two-time Emmy-winning funnyman Eric Stonestreet has found a way to combine two of his greatest passions: improvisational comedy and giving spot-on acting advice.
"I came up with this idea, a hybrid of what long-form improv is and what I do with colleges and universities—and what I do in my daily life—which is to answer people's questions about my career, my job, my personal life, how I got where I am," he says of his ongoing monthly appearances at Los Angeles' comedy venue iO West Theater. Stonestreet takes career-oriented questions from the audience and turns his candid responses into long-form comedic riffs, with help from fellow improv veterans Michael Bunin and Dana Powell. "This show is for everybody, but it's great for actors because I have a really talented group of friends that will pop in and improvise based on my answers," he says.
The evening shows, titled "Who Is Debbie Powell," are perfect for fans of improv as well as early-career performers hoping for the kind of career trajectory that has made Stonestreet a household name. "It's never the same, and you never know what the questions are," he says. "More than anything, it's funny and an opportunity for actors here in town to come and ask [advice from] somebody who's been there and done that." Bunin and Powell, Stonestreet's former improv teammates at iO West, are total pros, similarly equipped with the kind of insights that benefit working actors and comedians today.
Topics in past shows have included social media, commercial auditions, and the inevitability of rejection. (Upcoming performances take place Nov. 14 and Dec. 12.) Stonestreet says it's a laid-back and celebratory environment, "but I don't pull punches. I give honest answers." When one audience member asked why he wasn't booking more jobs, Stonestreet gave a response that was as realistic as it was difficult to hear: "Maybe [you're] not very good."
While Stonestreet says his improv experience did not directly help him book his role as the flamboyant Cameron Tucker on ABC's "Modern Family," it certainly helped him get to that audition room in the first place. "Things are not always going to go as planned," he says, which means thinking on your feet in the room provides invaluable confidence. "It's about not freaking out, being in the present. That's why I always tell actors improv is great training for auditioning.
"Be open and free and not too needy or desperate," he adds. "That will set you apart because other actors that don't do that will be worried about the things they can't control." It's also useful to remember what's going on in the heads of those on the other side of the table. "I tell people all the time that producers, writers, and directors really don't know what they want until it walks into the room—you have to show them what they want," Stonestreet says. "Everyone is rooting for you when you walk into the room. Everyone wants you to be good because it means their day is over!"
Want more L.A. news? Sign up for our Backstage L.A. newsletter!