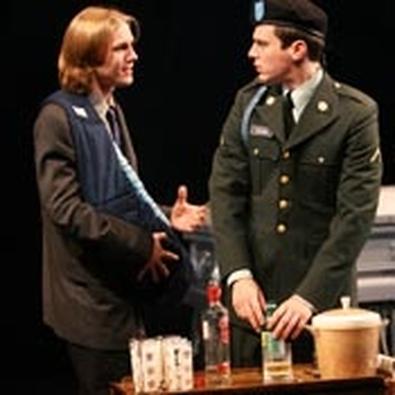 Here we go with yet another dysfunctional-family drama. When times are tough, the theatre seems to fall back on this reliable genre. Hard on the heels of August: Osage County and Dividing the Estate comes Craig Lucas' Prayer for My Enemy, which focuses on an upstate New York clan whose members are so repressed they can only express their true feelings to the audience. In the script provided to the press, the asides are printed in italics; on stage they are denoted by subtle lighting changes courtesy of designer Stephen Strawbridge.
Son Billy (Jonathan Groff) is secretly gay. He joins the Reserve and fights in Iraq to prove his masculinity. In 2003, the time of the play, was there still anyone so deeply in the closet that he would take so extreme a step? In addition, Billy's in love with his brother-in-law, the drug-addicted Tad (Zachary Booth), who has similar feelings for him. Billy's father, Austin (Skipp Sudduth), is a Vietnam vet and recovering alcoholic who sublimates his rage in an obsession with the New York Yankees. Meanwhile, Marianne (Cassie Beck), Billy's sister and Tad's wife, copes with an autistic son from a previous marriage, and Billy's mother, Karen (Michele Pawk), blithely tries to gloss over the chaos around her. With this loony bunch, Lucas is too obviously creating a microcosm of America. See how screwed up this country is, he metaphorically screams at us.
Fortunately, Lucas has shuffled a joker in the pack — a character who is just as crazy as the family but in a different, subtler way. This is Dolores, played with a manic comic intensity by the heartbreaking Victoria Clark. She is a rootless, frustrated woman dealing with a dying mother and a selfish boyfriend. Lucas has given her brilliantly funny and touching monologues on the insanity of living in Manhattan that raise howls of laughter and recognition. These alternate with the family scenes, and the two seemingly unrelated story lines converge in an act of senseless violence.
I didn't quite buy the whole premise; the setup and playing out seemed too forced and theatrical. But director Bartlett Sher and his exemplary ensemble maintain a remarkably specific degree of verisimilitude. His staging of a long scene in which the family watches a climactic Yankees-Red Sox game perfectly and believably balances the various conflicts Lucas has set in motion.
Groff, Booth, Sudduth, Beck, and Pawk bring a colorful palette of emotions to the battling family, but the play belongs to Clark, who travels from quiet desperation to uncontrolled anger to endless sorrow with compassion and care.
Presented by and at Playwrights Horizons,
416 W. 42nd St., NYC.
Dec. 9-23. Tue.-Fri., 8 p.m.; Sat., 2 and 8 p.m.; Sun., 2:30 and 7:30 p.m. (No performance Wed., Dec. 10.)
(212) 279-4200 or www.ticketcentral.com.
Casting by Alaine Alldaffer.