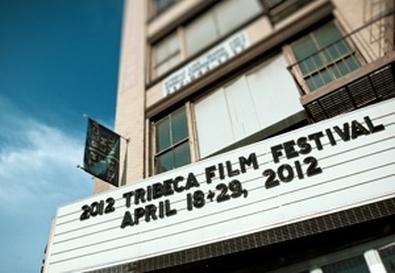 Over the past decade, the Tribeca Film Festival has developed into one of the biggest in the country. The 11th annual event, which runs April 18-29, includes 90 feature-length narrative and documentary films, 53 of which are world premieres. More than a third are by filmmakers directing their first features.

"Tribeca is a festival of discovery," says Nancy Schafer, Tribeca's executive director. "Both the director and the acting talent in a film is of very high importance to us, because we want people to be able to come here and see the next actor or director who are going to be rising up through the indie world."

With input from festival personnel and prognostications of our own based on industry buzz, we predict which performances and features will be remembered at the fest this year.

Competing for Attention

Schafer says that audiences on the lookout for breakout performances at the festival should pay attention to the 2012 World Narrative Competition, featuring the North American or world premieres of a dozen films from the U.S. and abroad. "That's where a lot of the strongest performances will be," she predicts. "We're a festival of global cinema. We don't see the distinction, honestly, between English-language cinema and foreign-language cinema. We want to show films from all over the world."

Films in this section are eligible for the fest's awards for best actor, actress, and new narrative director (as well as for best narrative feature, screenplay, and cinematography). Schafer notes that foreign actors have dominated the awards in the past.

In fact, this year Israeli actor Ohad Knoller reprises the role that won him the best actor award at TFF in 2003, for "Yossi & Jagger." The world premiere of its sequel, "Yossi," opens the World Narrative Competition on April 19 and reunites Knoller with director Eytan Fox.

Schafer says that she was particularly impressed by the young ensemble cast of "First Winter," the debut feature from writer-director Benjamin Dickinson that will have its world premiere on April 19. "You don't know any of these people," she says of the actors. "But the acting and direction are so strong, I hope people see the film and see the strengths of these performances."

Frederic Boyer, the newly appointed artistic director of TFF, recommends "War Witch," which director Kim Nguyen brings to the fest on April 19 for its North American premiere. Shot entirely in the Democratic Republic of the Congo, the film stars nonprofessional actor Rachel Mwanza as a 14-year-old who was kidnapped from her village to become a child soldier. Other standouts in the narrative competition category, according to Boyer, are the American drama "While We Were Here" (world premiering April 21) and "Beyond the Hill" from Turkey (receiving its North American premiere April 19).

A cast of untrained actors offer vulnerable and honest performances in "Una Noche," a coming-of-age tale about Cuban teens that premieres April 19. The world premiere of "The Girl" on April 20 will show viewers a different side of Abbie Cornish ("W.E.," "Sucker Punch") as she plays a desperate single mother who becomes unemployed and risks losing custody of her son. "Nancy, Please," the debut feature from director Andrew Semans, premieres April 21 and may give up-and-comers Will Rogers, Eléonore Hendricks, Rebecca Lawrence, and Santino Fontana some deserved recognition.

"I think the festival is as focused on the actor and the storytelling as the mise en scène," says Boyer, who previously programmed the Directors' Fortnight at Cannes. "Cannes was mostly focused on the mise en scène and directing of the film, which I like a lot, but less on the actors," he says.

Name Recognition

Many of the remaining world premieres that are not in competition promise to offer strong performances from faces more familiar to English-speaking audiences.

Jess Weixler, Jesse Eisenberg, Jason Ritter, Halley Feiffer, and Tippi Hedren star in "Free Samples," a comedy about quarter-life crises that premieres April 20.

Oscar-nominated actor John Hawkes ("Winter's Bone") has been generating buzz on the festival circuit for two performances this year, first for "The Surrogate" at Sundance and then for "Arcadia" at the Berlin International Film Festival. He may only have himself to compete with come awards season, after "The Playroom," co-starring Molly Parker and a cast of child actors, premieres April 21 at Tribeca.

The world premiere of "Struck by Lightning" on April 21 marks the screenwriting debut of Chris Colfer ("Glee"). Directed by Brian Dannelly ("Saved!"), the film also features Allison Janney, Dermot Mulroney, Christina Hendricks, Sarah Hyland, and Rebel Wilson.

Eric Bana, Charlie Hunnam, Olivia Wilde, Kris Kristofferson, Sissy Spacek, Kate Mara, and Treat Williams are the all-star cast that gives depth to the characters in "Deadfall," a thriller by Austrian director Stefan Ruzowitzky ("The Counterfeiters") that premieres April 22.

Chris Messina ("Julie & Julia," "Damages") and Rich Sommer ("Mad Men") deliver as co-stars in not one but two films premiering at Tribeca. In "Fairhaven," which has its world premiere on April 20, they play high school buddies reunited for a funeral after 10 years. Messina co-wrote "Fairhaven" with fellow New York stage actor Tom O'Brien, who also stars in and directed the film. In "The Giant Mechanical Man," premiering April 23, Messina plays a busker who falls for co-star Jenna Fischer ("The Office"), while Sommer takes on a supporting role as her brother-in-law.

But Wait, There's More

Writer-director Sarah Polley ("Away From Her") is also an actor, and word is that she gets great performances from Seth Rogen, Michelle Williams, Luke Kirby, and Sarah Silverman in "Take This Waltz," which will have its U.S. premiere on April 22. Silverman in particular is already getting attention for her supporting role in this film about a marriage in trouble.

Young Danish actor Thure Lindhardt, who was introduced to American audiences in 2007's "Into the Wild," could finally break through on this side of the Atlantic after Tribeca audiences see him in the New York premieres of "Eddie: The Sleepwalking Cannibal" on April 20 and "Keep the Lights On" on April 25.

"Any Day Now," which premieres on April 26, stars Alan Cumming and Garret Dillahunt as a gay couple fighting for their right to adopt a child (Isaac Leyva) in the 1970s.

By shining a spotlight on New York thesps and introducing international stars, the selections at Tribeca promise plenty for audiences to discover.

For the full 2012 Tribeca Film Festival schedule and to purchase tickets, visit TribecaFilm.com.