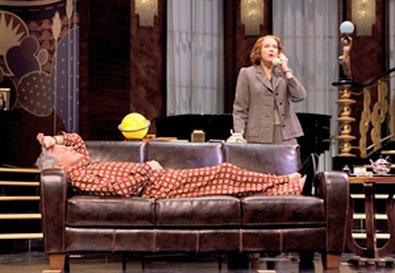 It's been far too long—more than a decade—since Victor Garber last trod the Broadway boards. Though he's been off making money and increasing his Q score, it was clear just last year from his terrific Fredrik in Roundabout Theatre Company's one-night-only concert of "A Little Night Music" that his stage chops remained intact. The role of the grandly theatrical Gary Essendine in Noël Coward's comic warhorse "Present Laughter" sounded like a good fit. Even better, the show was a hit for the Huntington Theatre Company in Boston, where Garber and much of this cast did it in 2007. So it's with bewildered disappointment that I have to report that Roundabout's current production amounts to almost a total misfire.
The fault is director Nicholas Martin's. This "Present Laughter" is hyped and coarsened, as if Martin doesn't trust American audiences to get Coward's very English humor. An immediate warning is set designer Alexander Dodge's far-too-glamorous Art Deco apartment. Yes, Essendine is a matinee idol of the British stage, but as an upper-class Brit of a certain social standing, it's unlikely he'd be given to such opulent excess, particularly in the late 1930s after the Depression and with the war clouds gathering in Europe. Martin also overrides Coward's sophisticated comic rhythms, encouraging his cast to push as if driving a second-tier Neil Simon comedy. The show is shot through with an American idea of Englishness.
This is reflected in much of the casting. Richard Poe doesn't even make a feint toward an accent playing Essendine's producer, and his gruffness is that of an American businessman. I've been a big fan of Harriet Harris since I first saw her in "Jeffrey," but here she's about as English as a Hershey bar. As Essendine's long-suffering secretary, Monica, Harris falls back on her trademark mannerisms to wring laughs, but the wryly maternal, self-effacingly efficient Monica just isn't in her palette. As Joanna, the producer's wife and lover of Essendine's young manager, Pamela Jane Grey takes her character's description as "predatory" too much to heart. Her calculation and gall seem ripped from any number of glossy '30s Hollywood films. It's unbelievable that this tight-knit circle of friends would ever have allowed her entry. As her lover, Marc Vietor is more Kaufman and Hart juvenile than clear-eyed English chap. Holley Fain as Daphne, a young would-be actor romantically obsessed with Essendine, is too glamorous and self-confident, missing that peculiarly antiseptic good-girl sexuality young upper-class Englishwomen so often sport. Nancy E. Carroll makes Essendine's world-weary Scandinavian maid into a collection of overblown comic tics.
But Carroll is restrained next to Brooks Ashmanskas as Roland Maule, an eccentric 20-something playwright also obsessed with Essendine. Playing the role like a squirrel on speed, Ashmanskas sacrifices any shred of believability in favor of labored physical comedy, ridiculously goony stares, and highly calculated line readings. He's not playing to the balcony; he's playing to the galaxy. It's an appalling performance.
Surprisingly, Garber is too restrained in the midst of all this bluster. Previous Essendines I've seen—George C. Scott, Frank Langella, Donald Sinden—have all magnified the part through their already larger-than-life personas. Garber seems to have decided to play the role as if he were playing Coward himself. The impersonation straitjackets him—he's even less than compelling singing the Master's "World Weary"—making his performance feel tentative and inauthentic.
On the plus side, Lisa Banes does well as Essendine's long-separated wife, the voice of reason in his life; James Joseph O'Neill is on the money as the cocky lower-class manservant, and Alice Duffy stands out as the plummy Lady Saltburn, Daphne's aunt. But when Lady Saltburn is the highlight of "Present Laughter," you're in trouble.
Presented by Roundabout Theatre Company at the American Airlines Theatre, 227 W. 42nd St., NYC. Jan. 21–March 21. Tue.–Sat., 8 p.m.; Wed., Sat., and Sun., 2 p.m. (212) 719-1300 or www.roundabouttheatre.org. Casting by Jim Carnahan and Carrie Gardner.