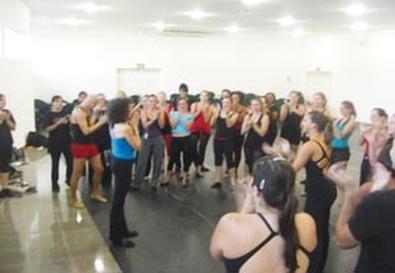 Calling all jazz dancers! Old-school jazz, that is—and your age doesn't matter. New York–based jazz dance teacher Sue Samuels is forming a new dance company, Jazz Roots, featuring choreography in traditional jazz styles from the 1960s and '70s. It will encompass both a professional troupe of young dancers and another group of performers over age 50.
"The mission of Jazz Roots is to keep the traditional forms of jazz dance alive," says Samuels, who teaches at Manhattan's Broadway Dance Center and the Ailey School. "In tap, they honor their traditions. In ballet, tradition is undeniably important. And in modern, even while they're moving forward, they still do Graham choreography and Horton technique and keep the work of all the traditional moderns alive. But jazz does not do this. A lot of my young students know nothing about the history of jazz dance, how it evolved, where it came from."
Samuels feels there's too much sameness in jazz dance today. "You can't even identify the choreographer of most jazz dances that you see," she says. "It's all turned into a kind of bending, twisting, acrobatic kind of a thing, which is not to say there's anything wrong with that. But the individual voices of the choreographers are no longer distinctive like they were in the older jazz styles. You used to be able to recognize right away if dancers were doing Jo Jo Smith's style, or Phil Black's, or Chuck Kelley's, or Frank Hatchett's. Jazz has many facets: It's lyrical, it's Latin, it's theatrical, it's funky. But today it's all gotten separated. If you want lyrical, you have to take a contemporary class. If you want Latin, you have to go somewhere else and take Latin dance. If you want something theatrical, you'll go to a theater-dance class. In the old days, it was all part of jazz dancing."
The younger Jazz Roots company will perform work representing all facets of traditional jazz dance, but Samuels is committed to employing older dancers as well. "It's true that with age the body becomes limited in its movement," she says, "but the spirit is never limited. I know so many older dancers who are still dancing with a lot of energy and finesse and have a lot to offer. They know when to step out and when to relax, much more so than younger dancers, who are always performing full out. They have a lot of passion, and I think there's still a place for them on the stage."
A Family Business
Born in Miami, where she received solid training in classical ballet, Samuels moved to New York after graduating from high school and studied jazz with Jo Jo Smith, whom she later married. Continuing a family tradition—her mother was a hoofer and danced with Katherine Dunham's company—the couple had two "dancer" children: Their son is the distinguished tapper Jason Samuels Smith, and their daughter is producer Elka Samuels Smith, who also manages celebrity dancers, including Mr. Wiggles and Dormeshia Sumbry-Edwards.
Samuels performed as a backup dancer for the Fifth Dimension; as the lead dancer in Smith's international touring company, Jo Jo's Dance Factory; and in the Broadway musicals
Promises, Promises
and
Got Tu Go Disco
. When she and Smith divorced and she was left to support the children on her own, she retired from performing and began teaching.
Ironically, Samuels admits, the sameness she observes in jazz dance today may be rooted in her own actions. By the late 1970s, real estate was so expensive in midtown Manhattan that many jazz dance teachers could no longer afford to maintain their own studios. "Before that, each teacher taught at his own place," she explains. "There were no mega-studios with lots of teachers together under one roof. Jo Jo had one of the biggest places back then. It was at 1717 Broadway and had four studios in it. One day I saw Frank Hatchett walking down the street, and his face was hanging down to the ground. When I asked him what was wrong, he told me that his studio space had closed down. Now remember, there was a lot of competition back then among the different teachers, as it was a rather egotistical business. But I went upstairs and spoke to Jo Jo. I appealed to his heart, and his sense of business, and convinced him to rent some of our space to Frank."
Teachers of different dance forms soon joined the faculty, and Smith's business grew enormously. Ultimately it was bought out by Richard Ellner, who developed it into what became Broadway Dance Center. "What it did was allow teachers to watch one another's classes, maybe borrow a step here and there, and to share more," Samuels says. "It was wonderful in terms of building a sense of community, but it did make the styles start to mesh, and I'm wondering if that wasn't the beginning of all of this sameness."
For more information about Samuels' classes or her company auditions, scheduled for this fall, contact her directly at
Susamjaz
@
aol
.
com
.