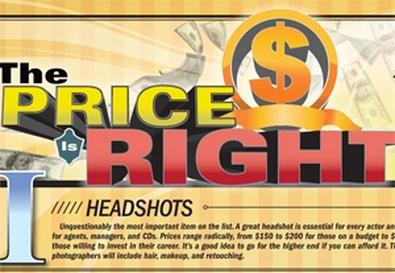 Headshots
Unquestionably the most important item on the list. A great headshot is essential for every actor and your calling card for agents, managers, and CDs. Prices range radically, from $150 to $200 for those on a budget to $800 to $1,000 for those willing to invest in their career. It's a good idea to go for the higher end if you can afford it. The more expensive photographers will include hair, makeup, and retouching.
Web Design
These days a website is almost as important as your headshot. A site is a quick and easy way to keep your contacts and credits up to date. For basic web design, expect to pay $400 to $500. This doesn't include the additional costs of securing the domain name and maintaining the site, which can be another $200. One affordable alternative is a web page on backstage.com, which comes free with your yearly subscription.
Acting Classes
Studying your craft is so subjective that it's nearly impossible to put a price on it. Fees, length of classes, and methods of payment vary from institute to institute. For multiple-week sessions in basic technique and scene study, the average cost breaks down to $25 to $100 per class. The quality of the teaching and what you get out of it all depends on the instructor and your fellow students. An inexpensive class could provide a breakthrough, while a pricier one might be a dud. Ask friends and audit a class before putting down your money.
Acting Coach
A coach works with you one-on-one as opposed to a class full of students. Individual attention for a specific audition can be worth the price. The average fee is $90 to $100 an hour. Group classes with a coach sometimes come with a discount.
Gym Membership
Joining a gym is not only important for your health: It can be an invaluable asset for your career. Physical stamina and flexibility are key tools in your arsenal. Chains average $25 to $30 a month for membership. You'll probably pay more for use of multiple locations. More-expensive gyms can go as high as $150 a month, with more amenities.
Dance Classes
Even if your goal is to star in straight plays rather than musicals, dance training is essential. It will familiarize you with your main instrument -- your body -- and potentially double your employment chances. The major dance studios offer great deals, with classes averaging $15 to $18 each.
Singing/Voice Lessons
The same advice applies for singing lessons as with dance classes. They are a necessary expenditure even if you're not musically inclined. Your vocal expression will increase, and you might find new opportunities for performance, not only in the chorus but in cabarets and clubs. You can find an affordable coach for as low as $50 an hour. The more experienced teachers may charge up to $150 an hour.
Smart Phone
If a website is a must, a smart phone is a double must. A simple cell just won't cut it anymore. Not having access to your email or the web at all times could cost you a job. Expect to pay $150 to $500, not including your monthly plan, which will be about $90 a month including texting and Internet access.
Résumé
Rather than putting one together on your own, having a résumé prepared professionally is usually the best way to go. This can run from $80 to $300, which should include copying.
Audition Wardrobe
You'll need at least three reliable looks for auditions. You shouldn't be haunting the thrift shops for them, but you don't have to raid your savings account to purchase designer labels either. A comfortable combination, a business casual selection, and dancewear for chorus auditions will set you back $500 to $700.