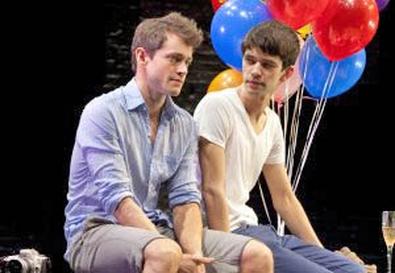 "The Pride" is actor Alexi Kaye Campbell's first play, and it's an impressive debut. Intelligent and imaginative, it grabs your attention from the start and holds it for the next two hours and 20 minutes. Of course, that's partly due to director Joe Mantello's crackling production and faultless cast. Still, upon leaving the theater, I had a nagging feeling that "The Pride" is something less than the sum of its undoubtedly interesting parts. What is Campbell trying to say? The only things I could come up with were either baldly reductive or maddeningly inchoate. I was left with a Peggy Lee moment: "Is that all there is?"
Campbell's central conceit is to tell parallel stories of two troubled gay relationships—one set in 1958 and one contemporary—in alternating scenes. The three main characters—Oliver, a writer in both eras; Philip, first an unhappy real estate salesman, then a rising photographer; and Sylvia, first an illustrator, actor manqué, and wife to Philip, later single, Oliver's best friend, and a successful actor—retain the same names for each tale. The past is meant to invade the present and vice versa, but Campbell is more successful with the former than the latter. The contemporary characters do feel very much like what the three people in 1958 might have been had they been born later. But repeated attempts to have the 1958 characters contemplate the future seem forced—the playwright dutifully tending to his theme. And the scene changes in which characters from the past "sense" contemporary characters entering their space never seem to lead to anything, other than perhaps a slight sense of pretentiousness.
Hugh Dancy, Ben Whishaw, and Andrea Riseborough confidently meet the unique challenge of simultaneously underlining the similarities and differences in their dual roles. Riseborough's constricted vibrancy as 1958 Sylvia blossoms forcefully in the present. Dancy's mightily repressed 1958 English alpha male, whose inherent masculinity is undermined by his desires, confidently embraces that same masculinity as part of his modern-day gay identity. Whishaw's task is the hardest, as the insecure Oliver changes less than his compatriots, but this magnetic actor's careful use of body language is all we need to be sure of which era he's in and how he relates to himself. Rounding out the company is the charismatic Adam James, whose job is to greatly differentiate his three characters—a loquacious sex worker, a foulmouthed heterosexual magazine editor, and an aversion-therapy doctor—something he does with effortless and entertaining style.
Mantello's cool production features a set from David Zinn that starts out all dark mirrors and sleek surfaces, then gets progressively more open and abstract. Mattie Ulrich's costumes make subtle distinctions between eras, adding to the feeling of blended time, and Paul Gallo's discreet lighting immeasurably enhances mood.
Ultimately, Campbell's writing is more persuasive in the past than in the present. The societal oppression of gays in 1958 is forcefully dramatized, and what that does to the people who have to endure it is movingly and believably charted. Where he trips up is in the contemporary story, particularly in the conflict between Oliver and Philip over Oliver's need for anonymous sex outside their relationship. Campbell seems to insist that such a desire must inevitably be related to self-loathing. But this ignores the complicated reality that many gay men have loving, long-term marriages that are not monogamous and incorporate anonymous sexual play. While it's possible that in Oliver's specific case the two are related, Campbell never successfully dramatizes the roots of Oliver's feelings, so there's no way for us to know for sure. And that leaves the play, for all its fine qualities, more than a bit muddled.
Presented by MCC Theater by special arrangement with the Lucille Lortel Theatre Foundation at the Lucille Lortel Theatre, 121 Christopher St., NYC. Feb. 16–March 28. Tue., Wed., and Sun., 7 p.m.; Thu.–Sat., 8 p.m.; Sat. and Sun., 2 p.m. (212) 279-4200 or www.ticketcentral.com.
Casting by Telsey + Company.