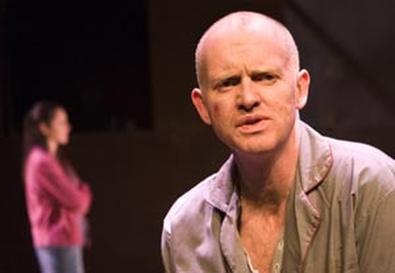 Sebastian Barry is a playwright who is fond of characters in extremis. In "The Pride of Parnell Street," he examines the once-happy marriage of Joe (Aidan Kelly) and Janet (Mary Murray) as it spirals into disintegration. The story is told in a long series of alternating monologues, but we have to take it on faith that Joe and Janet's life was once joyful, as the evidence is pretty scant. What we witness is mostly a study of marriage as misery.
Once upon a time, Joe was a "midday man," a petty thief who didn't rise till noon, and Janet was completely content with that. Then one of their three sons is killed in a street accident, and there's no money for a proper burial. But the marriage's true breakup occurs after Ireland's loss in the World Cup, when Joe comes home and brutally attacks Janet, who is forced to flee with her two young sons to her mother's home. From there Joe descends into incarceration, drugs, and disease, edging toward death as Janet watches from a distance.
The irony of this picture of marriage as a battleground is that there is no direct confrontation. Barry is into storytelling rather than ding-dong slugging it out Albee-style. Joe, we soon learn, is an unreliable witness—"I'm a fucking liar," he readily admits—so it's left to the lovely but battered Janet to provide a convincing narrative. Barry's Janet is a direct descendent of O'Casey's Juno, the tender, long-suffering Irish wife and mother. For Joe, she is "the pride of Parnell Street," while Janet reserves this title for another brave Irish woman.
While Barry may be averse to vulgar dramatic conflict, he shines at delivering vulgar everyday dialogue that, despite its humble origins, often rises up and sings. Under the secure direction of Jim Culleton, the talented Kelly and Murray turn this language into authentic arias. Kelly, in the more difficult role, is still the real thing, while Murray as the woebegone wife is able to suffuse Janet with a genuine charm.
The impetus for the play would seem to be to explain Joe's battering of the wife he loved, something Joe is unable to do, and it seems to remain a mystery for the playwright as well. This leaves the play without a center, which Barry cloaks with a sentimental finale. In addition, we never glimpse Joe as the likable lover and caring father; we have to take it as a given. Barry instead gives all the warmth and sympathy to Janet. In this marriage war, it's simply no contest.
Presented by Fishamble
:
The New Play Company as part of 1st Irish 2009 at 59E59 Theaters, 59 E. 59th St
.,
NYC. Sept. 8
–
Oct. 4. Tue
.,
7:15 p.m
.;
Wed
.–
Fri
.,
8:15 p.m
.;
Sat
.,
2:15 and 8:15 p.m
.;
Sun
.,
3:15 p.m
. (
Thu
.,
Sept. 10, at 7:15 p.m
.) (
212
)
279-4200 or www.ticketcentral.com
.